2020 is over. That's as good of a lede as you're going to get on here this year.
Two years after stopping updates here, I'm still waffling on what to do with the site. I was ready to start blogging a bit more, but then 2020 happened. Life has changed so much this year, even separate from how it has changed for all of us. Among it all, we moved to Atlanta from Vermont permanently (or at least not intentionally temporarily, like last time). We're going to have a tiny human to raise starting early next year. So we'll see how 2021 goes.
But, as with last year, I'm dropping in to make a 2020 wrap up post to remind myself in the future that making things helped with so much this year as stress relief.
---
Quilt Finishes
I was surprised in late October when I sat down to catch up on History Quilt blocks and realized I'd made five quilts this year, including finishing the last few older (7+ years!) works in progress that I had sitting around.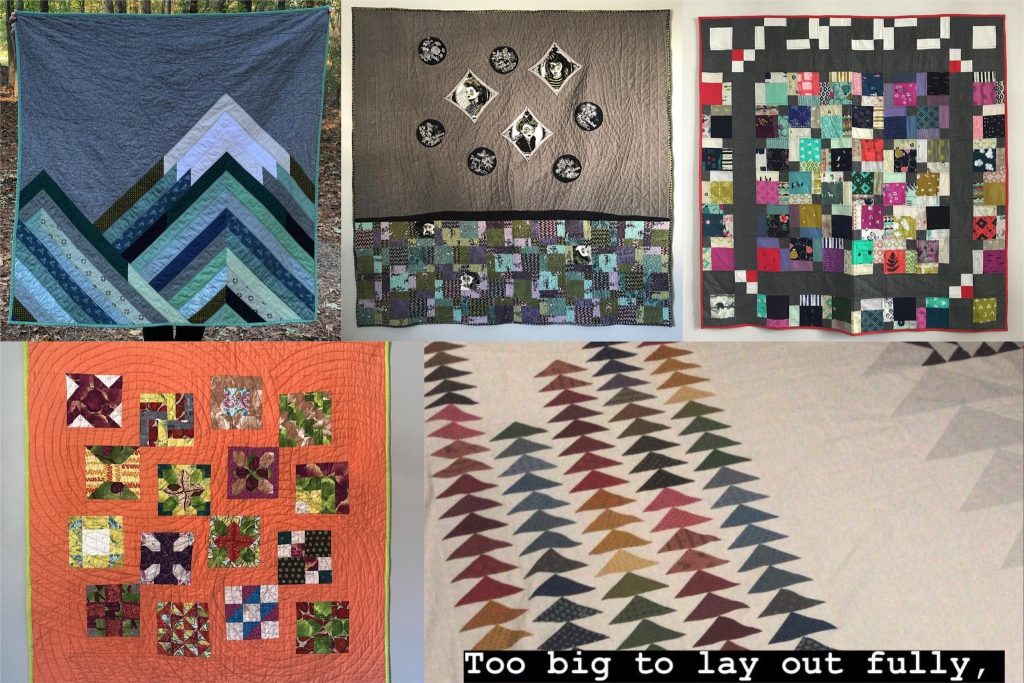 Sinner Baby (Farmer's Wife/EPP Crosses mashup)
Reproduction Sky #2 (top only—this was longarmed and donated as a raffle quilt)
Quilt Shows
None.
Samplers, Meetups, Exchanges
None.
Clothing
Early in the year—especially once I started working from home in March—I was so motivated to sew clothing. That tanked in mid-May for a while (I thought it was pandemic fatigue + new job + move planning, but turns out it was also 1st trimester hormones), but even with a few months' break it all added up to quite a few new items of clothing.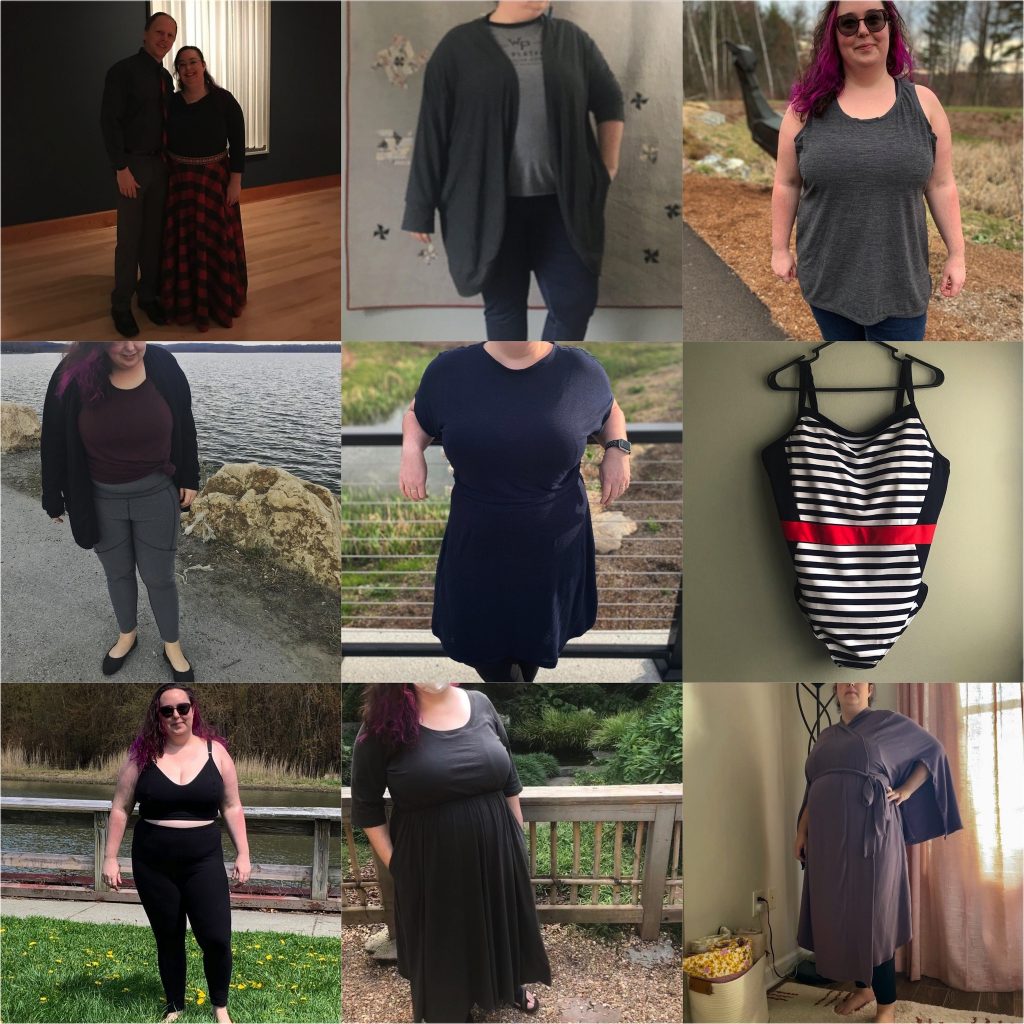 Buffalo Plaid Circle Skirt (self-drafted, and matching Purl Soho tie for Carl)
Peppermint/In the Folds Cardigan
Merino Tank hacked from Cashmerette Concord
Helen's Closet Avery leggings with pockets (wearable muslin)
Megan Nielsen Virginia black bamboo fleece leggings
Seamwork Veronica linen jersey swim coverup
Cashmerette Ipswich Swimsuit
Black fleece House Morrighan Poppy Bralette
Merino scraps House Morrighan Poppy Bralette (not pictured)
Cashmerette Brookline nursing tee/Colette Myrtle mashup dress
Heavily modified Named Asaka Robe from bamboo jersey
With the exception of the swimsuit and the circle skirt for a gala in early Feb, it was all very loungy/comfy stuff and got so much wear this year.
Other Sewing Projects
When I wasn't sewing clothing early in the year, I was making zip pouches out of sentimental things and odd scraps in an effort to downsize my stash before we downsized housing. I ended up making 20 over the course of the year.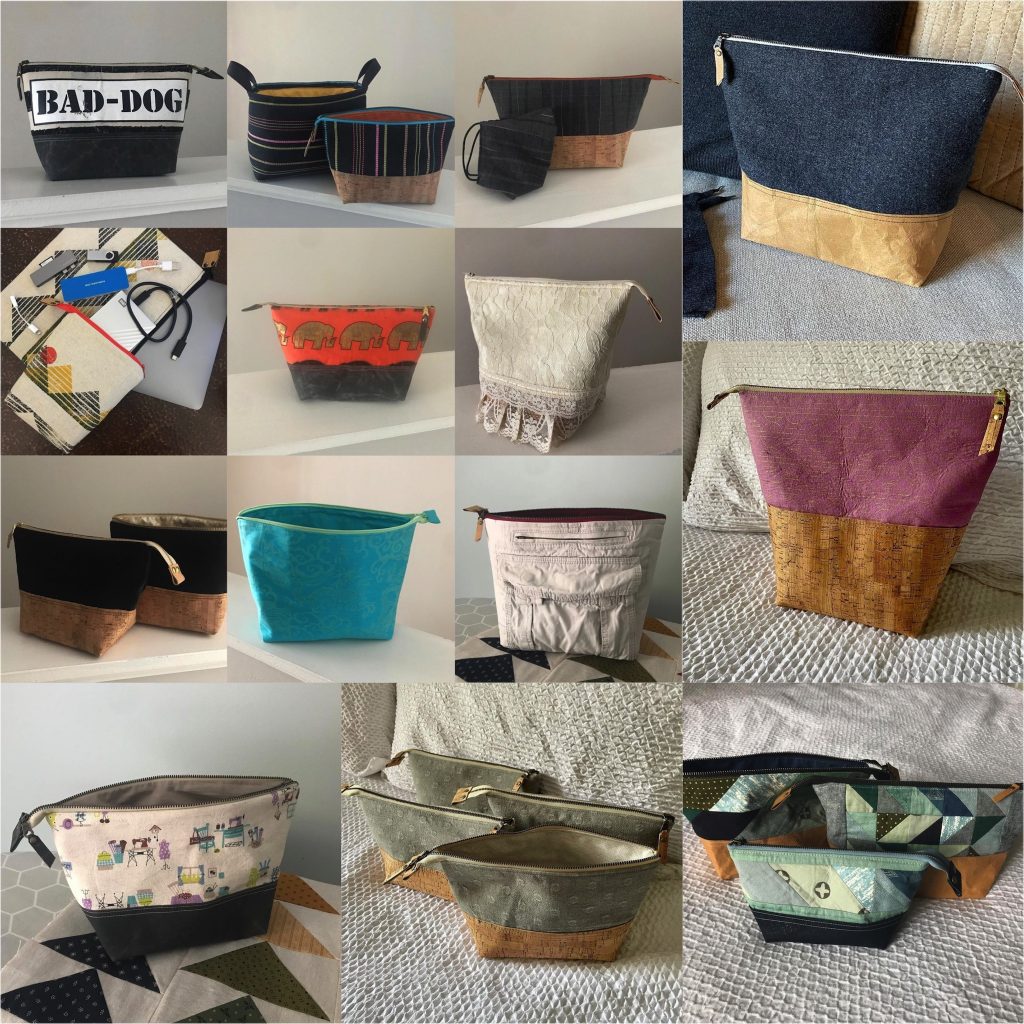 And masks. Although very few in the scheme of things because that was the opposite of stress relief for me.
And then a few baby items toward the end of the year.
The Backlog
Finished in 2020:
Witch's Bubble Brew
Farmer's wife / EPP Crosses – 16 blocks became a small quilt, rest were destashed
C+S Charm Quilt
Progress in 2020:
Meta history quilt – blocks made for recent quilt projects
Untouched:
Pixelated Churn Dash – my new plan is to unpick the hour or two of straight line quilting I've done and send this queen bed-sized one out to a longarm quilter
Destashed:
Self-portrait of an American Woman
New:
Quilt top from leftovers of Reproduction Sky #2
Resolution
Since life is going to change drastically for me in late January, my sole goal in 2021 for sewing is to make sure I carve out time for it more selfishly (but also more sustainably) than I ever have before, because it is my outlet for so much stress relief and creativity.
When we started thinking seriously about moving here to Georgia in late 2019 (with the idea of downsizing to a 700-800sq.ft. city apartment/condo as part of it), I started looking at my remaining unfinished projects and crafting inventory and slimmed it all down considerably. While I still have a stash of fabric (both quilting and a few cuts for garments), I've stopped earmarking it for specific future plans right now. Other than the quilt projects mentioned in the backlog (which have their binding and backings completed too), the only project I have supplies set aside for is a pair of jeans. I'd like to actually tackle that in the second half of 2021—I planned to do so this year, but maternity body happened. Otherwise I'll see where my whims take me.
Catch me on Instagram @raevenfea to see what I make in 2021!