2015 was an odd year—it went by in a flash and I sewed much less than I have in recent years. We traveled more than in the past and for longer stretches of time. I started a new role that is less about development and more about guiding a team, became co-leader of our local Girl Develop It chapter (an organization that aims to teach women to code), and made progress with the learning curve of both of those changes. Sewing (especially quilting) took a back seat. What I did sew, I did with real intention and a certain level of dumping things out of my brain and sewing space.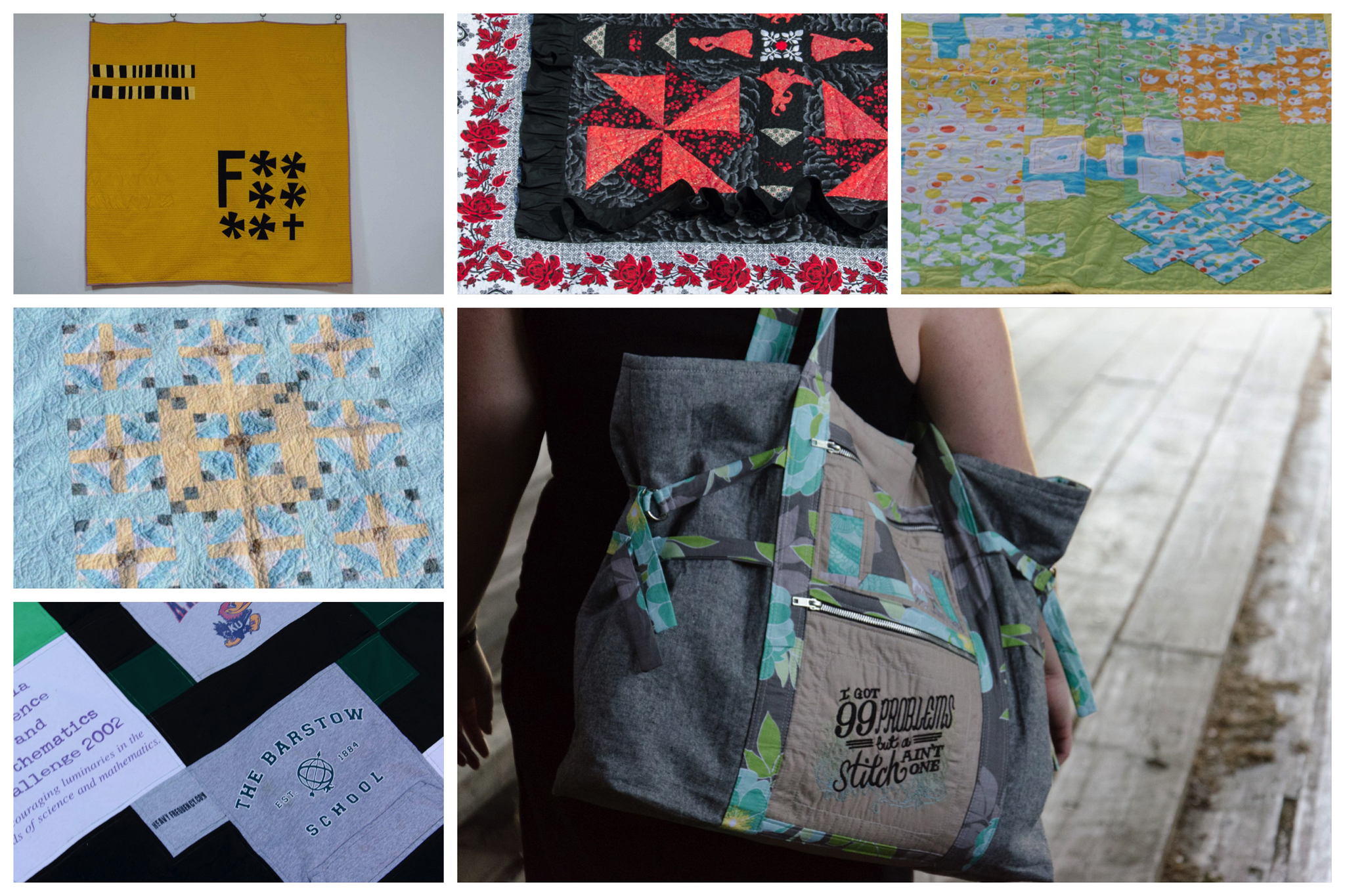 At the end of 2014, I made a resolution to clean out my works in progress (the quilting ones, at least). Three-fifths of my quilt finishes this year came from that collection, and I worked on a few others. The second part of the resolution—that I not add to the list—wasn't met. I started two projects that are still unfinished.
Quilt Finishes
* denotes a long-term work in progress that I finished
For the first time, this year was about finishing things—and in one case making a statement—not about gifting. In fact, the only quilt of the five gifted was the first—a quilt for a new cousin in my generation.
Getting the F-word out of my head and into a quilt was extraordinarily satisfying, and one of the unfinished projects is something else in that vein.
Sartorial Projects
My one wearable was a Halloween/Cosplay costume for Mary Sanderson. I've loved Hocus Pocus for 20 years, and was happy to jump in when my coworkers wanted to dress up as the three Sanderson Sisters for our office costume contest.
Crafty Things
Not only was this a slow year for quilting, I sewed very few smaller craft items.
My Art Student and the Cottage Garden bag is an all-time favorite and took about the same amount of effort as a typical quilt.
Samplers, Meetups, and Exchanges
I contributed blocks to two charity quilts for my guild, pieced the back for one of those, and made a block for a quilt Thomas Knauer is doing.
But, I did nothing with others that will end up in a project of my own.
The Backlog
Again, this was the year of cleaning out works in progress. I went into detail on the ones I made progress on in a Mid-year Progress post.
Progress since the progress report: I finished one quilt, decided Drunkard's Compass will never be completed as designed and returned the fabrics to my stash (there are a few blocks finished that may turn into a pillow cover or something next year), and found the heart block for the Miniatures 9-Patch during a massive organizational spree in November.
Progress made:
Farmer's wife / EPP Crosses
Miniatures 9-patch
Witches Bubble Brew
Drunkard's Compass
Meta history quilt
Untouched:
Organic Spins
Double Wedding Ring
2013 Samplers
New:
I Am Human
Work in Progress (such a meta name)
A Resolution
I have a couple of very specific finishing goals for 2016: I Am Human, Work In Progress, Miniatures 9-patch, and a baby quilt in January.
Beyond that, the majority of my guild (including me) decided to participate in the Mighty Lucky Quilting Club so I want to keep up with that.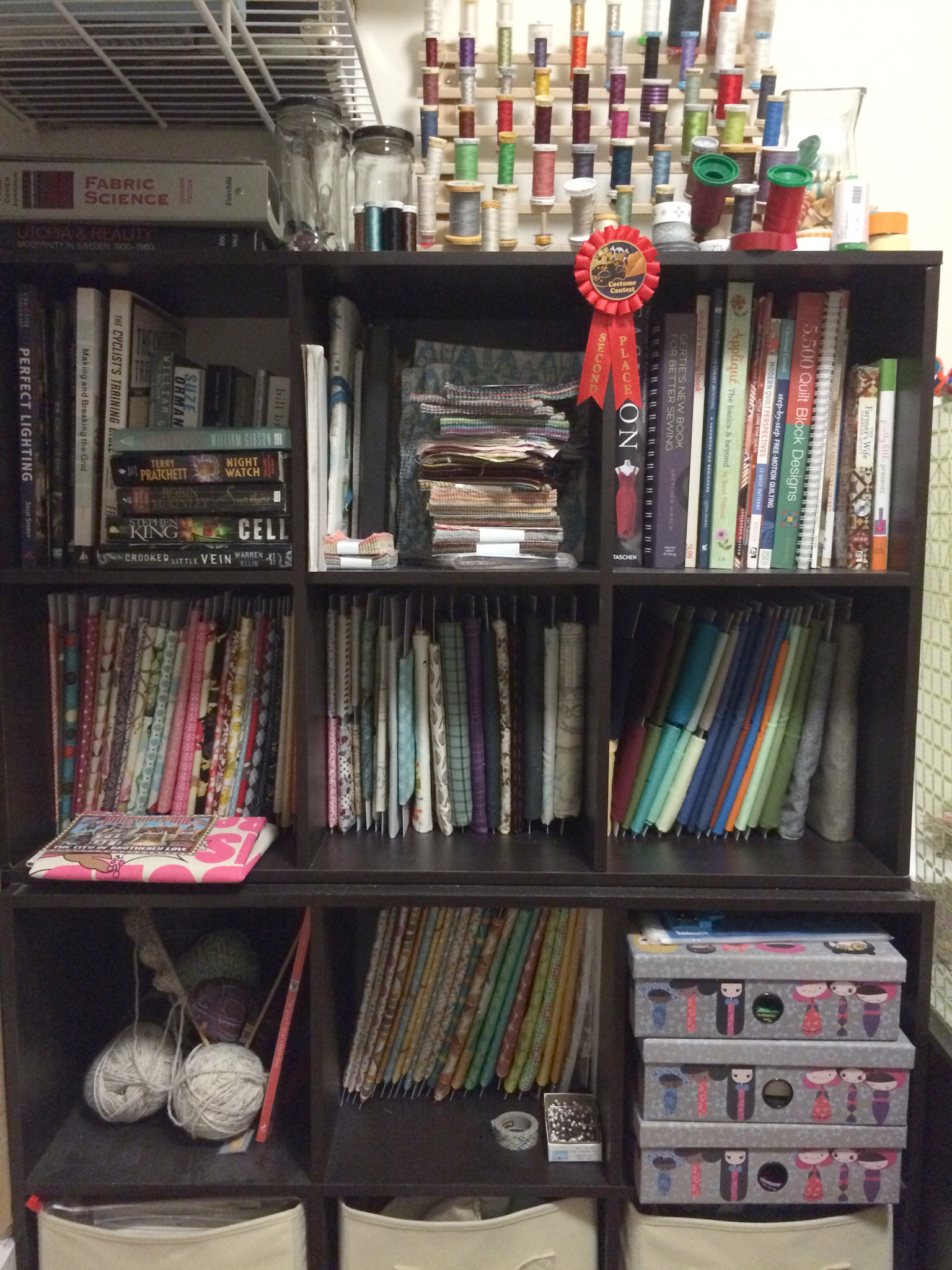 I finally organized the larger pieces of my stash (comic book boards as mini-bolts for the win). I hope I can keep up with having my sewing room organized. I still need to deal with all of my scraps that are hidden in various bins and boxes.
I'm loathe to commit to much, because I think 2016 is going to turn out much like 2015 in terms of work and traveling. Looking forward to seeing how it goes!