In 2015, I worked my way through some of my oldest unfinished projects, turning boxed-up, almost forgotten fabric into quilts. This second quilt of 2016 is more of the same. This one started life as a pack of 18 fat quarters in February 2011 (my fourth quilt started), and is now a 54×72″ quilt using up almost every bit.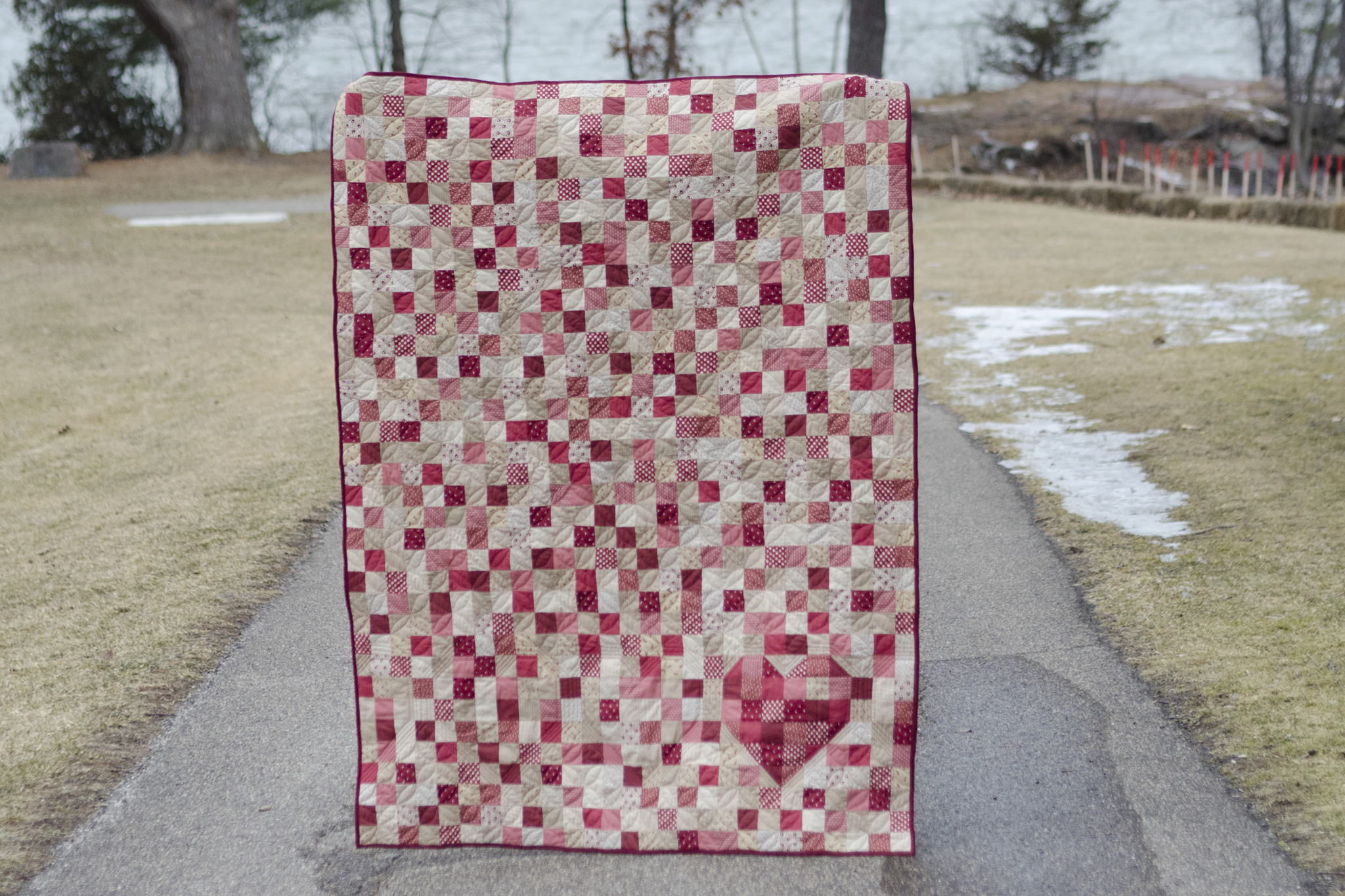 I planned out this nine-patch with a twist, cut all the fabric out, sewed the heart section, and even created all the strip piece components for the blocks, then packed it away. The remaining construction comprised sewing lots of three-patch strips together into nine-patch blocks, then the row and column piecing.
I finally finished the top during a self-designed mini retreat when I found myself spending a snowy vacation day in Utica (thanks to Shelly and Sew Wilde Quilt & Co for providing workspace for me and my machine that day!).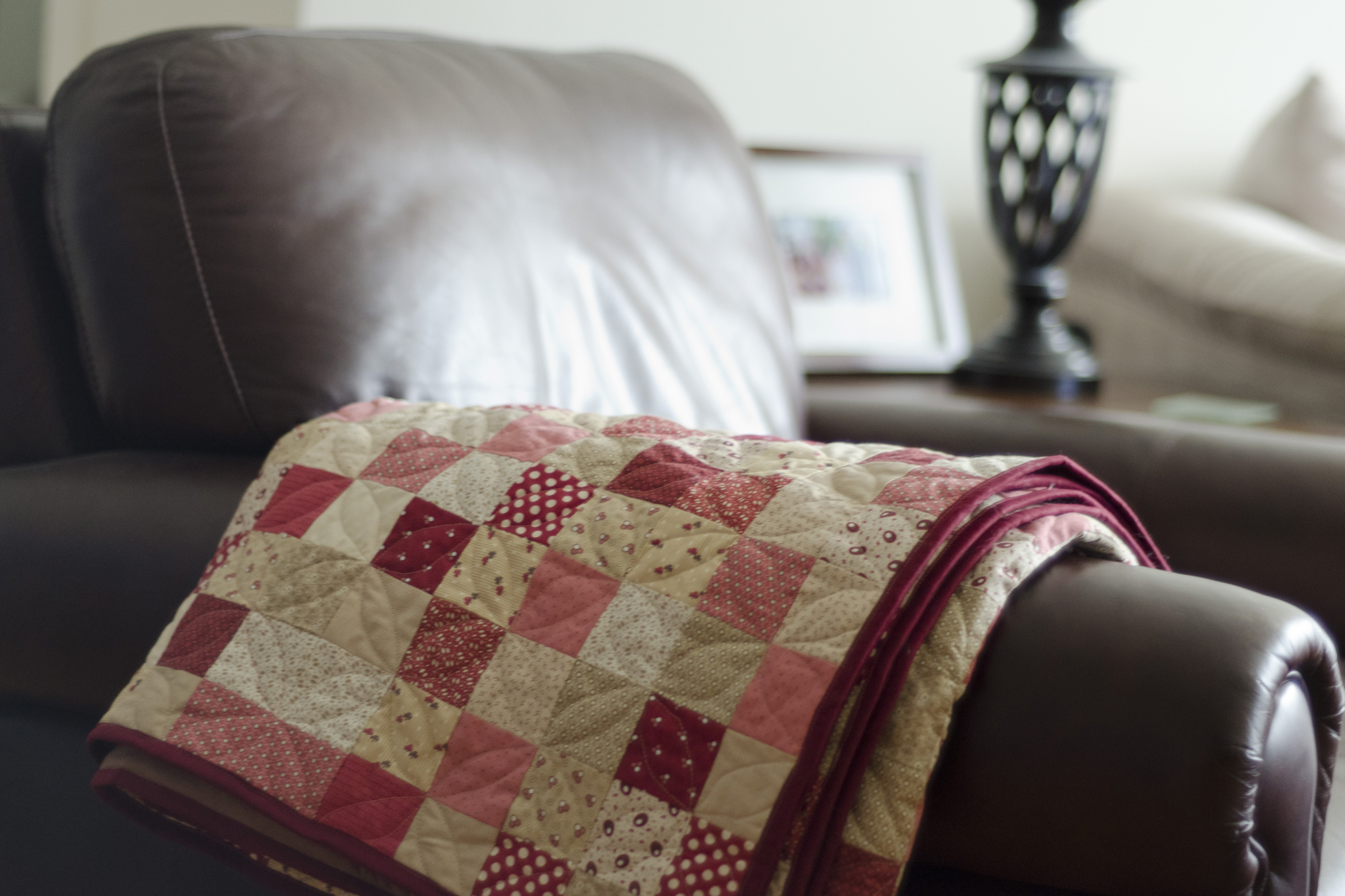 I don't recall why I purchased the fabric or started this quilt (although I think the inner dialogue may have been "hey, buy, buy, fabric, sale, sale, Fat Quarter Shop, buy, buy buy"). I do vaguely remember wanting to quilt it ambitiously for one of my first few quilts, but can't pinpoint exactly how. The end is a rather scrappy quilt with very little thought into where each block would go apart from the pieced heart, and quilting that is far beyond anything I'd previously attempted when I cut the first pieces.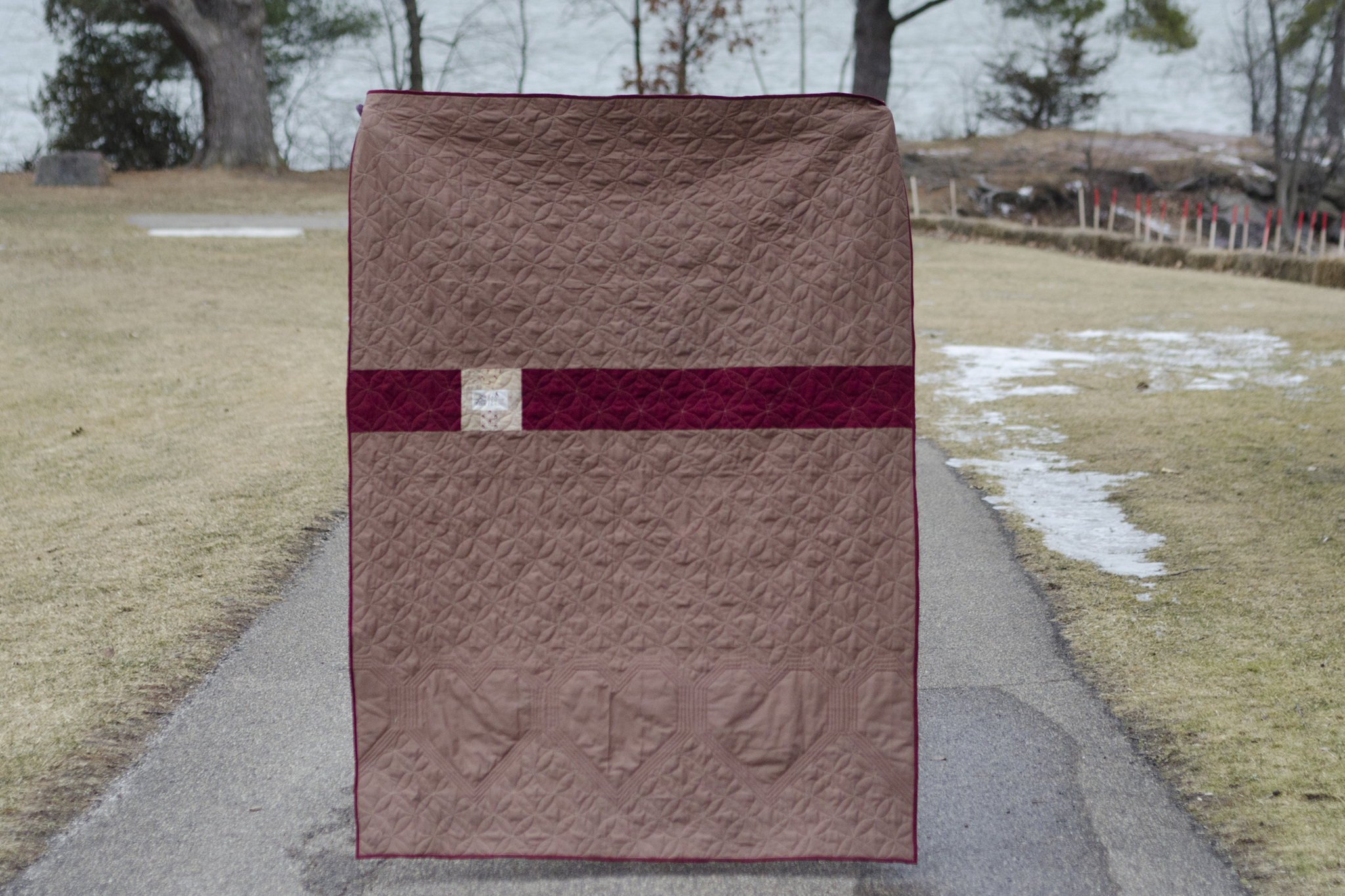 The backing and binding are solids that I bought years ago for this quilt. While not my first choice as my style has evolved, I stuck with them to get them out of stash. I considered doing something more complicated in piecing the back together somehow, but I only had the six 2.5″ squares leftover after finishing the top and a nine-patch for my history quilt. The brown reminds me of the ubiquitous brown glazed underlining in Victorian bodices, continuing the theme of old-timey romanticism with the color scheme, heart, and reproduction fabrics.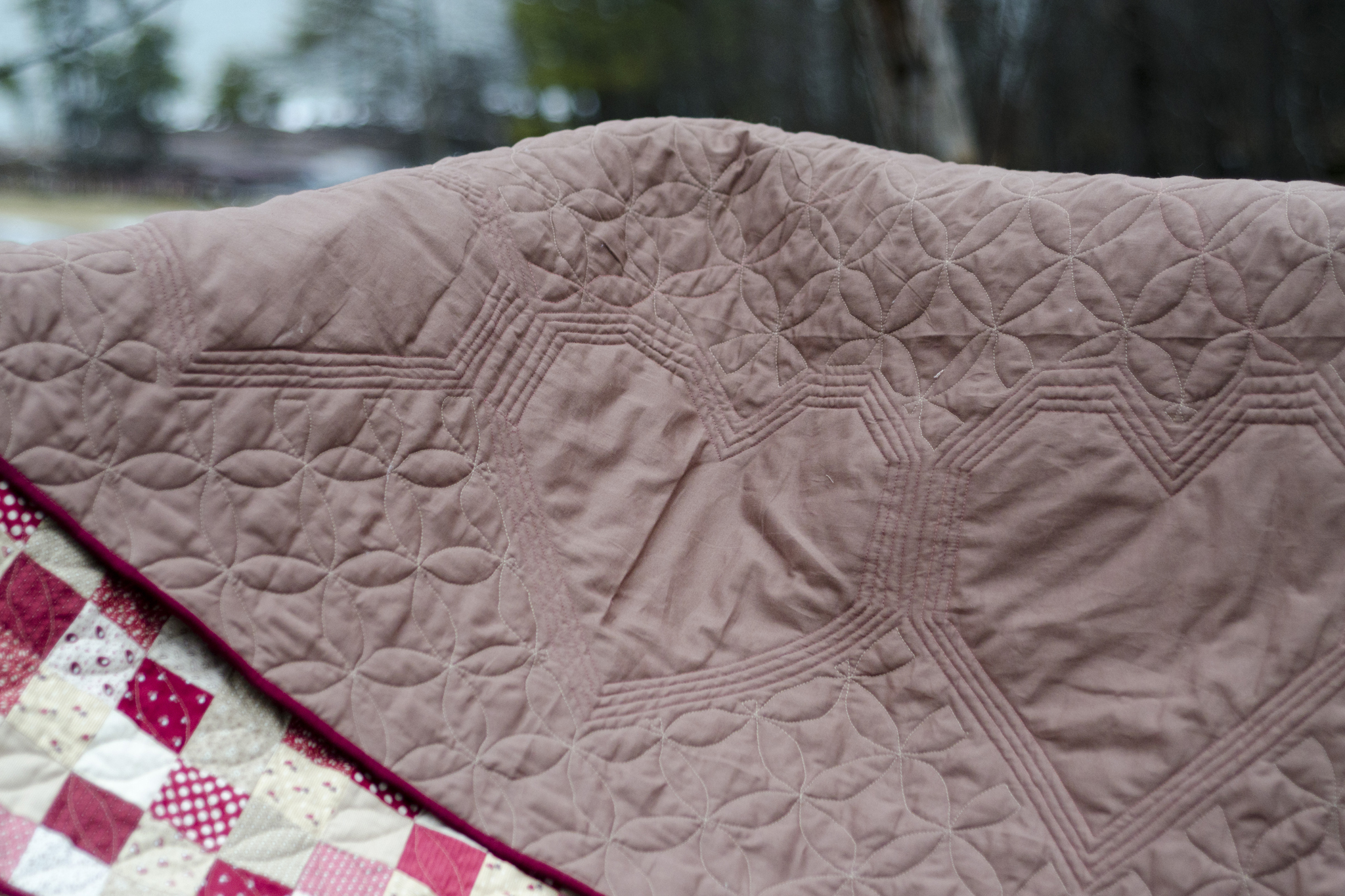 I quilted a few ghost hearts into the quilt, then did the rest in an orange peel pattern that was simple to pull off with the nine-patch construction of the quilt (although far from perfect). It seems appropriate that the orange peel quilting looks like exes and ohs. The hearts are quilted in two shades of pink, while the orange peel is mostly beige with a few pink highlights.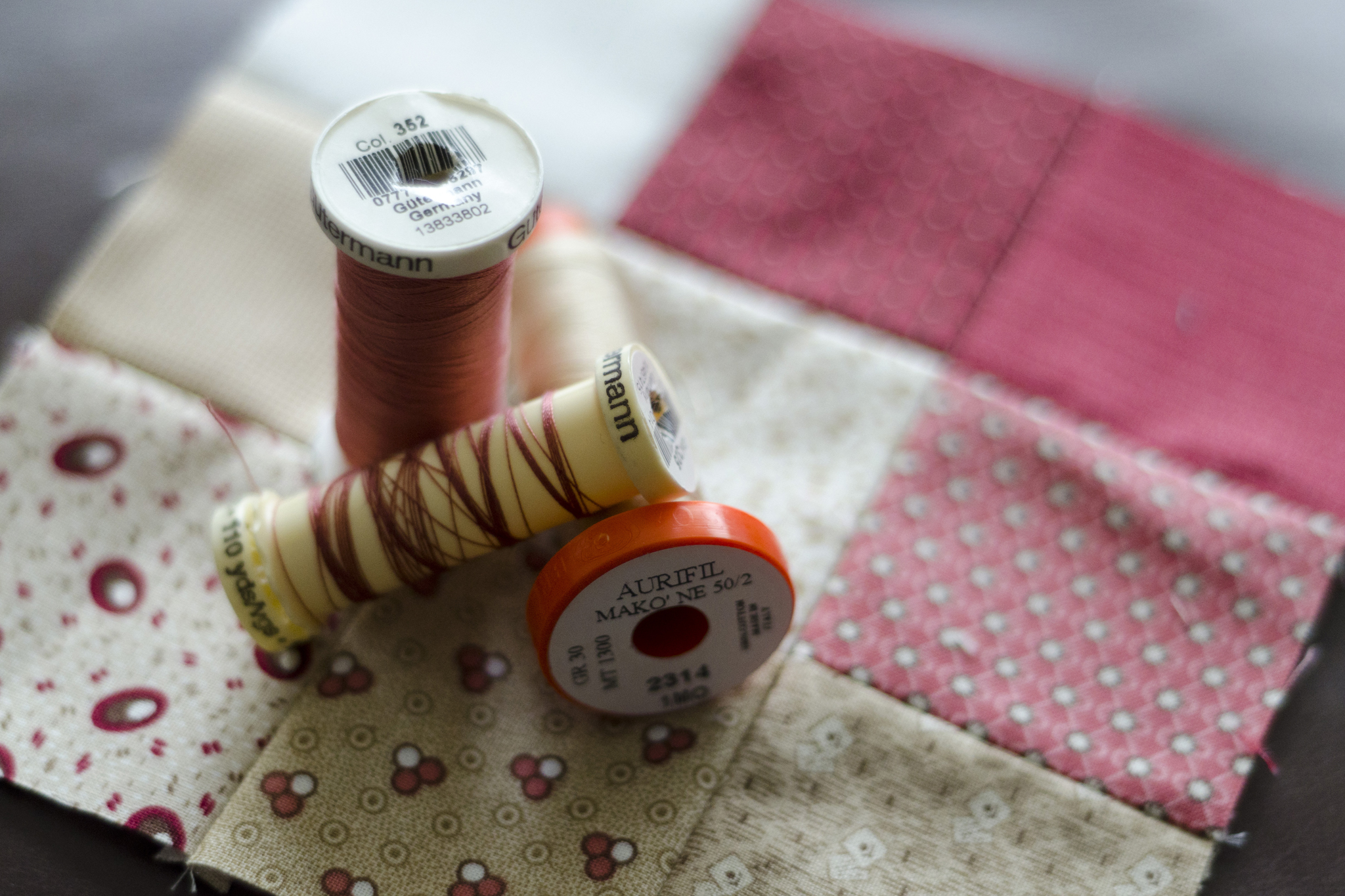 I used wool batting for the first time since my War of 1812 Challenge quilt, and am not sure what I feel about it. It is wonderful to cuddle under during winter here in VT, but I'm not sold on the texture and drape of the finished quilt. I'm also worried about washing this one, uncertain how the Quilter's Dream will react.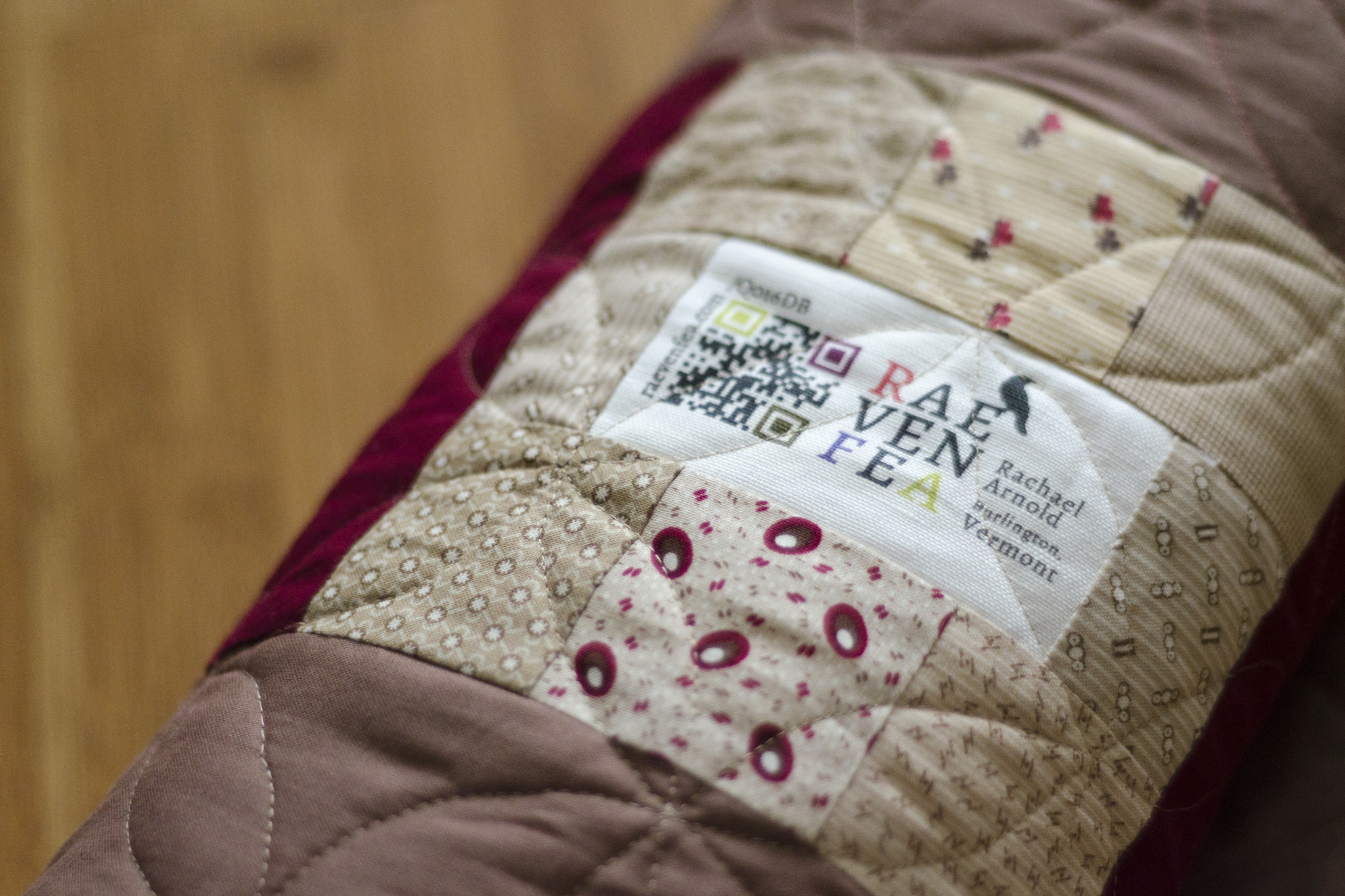 As my mother very bluntly noted on an in-progress social media post, the colors and design of this quilt are really not "me". Yet I'd count it as one of my favorites. There's just something about it that makes me happy, and it's pretty apropos to the time of year. I foresee it being my quilt of choice here at home until spring comes around. That is, if Moof doesn't keep stealing it.