When I sat down to write this, it struck me that my opening could be much the same as last year's. Again, we traveled quite a bit. Again, I changed roles at work (back into development, still team leadership). But, I also spent weeks on end not entering my studio space, not sewing, not dreaming up projects. I posted the fewest updates here since I started keeping this blog in 2009. So, this will be a pretty minimal roundup for the year.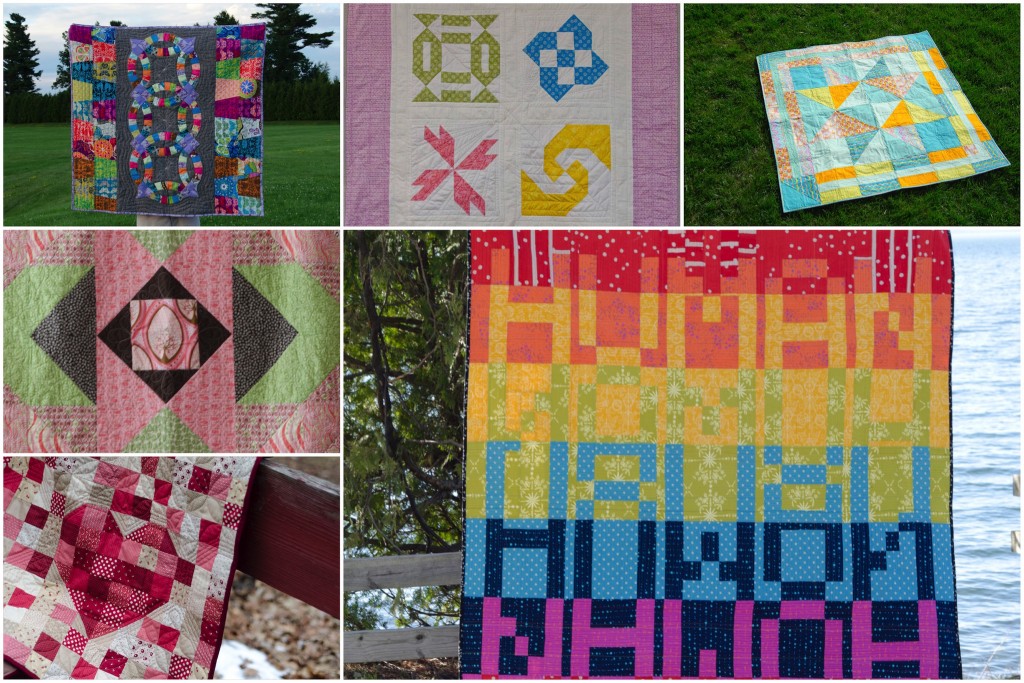 Quilt Finishes
I was surprised to realize that I finished one more quilt this year than last. The finishes fell evenly into three categories: baby quilt gifts, donations to my guild's community quilt drive, and ones I kept.
Every quilt I finished this year was either a pre-existing work in progress or made from stash. I'm happy to see my backlog of started projects shrink a little more. Despite the stash projects, my collection of fabric actually increased exponentially this year (more on that later), but it was nice to use up some of the older bits.
Quilt Shows
Despite not blogging, I did more to show my work in real life than I have in past years.
The F-word hung at the Vermont Quilt Fest. I don't think it was very well received, but one of the judges gave me some insightful feedback, so it was a satisfying experience.
Human hung at the Squam Modern Quilt Show hosted by the Cambridge MQG and Gather Here, as well as in a special exhibit by the Vermont MQG at the Champlain Valley Quilt Guild's show this year (an exhibit I also organized, which ate up a chunk of time).
After four years of traveling the country (and to Canada), my 1812 Challenge Quilt finally came home this summer.
Samplers, Meetups, Exchanges
I signed up for the Mighty Lucky Quilting Challenges this year, but only completed two of the challenges. January's bias tape challenge resulted in a mini art quilt, and I made a pillow of quilted words as a result of June's challenge.
I also made a few blocks for two quilt drives (along with other members of my guild): #quiltsforfortmac and #quiltsforpulse.
The Backlog
Progress in 2016
2013 Sampler from Tiger Lily
Meta history quilt
Farmer's wife / EPP Crosses
Witches Bubble Brew
Untouched
Organic Spins
Work in Progress
New
Self-portrait of an American Woman
Resolution
I find myself hesitant to make any resolutions for 2017, but if I were to do so, it'd be as simple as "spend more time creating."
As the year draws to a close, two articles I read this year have really stuck with me and will likely play a role in how I look at things in the coming year. In the first (from 2014), Cheryl Arkison talks about why she doesn't limit the number of projects she currently has "under construction." (link no longer available) As someone who spent the previous three years making a concerted effort to reduce the number of works in progress I have, it may seem odd that in many ways I agree with her. But as she discusses in the section about creative challenges, I do think there can be value in having a variety of projects to work on. A lot of my focus has been on clearing out projects that never really called to me in the first place, but that I didn't want to abandon. What is left is a collection of very different ideas that are simply waiting for me to be in the right mood to explore.
The other was Abby Glassenberg's article about how language matters and the often exclusionary nature of how we talk about quilting. While I think the entire article is spot on, the section at the end about fabric stashes struck a particular chord. I purchased over 60 yards (yes, really! I couldn't believe it either) of fabric this year. Some was to supplement what I already had to finish in-progress projects, but much of it was taking advantage of sales two local shops were running (one was moving, the other closing). Mere days before the article came out, I made one of those throwaway small-talk jokes to the fabric store clerk at checkout about my husband's likely horror of such a large purchase and maybe I should sneak it inside. It was also mostly a lie, because he doesn't really care and I felt no guilt (also: I'm a terribly awkward person in conversation most days, especially for small talk). It was one of those things we say to act like everyone else. Just like all the brainless micro aggressions that continue to feed racism, sexism, ageism, all the other -isms. In other words, this is the year that I managed to turn buying fabric into a great philosophical event for myself.
That's all a really long way of obliquely saying that in 2017 you should expect more 'statement' projects (a lá F-word, Human), and more stash projects (fabric palette projects?).