Winifred: Don't get your knickers in a twist! We're just three kindly old spinster ladies.

Mary: Spending a quiet evening at home.

Sarah: Sucking the lives out of little children!
The big reveal (two months late): two of my teammates and I dressed as the Sanderson sisters from the movie Hocus Pocus, and won second place in our company costume contest! I was Mary.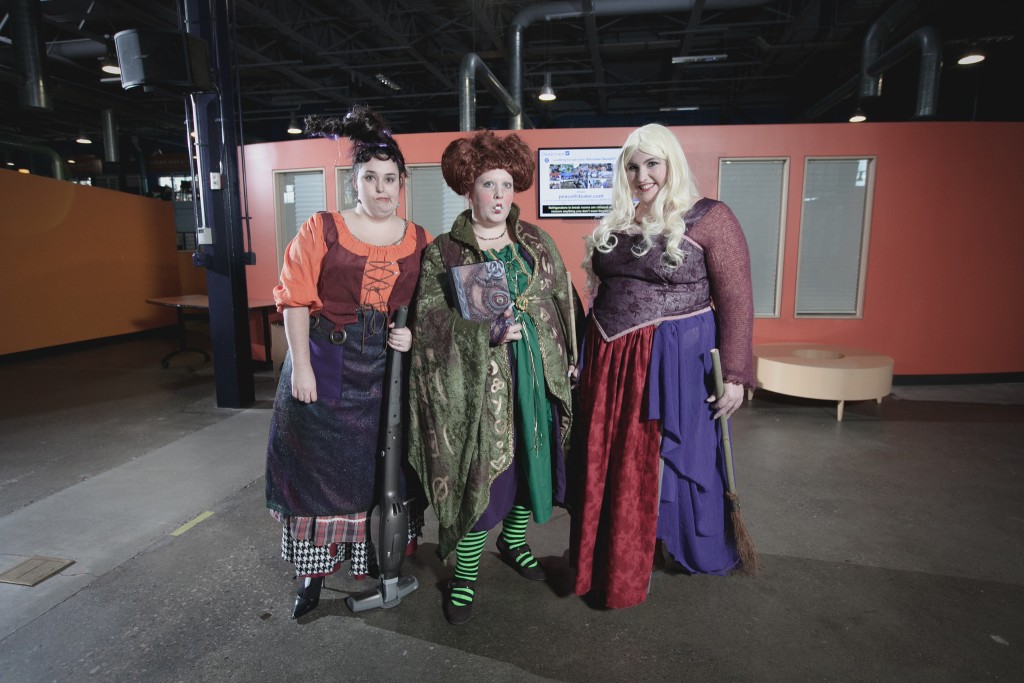 I ended up hacking the bodice, apron, wig and cape together without in-progress photos and never technically finished it (safety pin lacing holes for the win), so this post will just show photos of the 'finished' costume as I wore it for our office contest with a few notes on modifications. I showed you the various skirts and chemise in previous posts.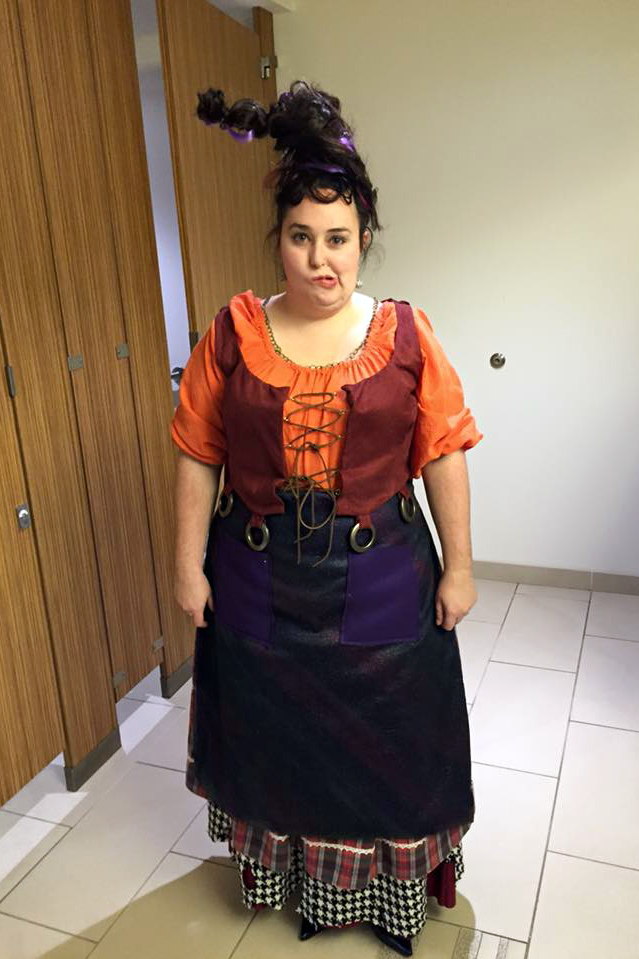 The bodice (from Simplicity 5582) ended up being very straight forward, except that I bag-lined it instead of using bias tape to finish the edges. I wore my (also not completely finished, despite being made in 2012) regency corset under everything, as the bodice is made of a fashion knit with interfacing and a cotton lining, thus had no shaping ability. I have yet to finish the lacing holes and used safety pins the day of. The fit is horrible. Despite matching my waist measurements, there was no way the bodice would close (partly because of the added bulk from the skirts). I added an extra inch to the front, but it still wasn't enough.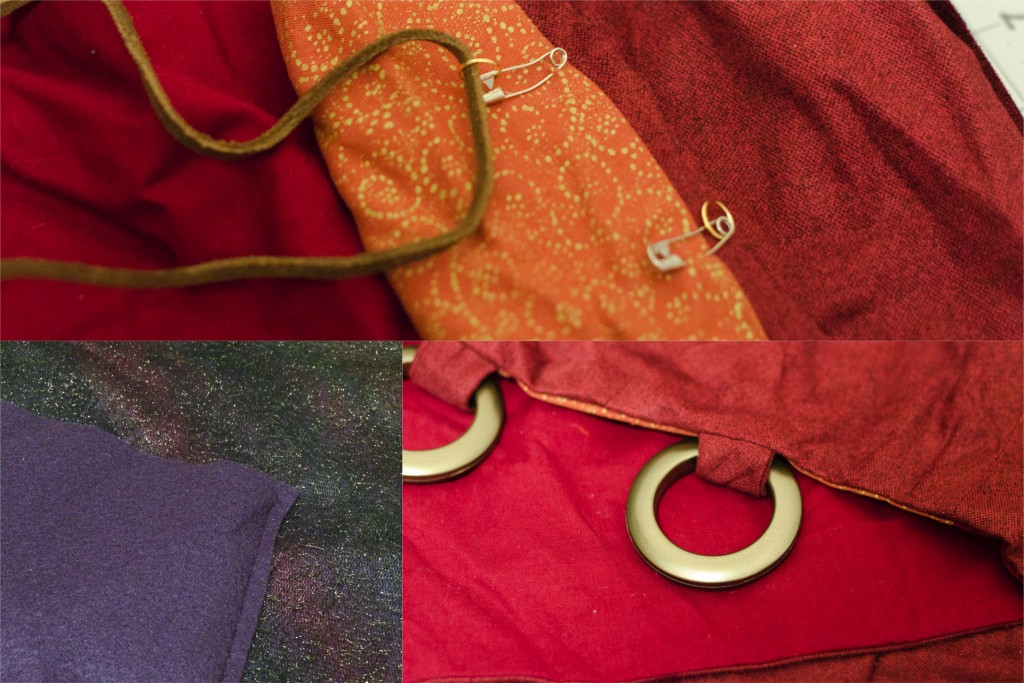 The cape is attached at the shoulders (more safety pins), and was only hemmed at the top: the sides are unfinished (the knit doesn't ravel), and the bottom is selvage. I had to seam it up the middle due having two pieces of the fabric, and not enough forethought. I chose to use the knit because it had a printed pattern that looked like a rough texture, while being simple to work with for a costume.
The apron is just a rectangle of fabric (actually three (felt and fashion tulle), layered, to get some texture). attached to a waistband, with patch pockets. I couldn't find any multi-colored fabric with the right boucle texture.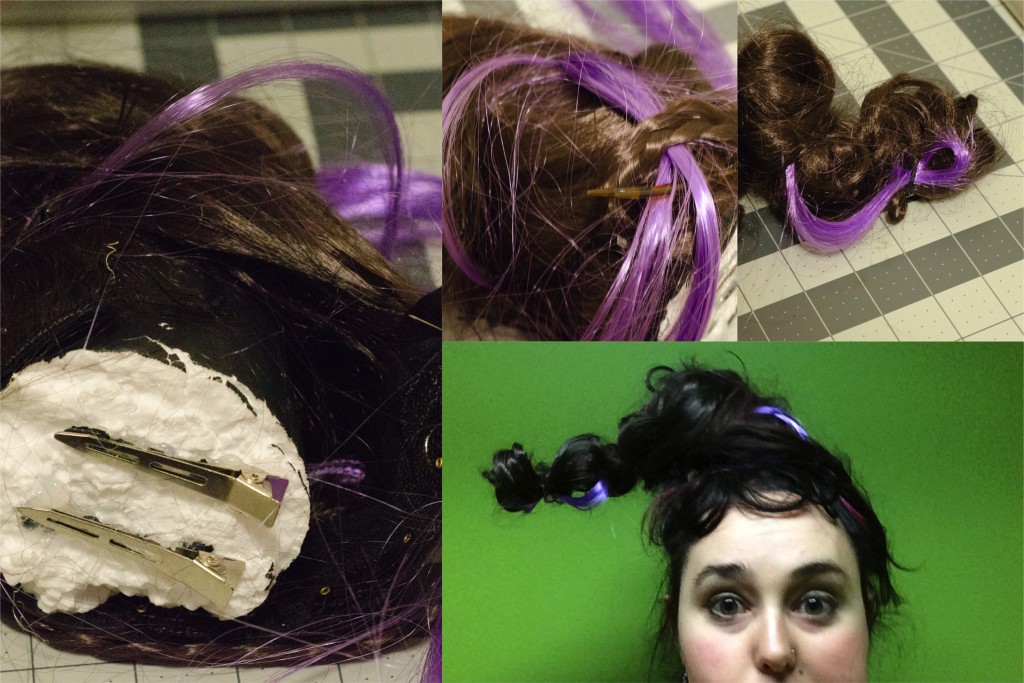 The hair was fun—it's a mix of my own and a structured wig piece. I made a base out of a styrofoam cone painted black with wire in the top, then hot-glued hair clips to the bottom. Then, I attached a hair extension piece that matches my already-dark-brown hair and clip-in purple pieces to create the structure for the shape. When wearing it, I twisted my own hair up onto the base and used a ton of pins, which held it all in place. Since I already have bright pink highlights, it was a little more jazzed up and multi-colored than Mary's, but worked out surprisingly well.

If I wear this costume again in the future, I'll finish up the lacing on the bodice, and add the accessories that really make something like this work (rings, earrings, proper shoes), but it was a lot of fun for an afternoon at work!