Source: jaybirdquilts.com via Pinterest
I've been in love with Curious Nature—and every quilt I've seen made with it—since it was released this past Spring. When the ebook Geared for Guys started making rounds, and Julie of Jaybird Quilts showed us the "Gamer" quilt, I was inspired with the perfect project for Curious Nature.
See, Carl just turned the big three-oh. He's having a bit of an existential crisis about it, and we all know how cuddling under a hand-made quilt can help with that. But, he's not a gamer (we have a Game Cube… somewhere… that gets used for Mario Kart maybe once a year). He is a cyclist, so I give you "Cyclist":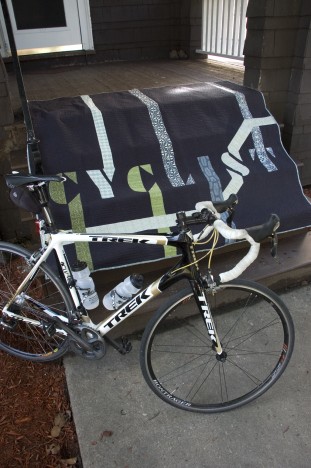 It is larger than Gamer: around 70″ square (because there are more letters and because he likes square lap quilts). The background is Quilter's Linen in Charcoal.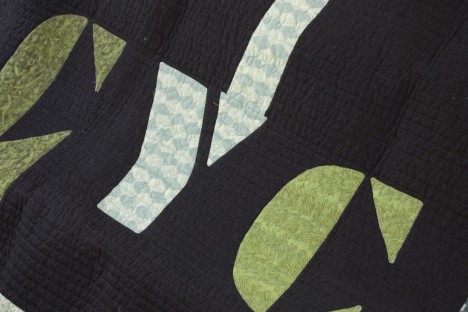 I considered piecing the letters, but I only had a month to finish the quilt, so they're machine appliqued (fusible-interfacing–aided turned-edge, invisible-thread zig-zag stitched), 9″ high. The stripes are all pieced (the 'S' lines were tricky, but not horrible), and the applique goes into the seam allowance where the stripes meet the letters, which made the difference between pieced and appliqued a bit less abrupt.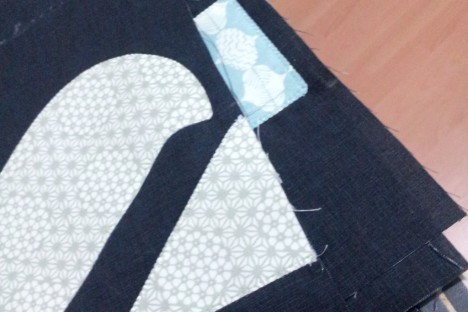 I FMQed the letters using the lowercase cursive of each (are they a bit wonky because of my inability to FMQ or write cursive? No one knows for sure), then straight line quilted the rest, mostly .5″ apart, moving to 1″ toward the outer edges. It took forever. For. Ever.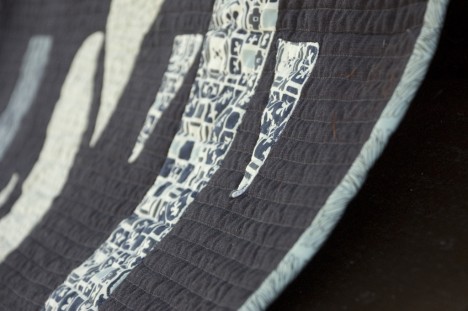 The back is pieced with extras from the front, and an orange print that is some sort of Civil War repro that I thought really worked out well anyhow (lesson: don't be scared of that section of the store).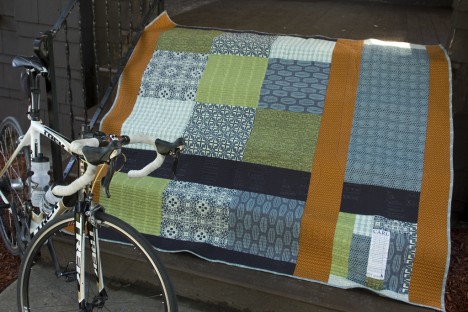 In the middle is Pellon Nature's Blend, an 80% cotton / 20% poly low-loft batting. I've reviewed their 100% cotton (with poly scrim), and thought I was buying it again, but the bolts were switched in the bins at the store. This is a bit pricier than the Nature's Touch, but it's not as stiff with the dense quilting as 100% cotton is, so the unintended purchase was an unexpected boon. I might be a permanent convert (except when I'm on a budget).
And of course there is a custom label.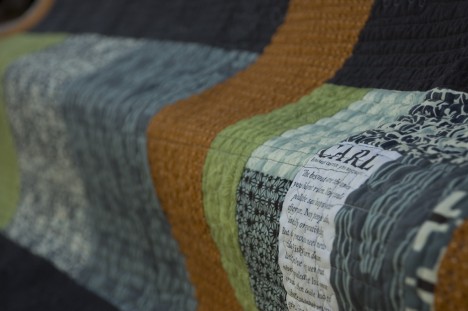 Since this is staying at the house, I'll try not to steal it too often, but it is really nice to cuddle under (and not so nice to have in your lap while quilting during the summer in a room with no a/c)!