Our friend just moved apartments and bought a new couch set (which I'm rather jealous of, although it wouldn't fit properly in our house). When we were shopping with him, he really seemed to like this one set of pillows that unfortunately didn't really match the new set very well.
So, Carl and I decided that I should make simliar ones in colors that will match. It's a very simple design of upholstery fabric and fuzzy stuff on the back (for cuddle-ability):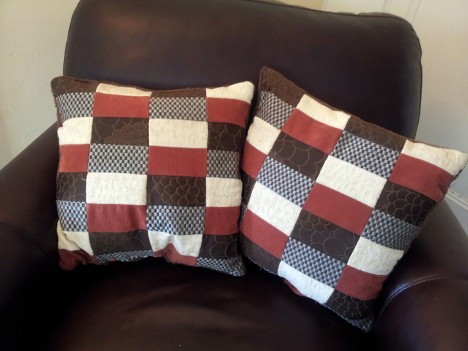 The brown floral (which reads more like scales in some of the rectangles) is the same fabric as two of the pillows that came with the set—a happy find in the fabric store that will also help these blend in with the other pillows.
Here's a super quick tutorial for how to make your own matching pair.
Materials
1⁄6 yard each of four different fabrics for the front (these were upholstery-weight)
½ yard of backing fabric (these were a cuddle fabric, but upholstery works too)
2 16″ pillow forms (or make your own. It's better to have that extra layer of fabric than to just stuff the case you make)
Neutral thread
If you use quilt-weight fabrics, you probably want a yard of muslin to use as an interlining for the front and back, just to give it more body. Unless your 42″-wide quilt-weight fabric is also super square, you will need a bit more than 1⁄6 yard (you need a strip that is 6″×40″ for standard width, or 5″×48″ for wider fabric).
Cutting
Cut 16 3″×5″ rectangles from each of the four front fabrics.
Cut two 17″ squares from the backing fabric.
If you're using lightweight fabric, cut 4 17″ squares from the muslin.
Construction
Because I recommend using heavy fabric, I've given all measurements assuming a seam allowance of ½″. Sewing a true ¼″ seam with upholstery fabric is annoying, fiddly, and begging for problems (not to mention it gives room to deal with the horrid fraying).
Front piecing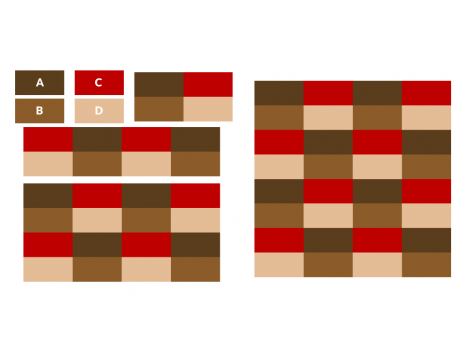 Pair up the two darker fabrics and the two lighter fabrics for the front (A and B, C and D).
Create blocks by sewing all of the A pieces to the B pieces along the long side. Do the same for the C and D pieces.
Construct the rows by alternating two AB blocks and two CD blocks. You'll need four rows that start with AB and four that start with CD, with A and C always being at the top of the row.
Sew four rows together for each pillow, alternating the AB-starting rows and the CD-starting rows.
Making the pillow
One you've completed the fronts, place a front and back piece right-sides together. If you used light-weight fabric, baste a piece of muslin to the wrong side of each piece first.
Pin, then sew all the way around, leaving a 10″ opening on one side (or smaller, if you feel comfortable stuffing your pillow form in).
Turn out, clipping corners as needed.
Insert the pillow form through the opening, then sew the opening closed with a whipstitch or your preferred closing method.
Repeat for your second pillow.
Voilà! A pair of pillows.