This accidentally ended up in my feed a few days ago, sans images. Here's the full post!
Did you ever hear about the Kiwi couple that named their daughter "Talulah Does The Hula In Hawaii" (or possibly 'Tula…')? I ask, not to vilify them, but to explain the title of this quilt. See, I'd heard about that well before I found out about Tula Pink, and every time I hear the name 'Tula', that other name comes to mind. So, an imitative name seemed perfect for this quilt (seeing as the focus fabrics are Tula's Parisville prints). Thus, "Tula Does Up the Walls in Paris" where 'Paris' is pronounced en Français, of course, to get that nice "ee" sound at the end. Yes, yes, enough talk, more photos:

It is 50×60″. The foundation blocks are set on a 4″ grid, with an extra inch on the quilt sides and two on the top/bottom. The frames float inside the foundation blocks. The dewdrop (the boat repeat) is appliqued on in what was otherwise dead space after everything was pieced. This made piecing it a bit easier, as the blocks had set sizes, and the only Y-seams were two in the middle of the quilt.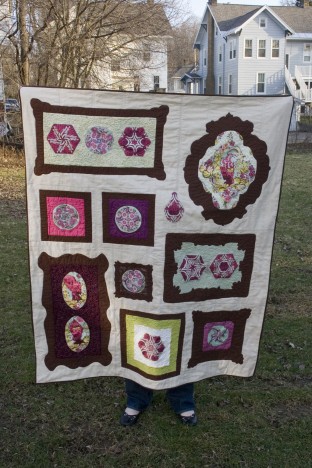 If you haven't been following along, I made this quilt for a bi-weekly class at the local Viking Sewing Gallery. Our focus this time was on the Stack-n-Whack kaleidoscope technique. The quilt we were supposed to make was a simple four-patch–bordered, medallion-style quilt, but with fabric as fabulous as Parisville, I just couldn't stick to that plan.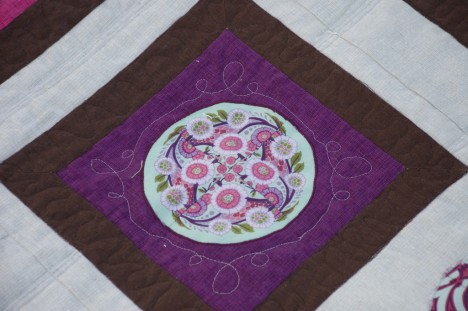 I also have a bit of trouble with… what is it called? Oh yes, restraint. So, what was a simple quilt idea became a behemoth of fussy-cutting, applique, and odd piecing. Constructing this quilt was an adventure in new technique: the kaleidoscopes, using fusible thread for applique, free-motion quilting, and using metallic thread for applique and quilting.
My quilting technique leaves something to be desired, but it's not bad for my first attempt on a quilt; and in metallic thread, no less!
I used cotton thread for the frame FMQ. Between the quilting, applique, and binding, I went through six(!!!) spools of that color brown thread, as I could only get the small Gütermann spools of it. I think I made three different trips to the store just for it. I also ran out of the metallic thread with just a few more inches of FMQ to go (another trip to the store). Then, I ran out of the neutral I was using half-way through sewing the binding to the top side. That one didn't require a trip to the store, though. This was a very expensive quilt, thread-wise.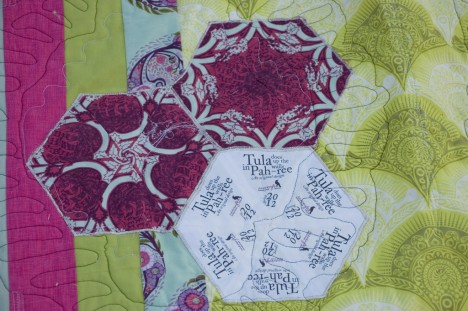 Because I couldn't stop creating the kaleidoscopes once I'd started, I had a couple extra hexies that made it onto the back along with a custom-label. Otherwise, I just pieced the back together with a few bits of extra fabric from the front (I had a lot, but the majority has been cut into 8″ squares for a patchwork quilt top along with the spare 4-patch kaleidoscopes), some Prince Charming yardage, and another print from the stash.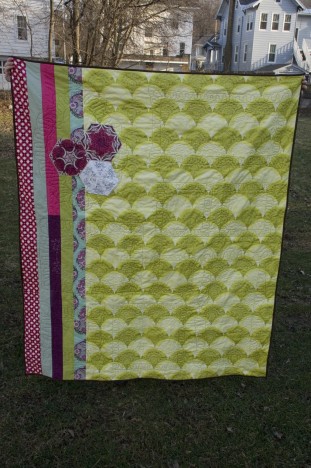 I wish I could have made the frame quilting less obvious on the back, but I didn't want to deal with the headache of perfect tension for a different bobbin color on the brown frames.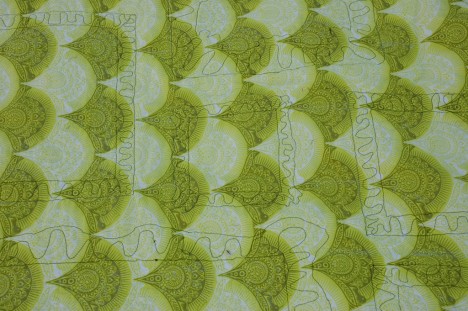 I used Nature-Fil Bamboo/Cotton batting for this one, since I had a package stashed away. I do love the way it drapes, and it's so easy to sew with. It is a bit linty, though (but it doesn't beard!).
I haven't yet washed it, because I am scared that the brown linen I used will bleed (it did a bit when I used it on a small project). I wanted photographic proof of what it looked like before that. Color catchers, please don't fail me now…
That's my second quilt finish of the year. I'm a bit behind, I think, if I plan on finishing 10 quilts this year. Better get back to work!
This quilt doesn't have an intended recipient. 2012 is the year of quilts for me, so far, but I do have a couple presents planned later this year (I hear I have a new niece or nephew on the way this fall!).
Do you have a goal for quilting this year? What is it?