With my sister's graduation coming up, I realized that I need something dressy–yet–casual, and nothing in my closet fit the bill. So, since I loathe clothes shopping and love fabric shopping, I decided to make Simplicity 2245, view A—a Lisette dress.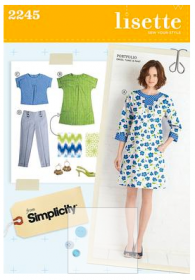 In hind sight, regardless of how cute the woman looks on the pattern cover, this style isn't quite right for my top-heavy body type, but I like it well enough.
The pattern itself is very well thought out and clear—no complaints on it, and if the style was a better one for me, I'd definitely make it again.
I used Free Spirit's voile (specifically, a print from Tula Pink's Prince Charming) and one of their coordinating solids—the voile is wonderful. Since it is a bit transparent, I flat-lined it with a cream voile of unknown manufacture—not as soft as the Free Spirit, but solves the transparency issue.
Since it's freezing out today, I have it over jeans, but I do intend to wear it as an actual dress at some point (it's a little too long for a proper tunic):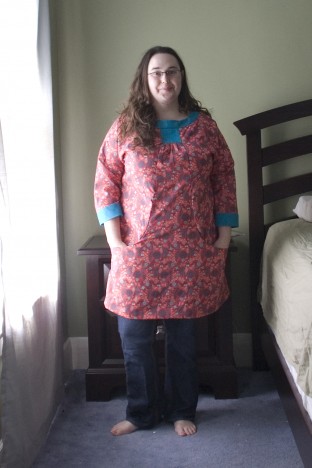 When my hands aren't in the pockets, they have a strange little gaping issue–I think because I didn't flat-line the pocket facing. When I have time, I plan to go back and tack another layer of fabric to the pocket facing to weigh it down and see if that solves the problem.
I didn't spend much time on fit—I pretty much just cut out a size down from the chart measurements (Simplicity puts in too much ease for my liking, and all the dress diaries and reviews suggested this, anyway) and took it in a bit around the waist to try to give it a little more shape.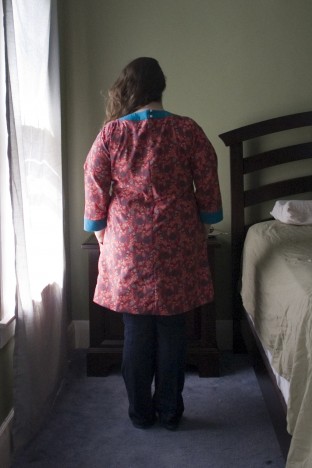 My only change to the pattern itself was to use a hem facing. Here, you can see the facing, the flat-lining, and the un-lined pocket front: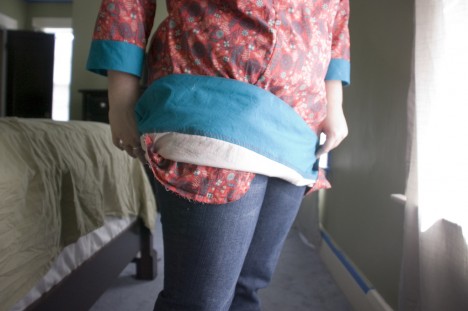 For a faced hem, you cut a few inches of the bottom section of your pattern which becomes the facing. Finish the top edge of the facing (where I have the decorative squiggly stitches), then seam the bottom edge of the skirt and facing right-sides together. Edge stitch the seam allowances to the facing so that you get a nice crisp hem (this keeps the facing from showing on the right side), then blind-hem stitch the top of the facing to the skirt. Because my dress is flat-lined I whipstitched the facing to the lining layer, so there's absolutely no stitching visible on the outside. It also helps weigh down the hem with a lightweight fabric like voile (even though I do have two layers).
So, that's that. My first completed modern sartorial creation in quite some time.
Carl's only comment is that it reminds him of Christmas… so I don't know that it's a win, but it is comfortable, and will be nice for warmer weather.
Have you made this pattern?