A word of advice: when heading to retreats, give yourself plenty of time to pack and consider projects. I waited until the last minute and only had some half-baked ideas. One of those was finishing up my 2013 Saturday Sampler projects in some way. I considered how to do so before leaving for the retreat, but rather than sketching something out, I just wrote down a few measurements and required materials, then tossed the box containing the finished blocks in with everything else I was taking. That's the obscure way of saying that this quilt is nothing like what I'd planned, but hey, it's a finished project!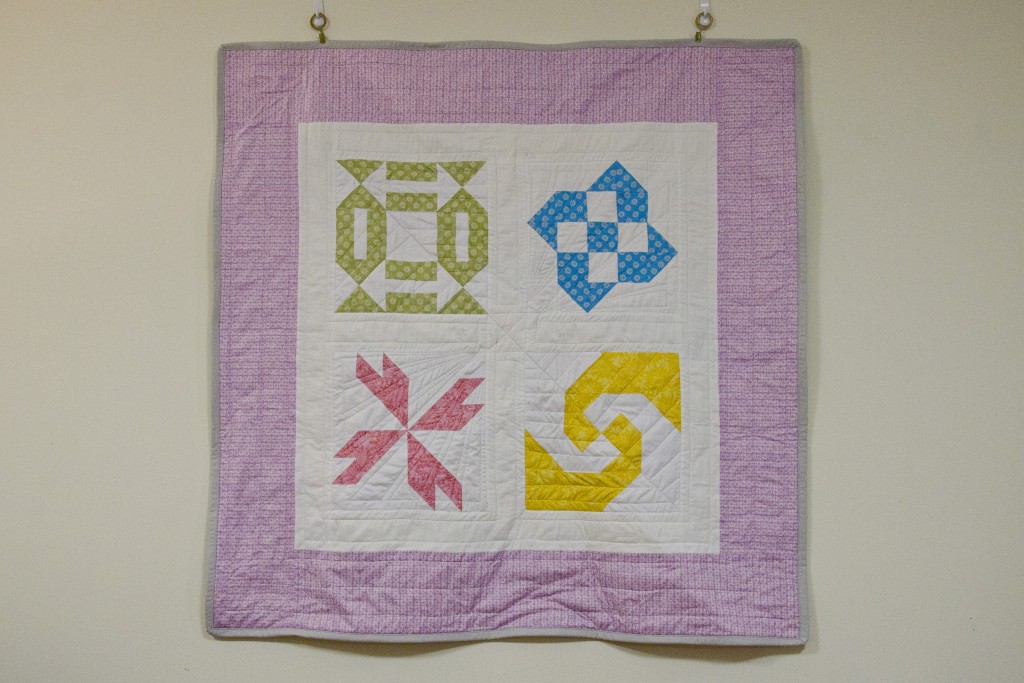 Cotton's Etc. in Wampsville, NY ran this sampler back in 2013. I only attended for four months before we moved to VT, so I wasn't working with much for this quilt. I went to the retreat with the four completed 12″ blocks, a half-yard of supposedly matching white, and low-loft cotton batting pieced together from scraps.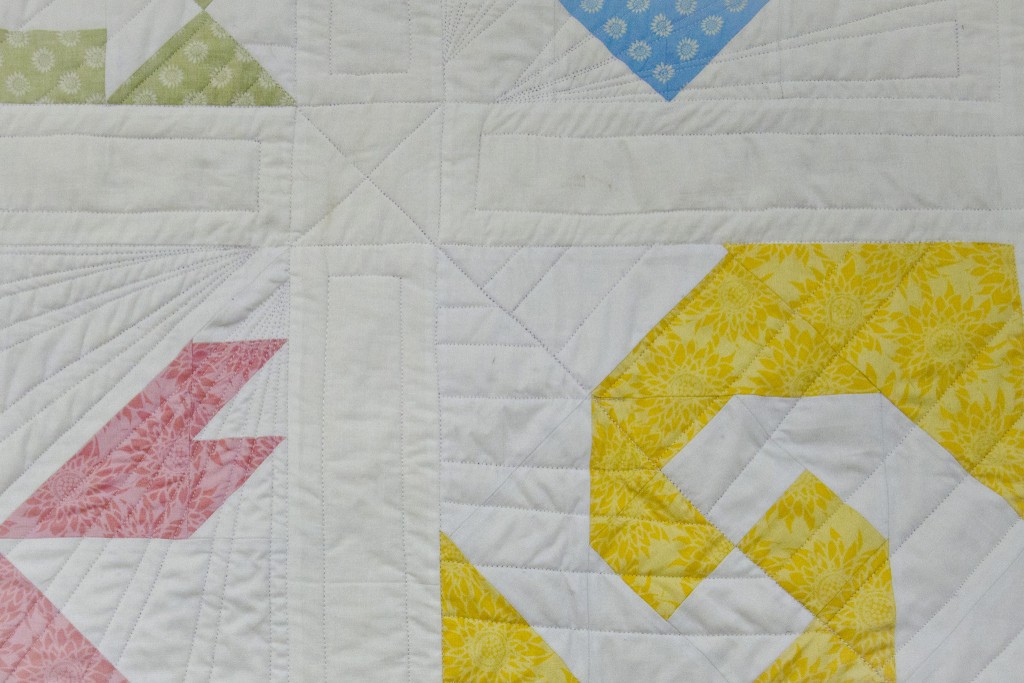 On the Saturday of the retreat, we took a quick road trip to a local store running a moving sale, and picked up most of the rest of what I'd need—a yard for borders that coordinated pretty well, and 1.5 yds of lovely cuddle backing. The gray binding came from my stash at home.
I realized after I pieced the top together that my notes mentioned putting all four blocks in a row with lots of negative space to quilt that would read a lot more modern. Oh well. Instead, I put together a very basic, traditional sashed and bordered layout to turn the blocks into a 44″ square quilt. I've no current plans for it, but it'll likely be a baby gift or charity donation sometime in the near future.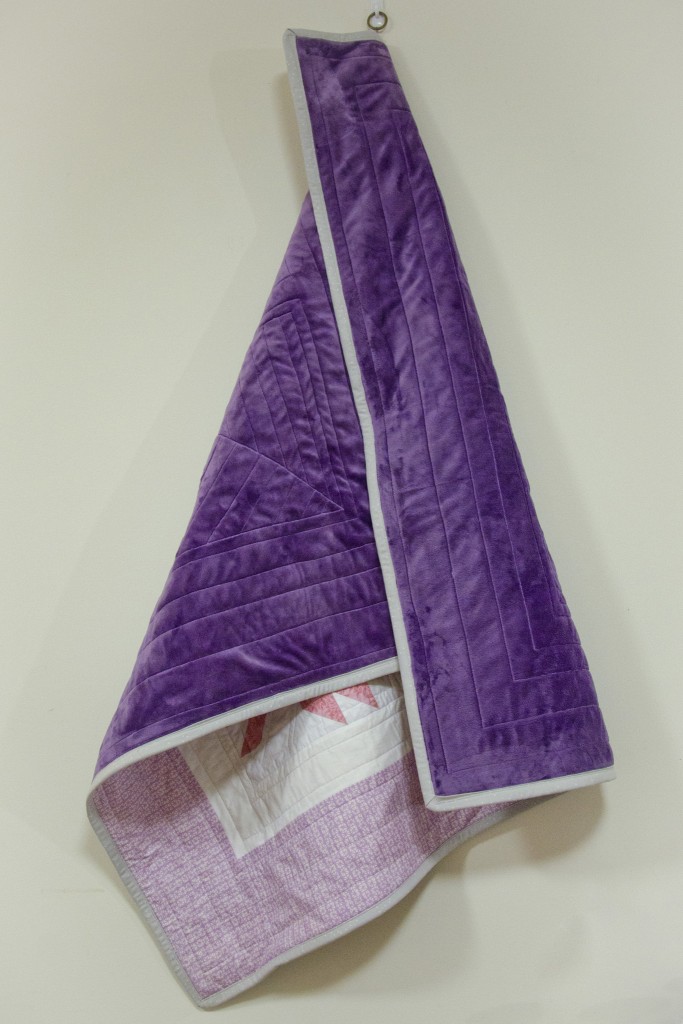 I put the quilt sandwich together at the retreat, then brought it home to quilt. I should have redone the basting before starting to quilt, as I cut corners at the retreat since I didn't have a big space to secure the backing and batting to. I managed quilt it without too many tucks or bubbles, but it's not my best work. The quilting is all straight-line with a mix of 40wt Gutermann (in the blocks) and 28wt Aurifil (borders and sashing). Some of the bobbin is a white 40wt poly Gutermann, and possibly even a bobbin-weight white cotton because I was scrounging around for the last bobbins and spools of white thread I had to use on this. I tried to do a wider-than-normal binding, but messed up the corners. Then, I did my worst machine binding attempt in recent history (possibly ever), resulting in an extra row of stitching all around.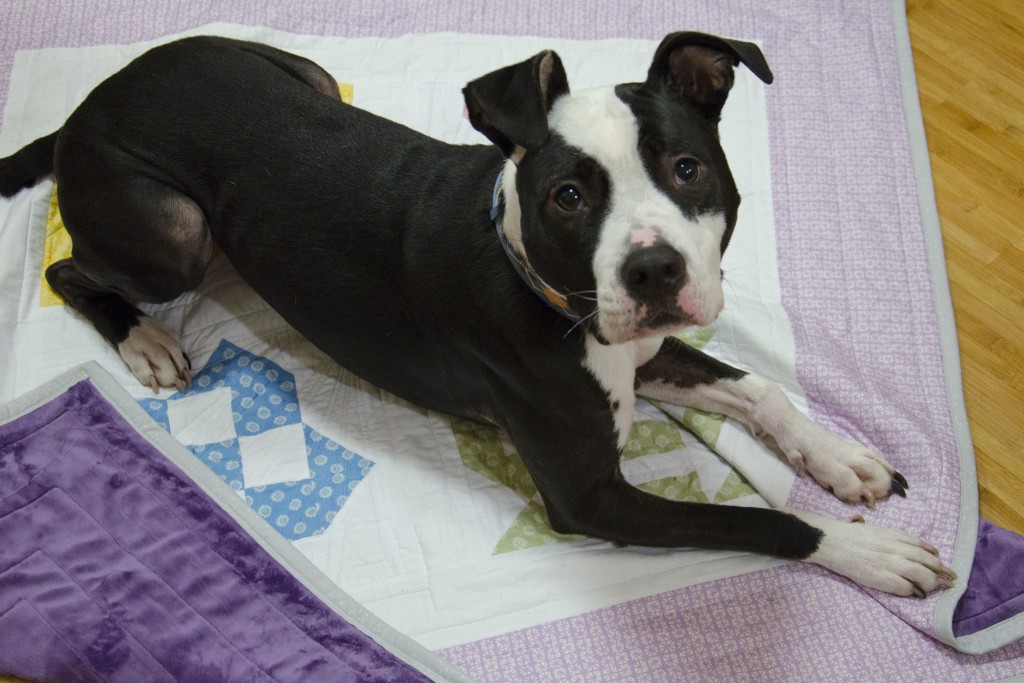 The blocks are Snails Trail, Rolling 9-Patch, Rope & Anchor, and Hummingbird. The sampler was the 'modern' color-way option from the shop—which really just meant bright fabrics and a solid background as opposed to a country-ish food-themed fabric (if I recall correctly). In the intervening 3.5 years, I can't remember what made me do it, but I made the green block with the back side of the fabric up, so it's a little less vibrant than the others. I wish I knew why. I'm also not happy with the block placement—there are two fabric patterns, and I wish I'd alternated them rather than put them next to each other. Additionally, the whites are off between the blocks and sashing, which is doubly annoying since I purchased that specifically from them as coming from the same bolt of fabric.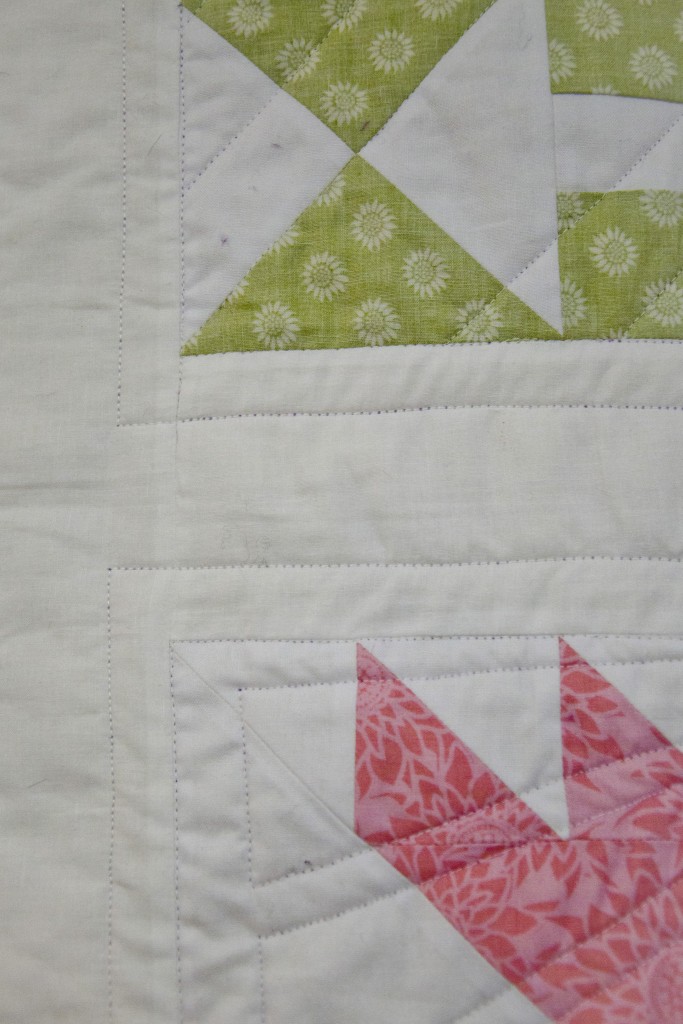 In all, it's not the best example of my skills, but I think that sometimes that's okay. Regardless, it's a candy-sweet quilt that I hope someone will love to cuddle under.