My mom's Christmas gift was a matching set composed of a quilted cosmetic bag, eyeglasses sleeve, and curling iron sleeve. Unfortunately, I may not have photographed it. I also promised to make a matching zippered bag for her purse, but didn't finish it in time for Christmas. It's suddenly the end of June, but now it's made!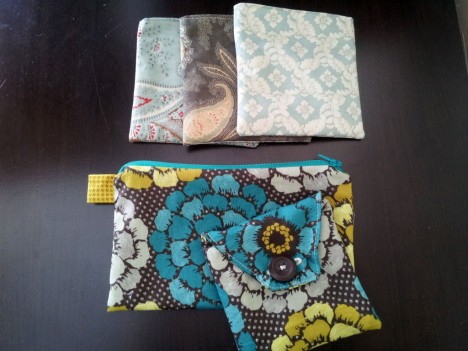 I was in the groove, and made a few more small storage pouches for myself; they've been on my to-do list for a while. I wrote a tutorial about the first ones I made over a year ago.
Since I still had fabric to match my mom's set, I made one for her too. Because I used the last of my Velcro on mine, I improvised by adding a flap that closes with a button. There's also an inner divider in hers using up the last of the yellow contrast fabric.
Not bad for about an hour and a half of sewing time!
---
I don't want to sound prideful, but I'm proud of myself—I've made a good dent in my WIP storage lately. This photo is from Sunday: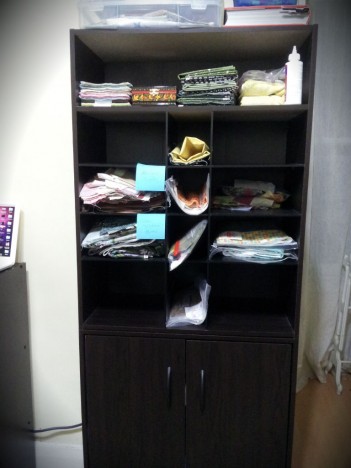 At the beginning of the month, all twelve cubbies were full. Since the photo, I've also cleared out a small one that held Mom's fabric; cut apart the pieces for my Miniatures Nine-Patch (one of the post-it marked ones); and migrated my EPP stuff to its new home in my new bag. Damn, it feels good to be a gangsta WIP finisher. Granted, that's not my only WIP storage, but it's a good feeling to have finished some projects, made progress on others, and organized even more.
Did you make any resolutions to tackle WIPs this year?