When I purchased the fabric for my Tula kaleidoscope quilt, I went a little overboard—mostly due to trying to match blenders and solids while online shopping. Then, I went a bit crazy making kaleidoscopes, because they were so much fun. Ultimately, there was enough leftover fabric and blocks for a full 60×60″ quilt of 7.5″ finishing squares, plus binding and backing (with a bit of stash throw in for the back).

Thus, I give you "Superfluous Tula", or colloquially, "Parisville Leftovers".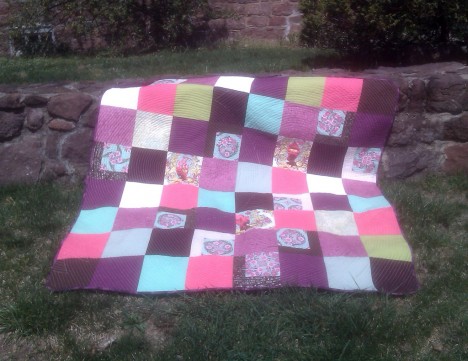 I started cutting the blocks to use as backing for the other quilt, but decided that they'd make a fabulous quilt of their own.
I was able to fussy cut a few more cameos from my inspiration print and used up the rest of the kaleidoscopes: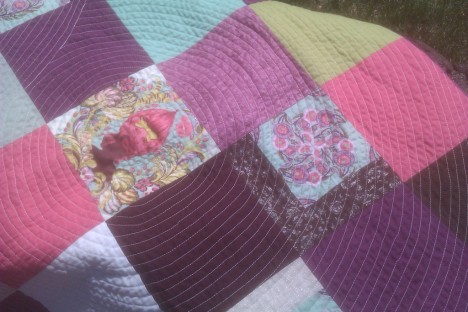 I cut a few more of the original repeats for the kaleidoscopes, and added strips of the gilded side of the brown linen I used (I really just wanted that specific color of brown for the other quilt, which happened to be printed on one side, but didn't show on the other):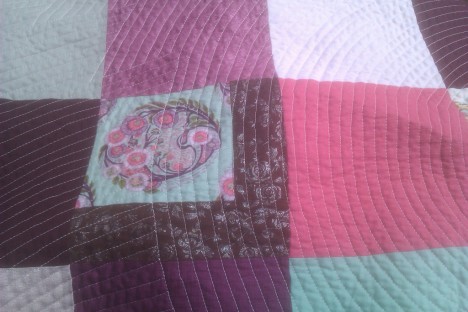 The back is a mix of leftover prints from the other quilt's backing, an extra solid that I discarded from the front, a brown that was left sitting in my stash from another quilt, and one of my Spoonflower labels. It came together with only a bit of the brown leftover.
In between is Nature's Touch—I had a piece that was ~61×90″ laying around, so it was a close call on the sides in terms of shrinkage, but worked out okay. It's just a skosh stiffer than I'd hoped with the close quilting.
I went round and round about how to quilt it… on one hand I wanted to try out my FMQ skills, on the other, I liked the idea of just echoing the seams in a heavy thread.
I finally chose to spiral out from the three cameo blocks using 28wt Aurifil I had on hand (with grey Gütermann in the bobbin). Then I added a bit of pebbling with the Sulky metallic I used on the other quilt, as the center of the circles needed something.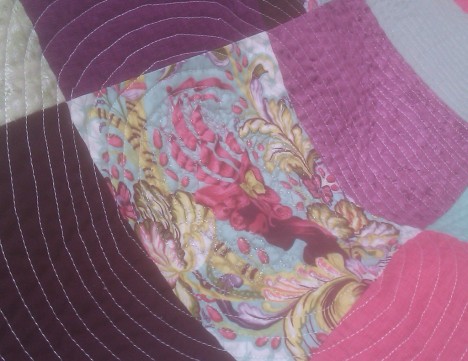 I decided that the corners needed to be curved, so they are. I tried making continuous bias binding, but failed miserably, so I used straight-grain binding instead, which was okay (although I liked the color of the failed attempt better than this print from stash).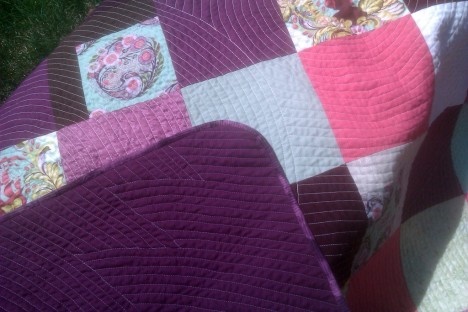 Not bad for leftovers, I say.
What do you usually do with your leftovers?
---
I took the photos of my quilt while we were at Carl's cousin's for Easter. He has a gorgeous Federal-era house. At some point in the mid-to-late 19th Century (I'm guessing, based on the dresses), the front entryway was decorated with painted canvas put up as wallpaper. It's still there—isn't this awesome?