I've thought about making a hexagon quilt for years now. I even bought the Hex-n-More ruler two years ago to get started, but then couldn't come up with the right project at the right time. However, the arrival of our friends' twin babies and a stack of fat quarters from Birch Fabric's Bear Camp (plus a few other fabrics thrown in) gave me the perfect excuse to make two hexie quilts—although I settled on half hexies to take into account faster piecing (the babies came quite early!) and cutting layout efficiency.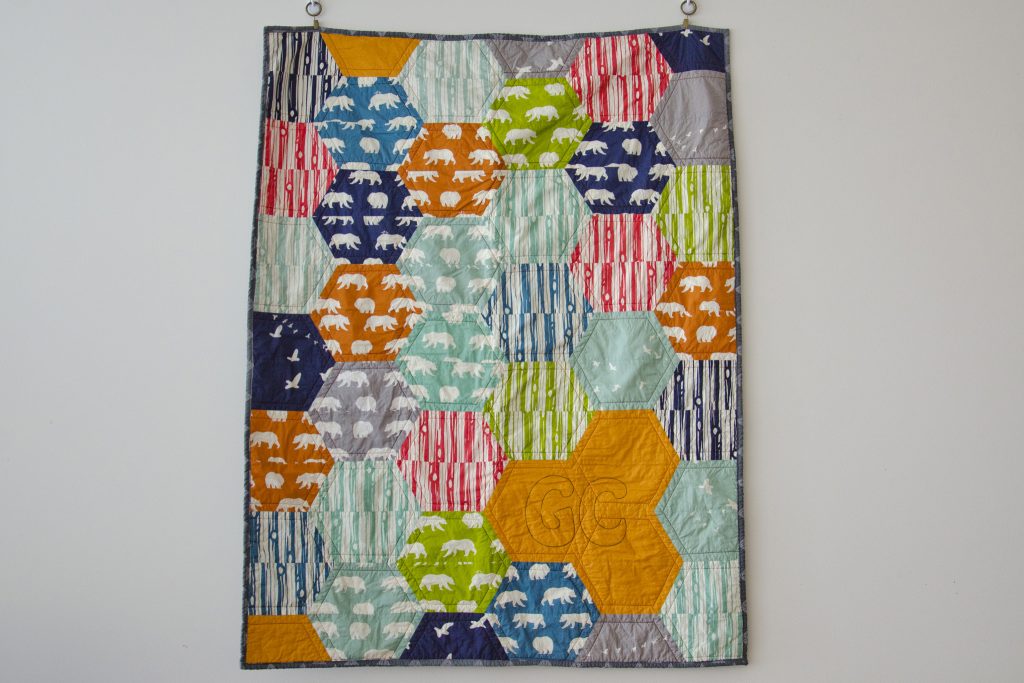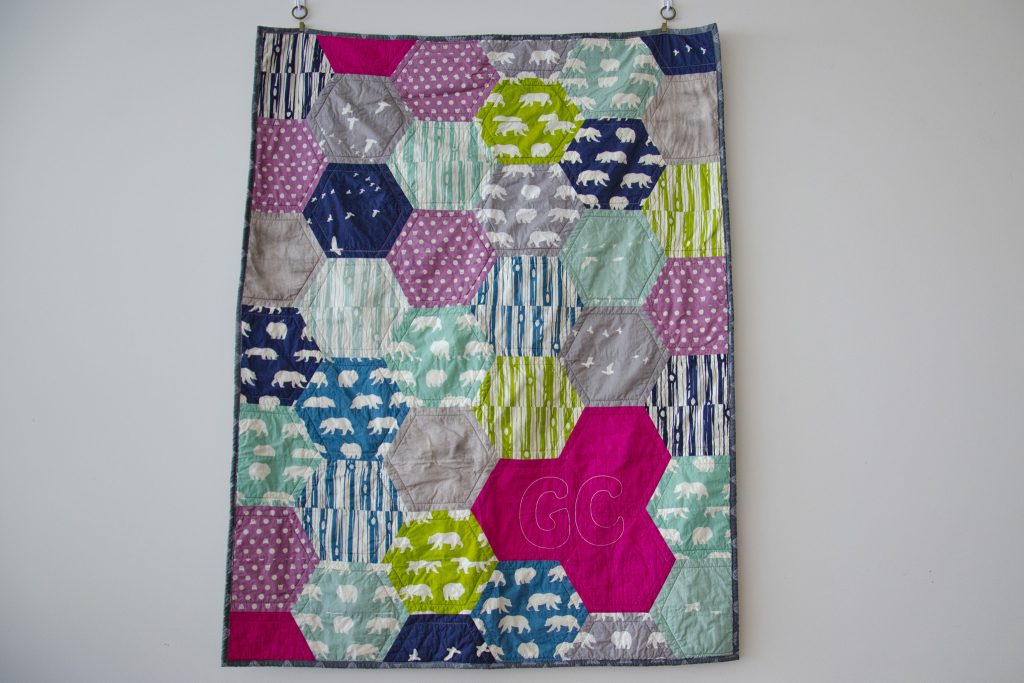 These 42″ x 54″ quilts use the 8″ half hexie size of the Hex-n-More ruler and were simple to piece row by row. I did a rough layout in Illustrator to try to spread the colors around somewhat evenly (also between the two quilts), although the final products are a little less random than planned—I didn't do a good job of spreading around the prints, just the colors.
I mixed in a glittery gray, magenta shot cotton, and lavender Cotton+Steel polka cats into one quilt, then used the warmer red and orange Bear Camp prints paired with a solid orange (Cloud9?) in the other to make distinct, but similar, quilts for the brother and sister pair. A cluster of three solid hexies was the perfect background for machine embroidering their initials on the quilt. I originally planned to do a three-letter monogram, but couldn't figure out how to place letters for proper readability in the cluster, so went with just first and last initial in the center.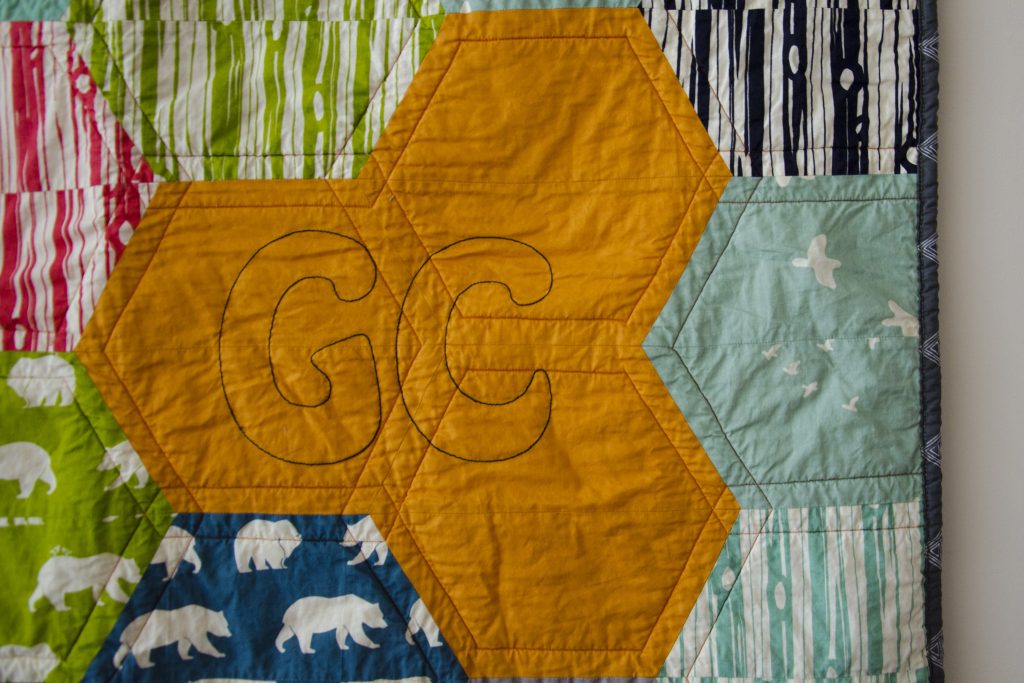 The quilts are both backed with a gray cuddle fabric, and quilted by echoing the hexie outlines. I used coordinating, but not precisely matching thread for the quilting, as it was already on my shelf in the right quantity. The magenta version was a nightmare—I tried three different threads and a variety of needles and still ended up with skipped stitches that I can't figure out (other projects have gone fine in the mean time). I had to rip out so many lines of stitching. I ended up leaving in a few lines of magenta that had fewer skipped stitches (and sewed a line of pink next to them), because I was at my wits' end with ripping. Warm & Plush batting is in between (a higher-loft version of Warm & Natural), to make for very cuddly quilts.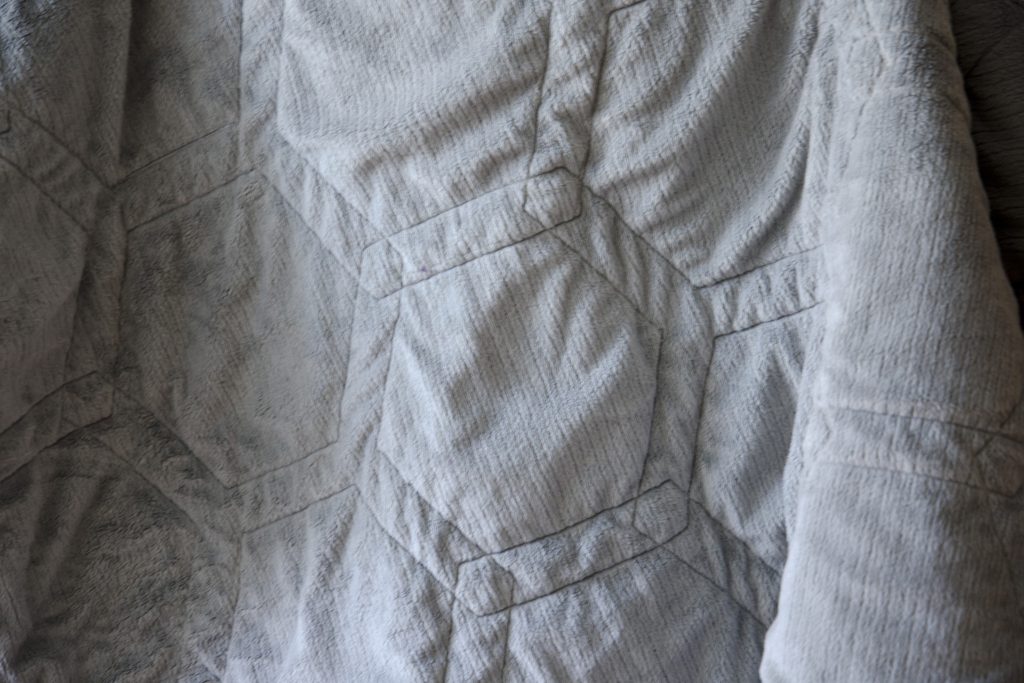 This is the first time I've ever used Birch Fabrics' fabric. They're an organic cotton provider, but none of my local shops carry them. I grabbed the bundle from Massdrop (mixed feelings) late last year, knowing that I had a few baby quilts to make in the coming year. Overall, they're a decent substrate to work with, but fair warning: they have very large (sometimes >1.5″!) selvages.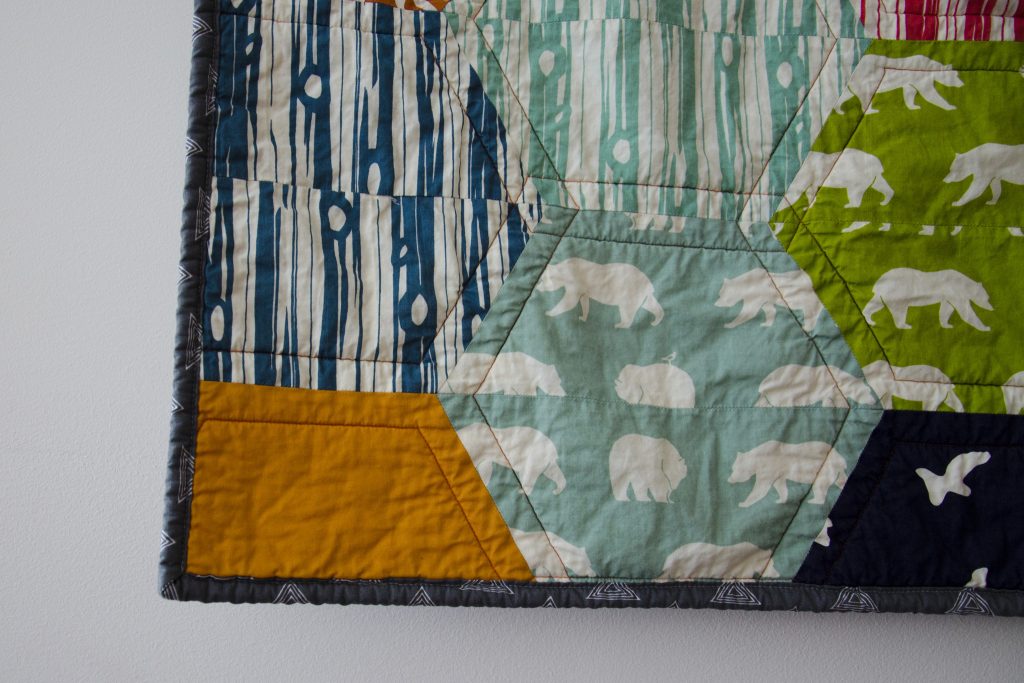 They're both finished off with a new label style I made. I dropped the QR code, and left room to one side to add a personal note. I took photos prior to writing in a quick note for each baby.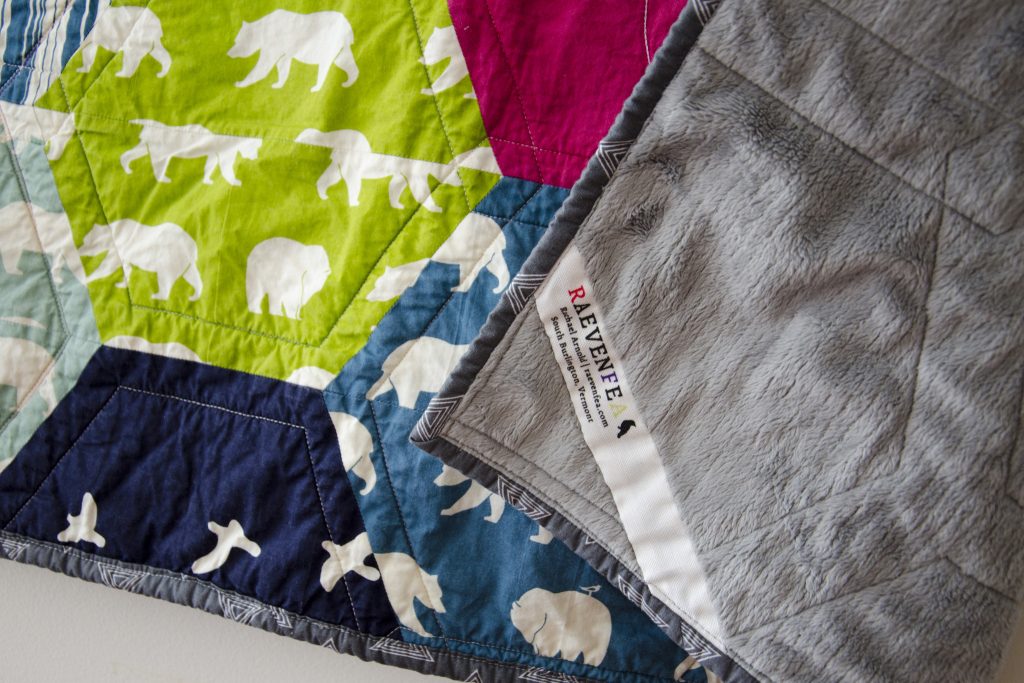 I finished these up in April, but just recently had the chance to deliver them. Stay tuned for one more recent finish coming up shortly.