The Great Lakes Seaway Trail 1812 Quilt show was this weekend, and it seemed to be a resounding success. We went up today and enjoyed the quilts, the speaker, some of Sacket's Harbor's delicious food, and absolutely beautiful weather.
There were so many amazing quilts and talented quilters represented. I gave up voting in the viewer's choice, because there were at least five quilts that I just couldn't choose between. I hope they all end up in the selection that is traveling around the country in the next year so that more people will have a chance to see them.

Now, for the bad news: I'm a terrible, horrible blogger who 1) didn't photograph the finished quilt before I sent it in, 2) didn't get Carl to photograph my underpinnings when I was hastily dressing this morning, and 3) didn't even get a good shot of my entire gown today.
The former can't be remedied until I have the quilt back, some time in the future. The latter two should be done tomorrow, I hope.
For now, here's me looking supremely silly next to my quilt at the show: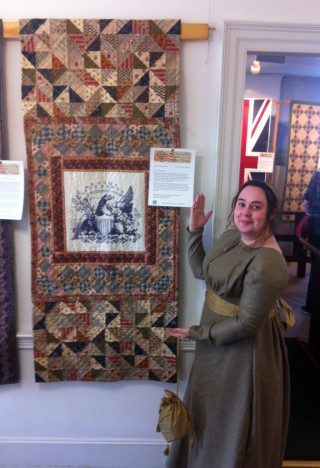 I'm sure the Seaway Trail will be posting more information on their blog about the show and the traveling exhibit, so check that out in the near future. And look for posts about my outfit this week!
Did you go to the show? Which was your favorite? I was especially enamored with some of the ones in the Art building.