Sandwiching quilts inevitably results in scraps of batting. Sometimes, they are large enough for use in another project, but much of the time they end up just a little bit too small. My unofficial resolution for 2014—actually one I've been trying to work on for a few months already—is to work from stash before heading to the store. I'd like to do that for the quilt I'm working on now, however my batting scrap drawer was lacking the 58×76″ piece of batting that I need.
Instead of buying more batting on my trip to the store, I picked up a roll of fusible batting tape. Not only is it cheaper, but it could help me use the scraps I have.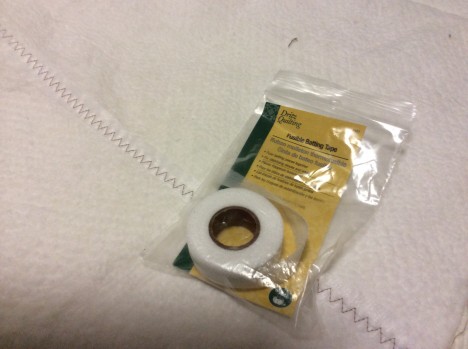 The verdict: I ended up with a piece large enough to use, but I don't think the fusible batting tape was the best fit for the job. It didn't seem to fuse well, so I ended up sewing a multi-stitch zig-zag over it to hold the pieces more securely. Maybe it was the brand of tape, maybe the batting, or maybe it's me, but I think I'll keep looking for a better solution.
I will say that the tape and stitching combined worked much better than an attempt a year or so ago that failed miserably, so at least I'm making progress. We'll see how it holds up to quilting this weekend.
What is your favorite way to join batting scraps?