Even when you strip piece, it takes forever to cut out the bits needed for a 54″×72″ nine-patch. (In other words, not a whole lot of actual sewing has happened this week.)
But cutting out and constructing this quilt prompted a thought to ask you about: are you extremely judicious about cutting with as little waste as possible or do you vote for speed and efficiency, figuring you can use the scraps for something else, no matter how small?
When I cut out the half-square triangles for the nine-patch, I made sure to cut them to exact measurements rather than doing them so that one half was waste (for that project, at last) like I've seen some tutorials show. I'd like to say that I did this because I needed to make sure my FQ pack would stretch as far as possible, but that's only part of the issue. I really am just crazy about trying to fit everything into as little fabric as possible. It works great for sartorial and historical sewing, but am I just making things hard on myself in the quilting world?
So, wise ones, what approach do you take? Some grey-area "depends on the project" approach? What makes you decide to cut down from a larger block, or cut exact measurements?

And, because no good post is image-less, here's the "twist" in my nine-patch, which is 12″ square (or 4 of my nine-patch blocks):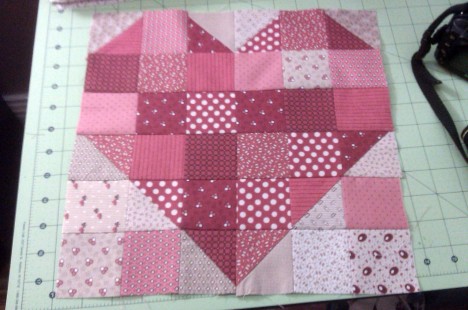 I was going to keep it secret until the big finished reveal, but let's be honest, I like showing off things in progress and that's the only real progress I've made, unless you want to see 100-some 2.5″ × 6.5″ three-fabric strips laying in a pile.