I spent some time working on two different projects this weekend: a quilt and a vest.
On Friday, I received my order of a 18 fat quarter pack of Miniatures by Julie Hendrickson for Windham Fabrics (ordered from Fat Quarter Shop). I wasn't planning on starting on the quilt from it for a while—I already have some of the pieces for another cut out, but once I received the fabric, I just couldn't help but listen to the creative voices in my head yelling about what to do with it, going all oooh, ahh, how romantically-colored.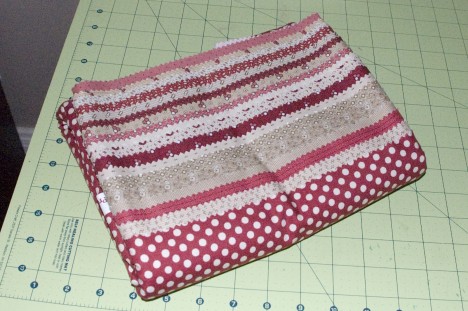 The plan is just a pretty basic strip-pieced nine-patch with a twist or two thrown in. Stay tuned for more on that. For now, I spent time cutting out the 2 ½" strips needed for the strip piecing. Some day I'll have a dining room and a dining room table—or better yet a dedicated sewing room—that makes cutting out strips easier on my back. Ouch.
Why a simple nine patch?
I want something deliriously simple after the bargello.
The fabrics make me think "old-fashioned and traditional," and you don't get much more traditional than a nine-patch/postage-stamp-esque quilt.
I want really quick blocks so that this can get finished in between my applique class project, the vest, and another quilt I'm already working on.
Speaking of the bargello quilt, it is officially in the mail enroute to my cousin, yay.
The Vest
Outside the realm of quilting, a friend wanted a copy of a wool vest he owns that has seen many better days. So, I'm working on that. To do so, I had to make a copy of the existing vest without taking it apart.
Here's how I did it: I draped my coffee table with a towel (for cushioning/pinning loft), then craft paper taped over that. Then I just pushed pins through the seam lines and important parts of the vest which gives me a line to trace. I didn't take photos all the way through the process, but here is one of the front sides partially done: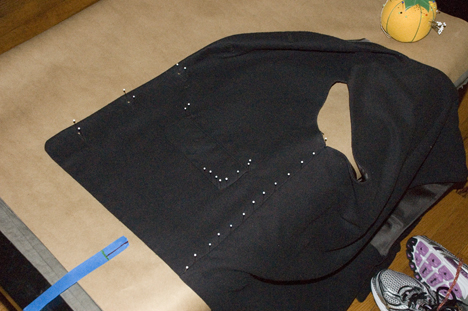 Then, I used the resulting pattern to make a muslin pattern. That's where it stands. I'll start constructing the real vest this week.
Happy Valentine's Day, everyone.