I'm out of order on updating about finishes this year, but wanted to deliver this quilt before publishing. Then, of course, another month or two flew by before I remembered to post. I finished this about a week before Welcome, having completed the top in May, then finally quilting it once I'd moved to GA.
I've admired all of the Swoon quilts I've seen around the 'net for some time, but it was never a pattern I wanted to make for myself. However, a blown up Swoon star seemed just the thing for my friend's newborn daughter.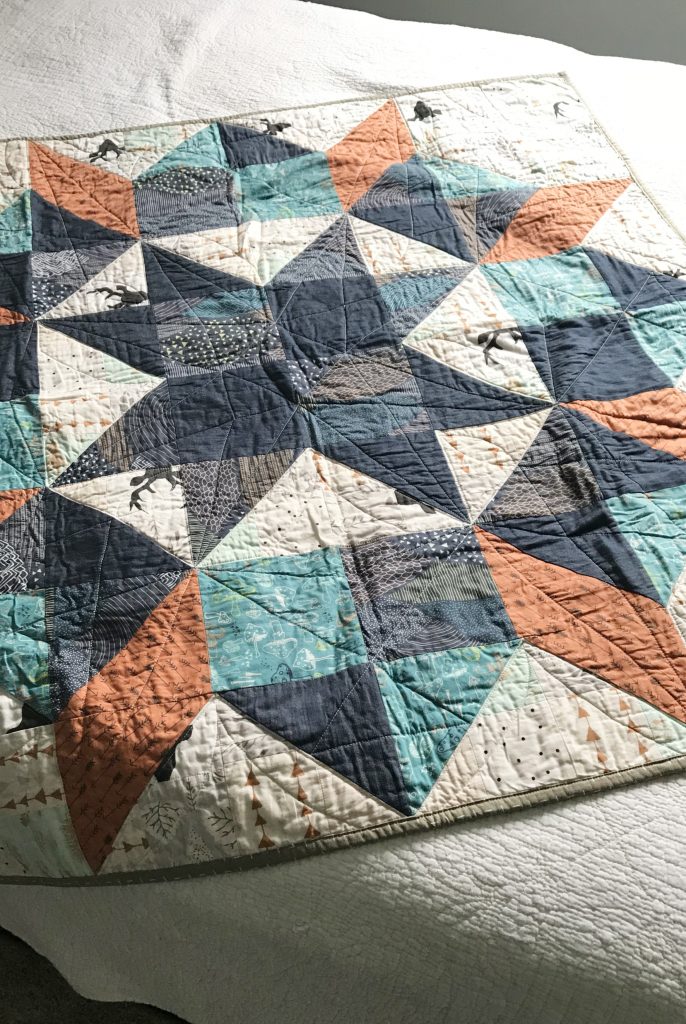 I wanted to use fabrics from stash—mostly so that I could get started right away when motivation came back after a few months of no sewing. A fat quarter bundle of Hello Bear for Art Gallery Fabrics seemed perfect for a sweet baby girl named Wilder. Once I planned out the color placement, I realized I didn't have quite enough dark fabric to carry off the design, so I added in a chambray to round it out.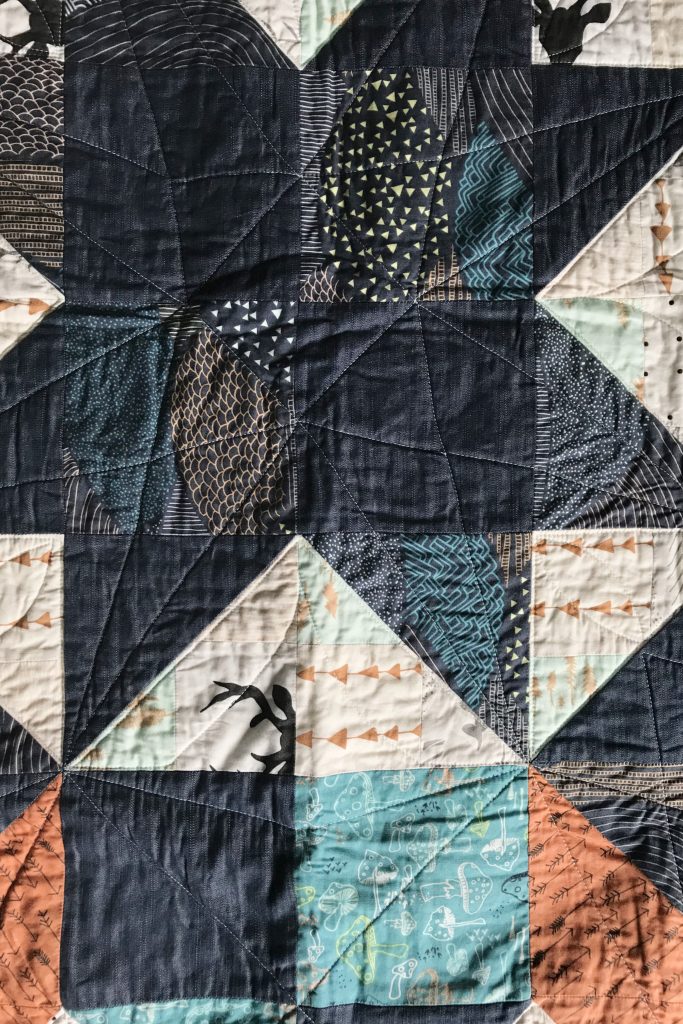 I wasn't a fan of how the color layout worked if I used a single light print in blocks, so I pieced the background fabrics into four patches. However, I made the choice to not have show-perfect half-square triangles—I didn't have enough of the darks and mediums to pull it off. Turning four patch blocks into HSTs means that the center point gets lost in the HST seam, and the pieces don't match up perfectly when set side-by-side. To make that look a little more intentional, the outer background blocks use slightly different sized pieces in the four patches so seams don't match up everywhere (accomplished by making them a bit oversized, then cutting chunks off one side or the other).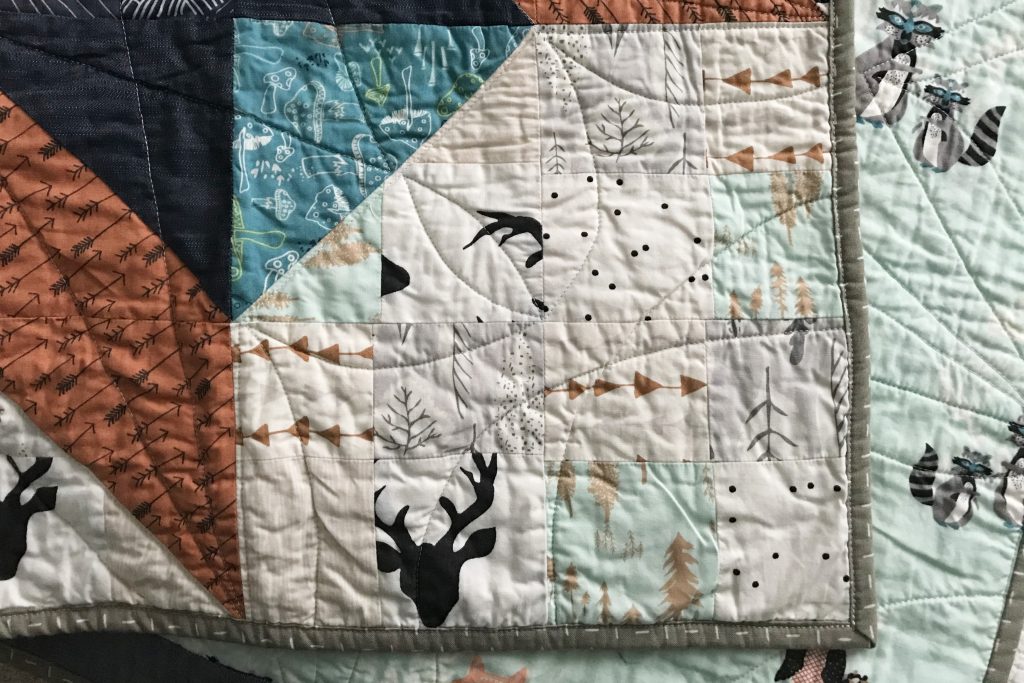 The back is pieced from chambray, a fat quarter from the stack that was too cute to chop up, and with scrap pieces and spare blocks left after constructing the front. There's a low-loft cotton batting in between (a scrap, so I'm not positive about brand). Because I was quilting on my new travel machine, I had to stick with quilting motifs I could do with a walking foot. I kept it somewhat simple, choosing what to do as I got to each new section. It's mostly straight lines and slight curves going point-to-point.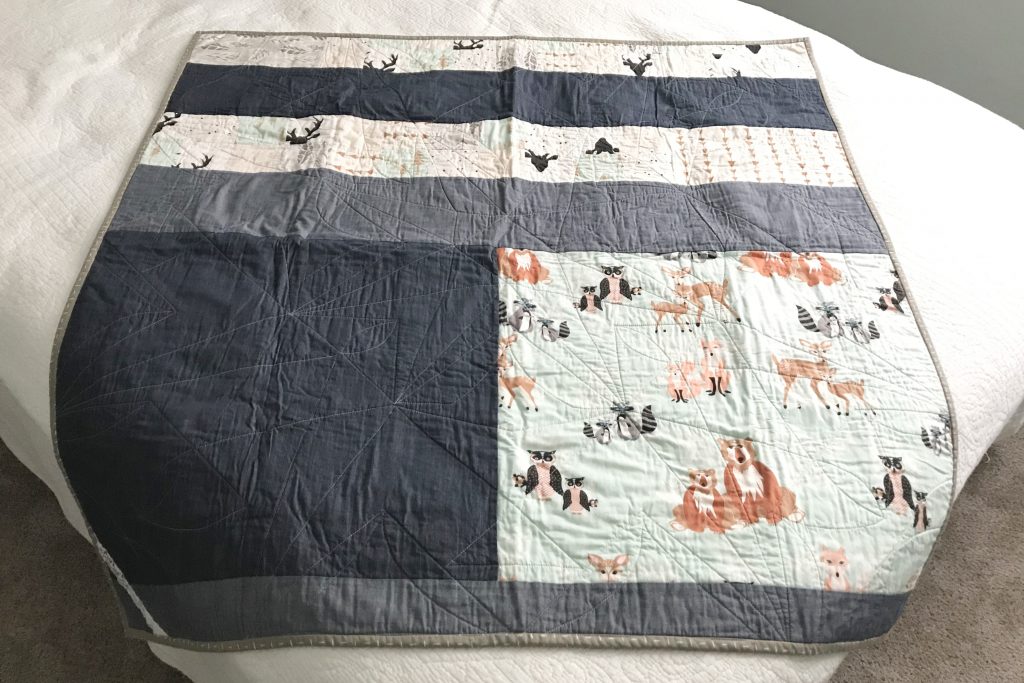 As with the Welcome quilt, I had a little puckering due to a new basting setup and new machine. But, it washed up nicely and I'm sure Miss Wilder won't care too much if her siblings and their attachments to quilts are any indication.