My latest quilt is being shipped off this weekend, so its debut here will have to wait until it arrives. In the mean time, I dug into my stash today for a small gift for that quilt recipient's sister. I still had a few bits and pieces left over from the quilt I made her in 2012—the Impressions Baby Quilt—so I thought it high time to round out her gifts with a doll quilt (prop Vermont Teddy Bear not included).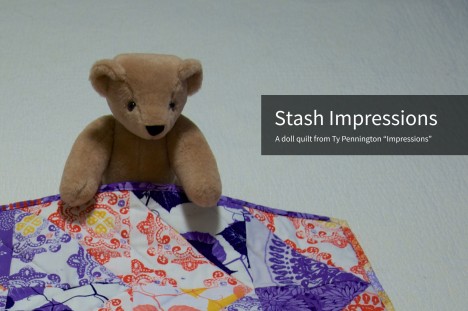 It was an extraordinarily fast project; all the half-square triangle blocks were already sewn up and sitting in my scrap bin from the original quilt piecing, waiting to be stitched up into something. Finished size is 15″×20″.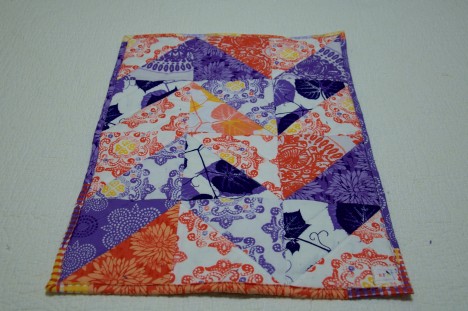 A scrap of 80/20 batting and a bit of stashed cuddle-type fabric that's cut edge shed so much I'm amazed there's still fabric finished up the quilt sandwich. I quilted it with just a few straight lines following the HST seams, which is how the larger quilt was quilted. I bound it with more scraps from the line that were already conveniently cut into 2.5″ strips.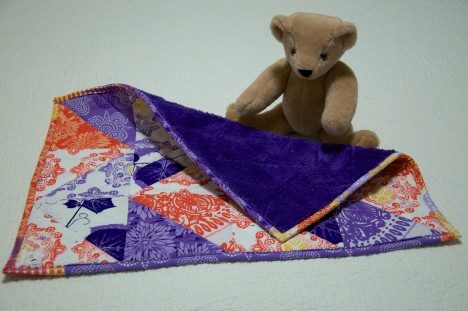 More of my stash was busted and one little girl won't be so sad when her baby sister receives a package next week. That's not too shabby for an hour or so on a lazy Saturday afternoon.