My original intent was to show you this project again only after completely piecing the top together. But instead, I'm going to point out my major math/planning fail. Last night, I finished piecing the HSTs for the Impressions Baby Quilt. Don't they look nice on my design wall the piece of batting I hung on the wall?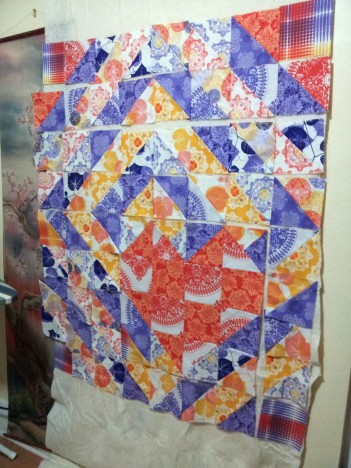 But looking at my desk, I still have all of these: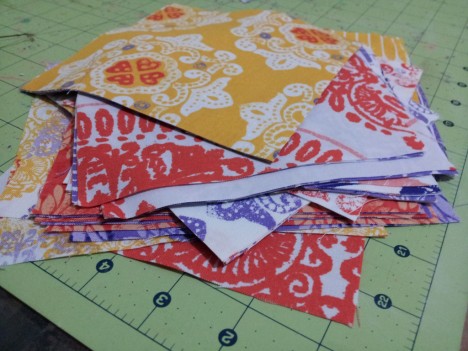 Which is many more pieces than the four or so I expected to have after planning this all out extensively. (So, this could be worse—I could have been short; extra fabric's not bad, right?)
How many 6″ squares can you get out of a fat quarter? The correct answer is nine. For some reason, my brain was dead set on believing it was only six. And so, when I planned this quilt out, I did so with the idea that I only had six squares of each fabric (or 12 triangles).
The result of that belief was that I had to get creative with my color scheming, since I didn't have quite enough yellow to continue the diamond patern. I was going to eek out the quilt top and scrappy binding with naught but a few slivers leftover from the twelve fat quarters I started with. I even had to piece together the small triangles for the four blocks that have three pieces instead of two (the ones that comprise the points of the heart).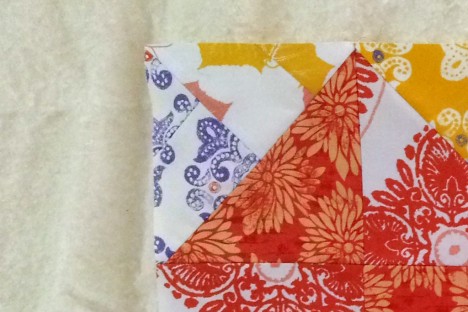 In reality, I have enough yellow to get much closer to my original plan and make at least one doll quilt to boot. I didn't even need to piece those other triangles from the leftover strips.
I'll be whipping up more HSTs with the leftovers now, and swapping out some of the squares on the design wall before piecing the top together.
At least there will be a doll quilt out of it all? (I do so like having that extra small quilt for the baby I gift the larger one to.)
Have you made serious mathematical errors before? Does your brain get stuck in an erroneous "this is the right answer" mode?