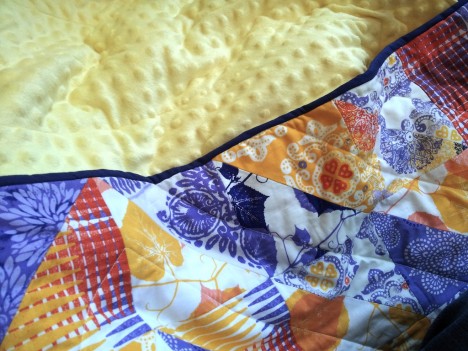 Choosing a binding was hard. Arduous. I wanted to use leftover scraps, but piecing those small triangles meant that my planning failed again and I didn't have enough. I think it would have gotten lost in the top anyhow. The only semi-matching fabrics in my stash were solids: a yellow (Kona Canary, I think) and a dark purple (Moda Bella Terrain Iris).
I asked Twitter. Susan and my sister both said yellow (or scrappy), but in person it just looked so wrong. Too bright, too off from the other yellows in the quilt. Carl agreed.
So, I went with purple. It'd be nice if it were lighter, but it is very close to the darkest purple in the prints, and frames it well enough. It's fine. I'm happier with it than the quilting, at least.
It'll be a few weeks before I write up the finished quilt. It has to be delivered first.