One of my earliest stash purchases was a Rolie Polie of Indian Summer that I've been holding on to for the perfect project. Its day in the sun (or perhaps clouds, based on recent weather) has finally come in the form of a quilt for a newborn girl.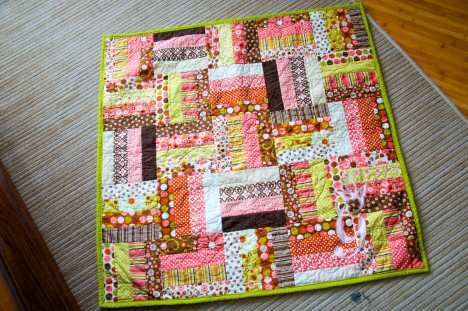 Because the Rolie Polie only had 23 strips, I had to add in one of a coordinating dot from my stash to finish up the strip sets needed for the 8″ blocks. To personalize the quilt, I did a reverse raw-edge applique of her first initial in one corner. The pale pink solid (exact type unknown) doesn't stand out as much as I'd hoped in the curly, light typeface I used, but that's okay. You can also see in that corner that I was one block short of the 25 needed for the quilt, so the very last one is pieced from two strip sets.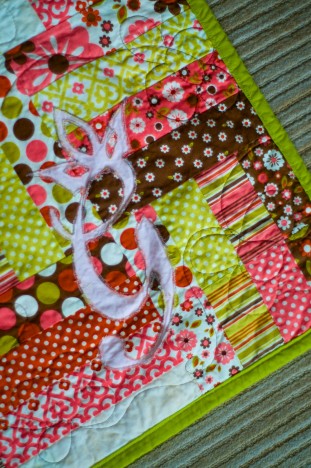 The piecing was a breeze but the quilting was not. I decided to try a new FMQ design (don't scrutinize my sloppy first attempt!), so I used leftovers from the top to make a doll quilt/FMQ tester. The tension left something to be desired, but was good enough. Moving on to the quilt, I broke two needles. Then, my darning foot broke! I was able to finish up the quilting with my floating embroidery foot, but it was rather obnoxious and puts a kink in the progress of other projects.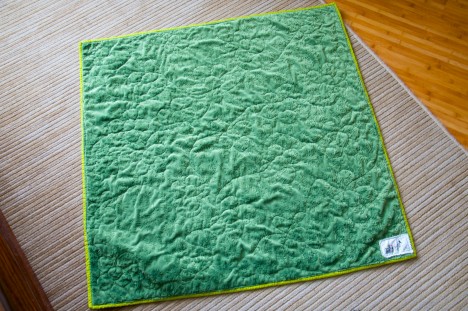 The back is a Minky that came from my stash (actually, the result of an incorrect shipment when I ordered the paisley backing for the Peter Rabbit quilts. Thank you, Fabric.com for your great customer service). In between is a low-loft cotton, likely Pellon Nature's Touch White or Warm & White—possibly even both, as it's joined stashed pieces. The quilting was done with a Gutermann brown-to-cream variegated thread. It's bound in a lime solid from stash.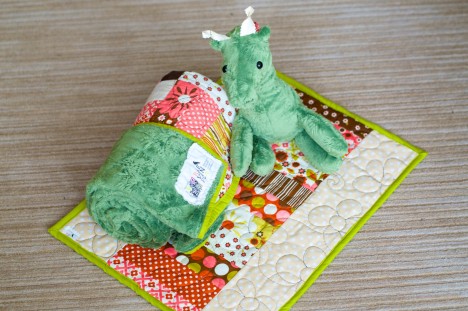 A Minky giraffe made with backing leftovers completes the shipment. I tried something new with this round of Simplicity 2613 giraffe-making: the ossicones and neck-hair details are made with pinked fabric from the quilt. The ossicones especially worked out so well that I might continue using fabric in the future. As it was, it was a great way of eating up more scraps.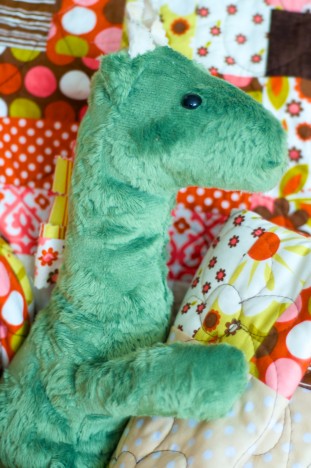 I hear that the Impressions Baby Quilt and stuffie that I sent her sister are well-loved possessions, so I hope that the baby comes to love her own set just as well.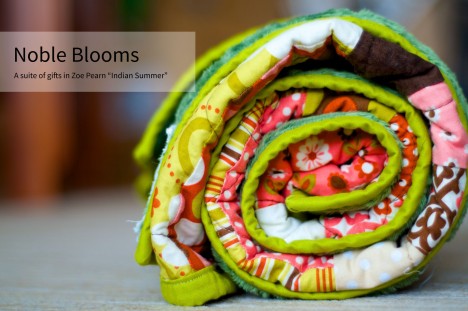 It's probably a bit gauche to mention this when the result is a gift, but this project was entirely from stash—fabric, batting, thread, giraffe eyes and stuffing, … everything. Go go gadget stash busting in 2014!