In my post about current projects I mentioned a Strip-pieced Lone Star quilt that I'm working on as part of the bi-weekly Sew You Want to Quilt group I'm in. I finally finished one of the stars this weekend.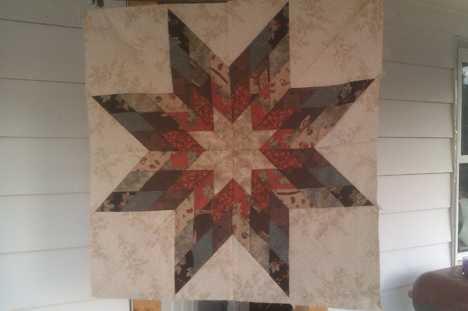 It seems I didn't piece it well, because the center has a pretty noticeable bulge…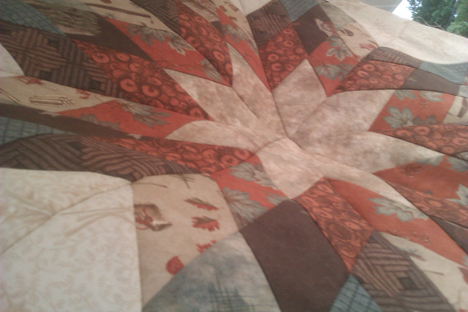 So I need to get some foam core to block it on in hope that it is reparable. I am happy how most of my points matched up, and am not sure where I went wrong to get such a non-flat star.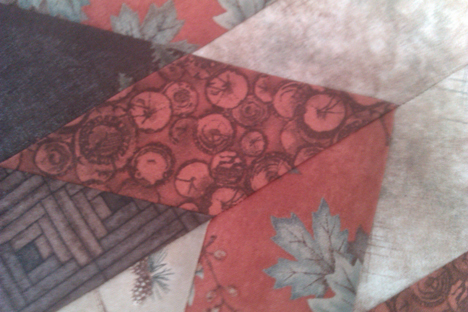 Now that this one is done, I am not sure how I want to finish the quilt. What do you think, friends?
The original pattern is from Jelly Roll Quilts by Pam and Nicky Lintott. It has four stars and finishes at 70″ square.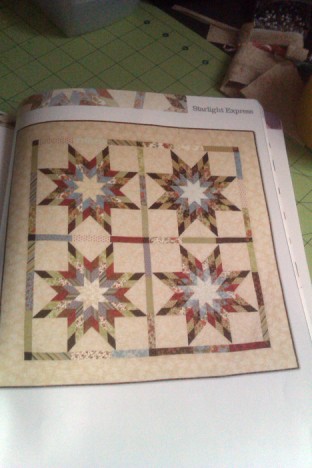 But I think I want to go smaller and only make the one star, which is 29/30″ square (well, will be square if I can block it successfully). However, I do want to use up the strips I've already cut for the other stars in the original pattern and I have almost a whole charm pack from the same line (A Simpler Time [Moda]). So, I'm thinking about something like: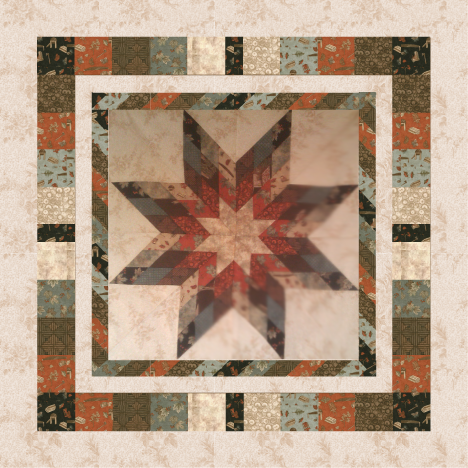 Or maybe…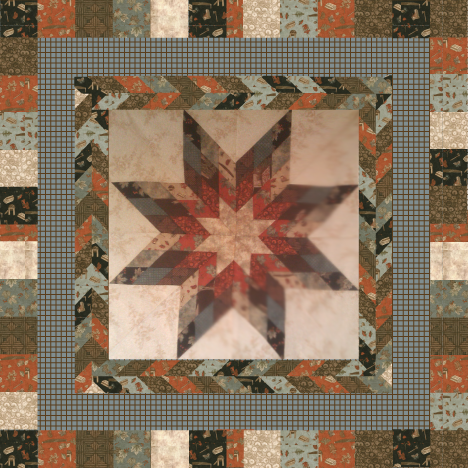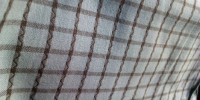 … since I have enough strips to make two parallelogram borders. This uses some of the backing fabric I bought on the top. I love that teal-ish blue and brown homespun.
Or I perhaps I should set the star and parallelogram border on point: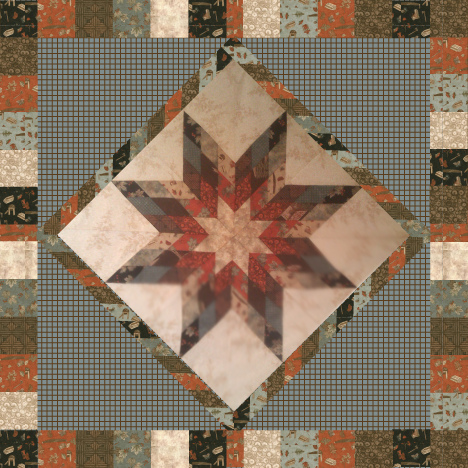 All of those finish at ~56″ square. Bear in mind that the exact placement of individual charms, etc are approximate, and will probably be more scrappy since I have more prints than that, I'm just trying to do rough mockups at this point. Also, the corners of the inner borders will be a lot cleaner.
I'm mulling it over now, and will talk to the ladies at SYWTQ tonight. It's hard for me to choose a layout, because this isn't really my style—I'm making this as a gift for my grandparents. So, I'm not absolutely in love with any of them, nor do I feel especially drawn to one over the others.
What are your thoughts on these layout possibilities?