"There is something delicious about making the first stitches of a quilt. You never quite know where they'll take you." — Beatrix Quilter
When one must make two quilts in the same approximate timeframe as typically takes one, simplicity is key. At least, this is what I kept reminding myself when I felt that the basic layout I'd planned for these two quilts was too plain. I worked a bit outside of my comfort zone in terms of palette and style, but the parents chose to go with a Peter Rabbit theme for their nursery, and once I found a Beatrix Potter panel for sale, it seemed like a good idea to go with it. While basic, it's also a more traditional layout than I'm used to.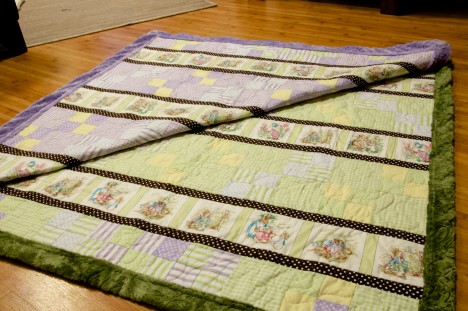 "Thank goodness I was never sent to quilt school; it would have rubbed off some of the originality." — Beatrix Quilter
Of course, I couldn't restrain myself and keep it entirely simple; it's hard to tell in the photographs, but the brown strips surrounding the panel strips are gathered, giving them a bit of texture. It may have been better to make them wider (so it was more obvious), but I was limited in the amount of fabric I had to work with. That, actually, explains many of the design choices. I fabric shopped before deciding on the design (or perhaps you could say that I changed the design after fabric shopping), so there was a lot of give and take when I went to create the quilts.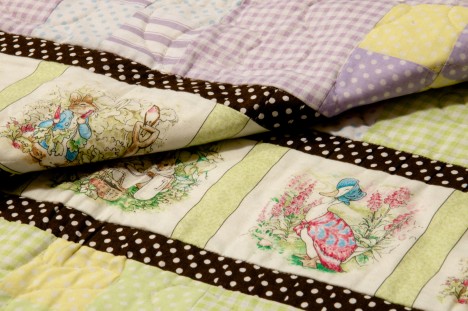 "It is said that the effect of eating too much lettuce is soporific. With luck, the same cannot be said of quilting." — Beatrix Quilter
The quilts are backed in paisley Minky, and have a layer of low-loft 80/20 batting inside (from stash scraps, so I'm not positive about the brand). The quilting is very basic—stitches in the ditches for the panel and brown strips, simple meander on the block sections—in a poly/cotton beige Gutermann thread. I am always amazed at how fast free-motion quilting goes; it took about the same amount of time to do all of the FMQ as it did the 12 straight lines across each quilt.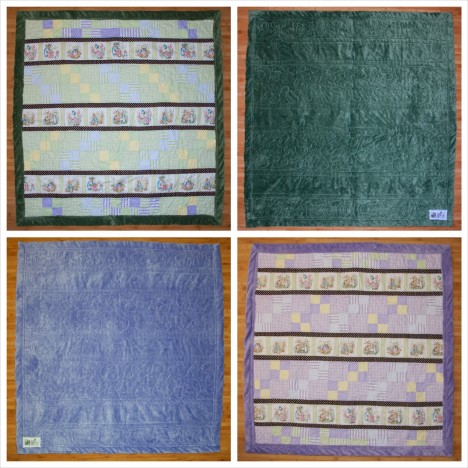 "No more twist binding!" — Beatrix Quilter
Due in part to my aforementioned fabric conundrums and a desire to make the quilts ever a bit larger, I decided to try out a new binding technique and use the backing as self-binding. By cutting the batting 3.5″ larger than the top, I was able to support a thicker binding and gain an extra 1.75″ on each side of the quilt. Plus, it gives the front even more texture. The somewhat sparse quilting density kept the batting from shrinking all that much, and everything went together pretty well.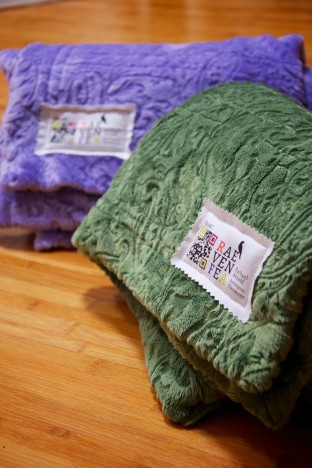 "Now run along, and do get into mischief." — Beatrix Quilter
The two quilts have been shipped off to the twins, who were born in December. I hope they don't get into too much mischief for now, but I bet their parents will be kept quite busy! Now off to get in more mischief myself, as I have another baby quilt to finish by next Friday.