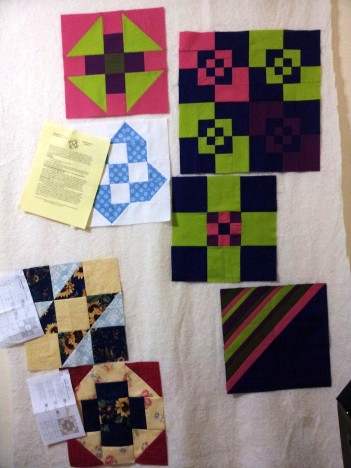 I'm currently working on three different sampler quilts (not to mention last year's, which I still need to piece), and I oddly have the blocks up on the design wall for some reason (I'm usually good about putting them into their proper locations), so I took a (bad) photo.
One is with the Sew You Want to Quilt group, focusing on Amish blocks (I use the term loosely, based on research) in our own choice of colors. I have a few of those done, although I am still behind on one block from early February.
The other two are monthly Saturday Samplers (well, one is on Thursday nights) at the two closest LQSs. For those unfamiliar with the Saturday Sampler concept: you pay a registration fee ($10-15 seems standard) which covers a kit of the fabric for your first block at the first meeting. From there, if you continue to bring your completed block from the previous month to the next meeting, you continue to get the kit for the current month free of charge. If you can't make it to the meeting, you typically have to purchase the missed month's kit. Some shops give you a discount on the first kit you miss, some give you one free pass, some give you an incentive to finish the top before the next cycle starts, etc. Some give you all the individual pieces cut out, some give you strips and squares to cut and chain piece, some just give you chunks of fabric to cut everything out yourself. My two shops each have their own quirks, and sometimes the rules and procedures even change year to year.
Even though I'm not absolutely in love with the fabric choices and styles of either, I do greatly enjoy the social aspect—an hour each month to meet up with other local quilters, learn what the shops have to offer in the coming month, and see the creativity of everyone in what they bring to show and share.
I'm going to have to get creative with layouts for 12″ blocks though, that's for sure!