This has been a pretty big year for changes—we adopted Moof back in March and now we have our new house, complete with an actual mantle in the living room! So, of course, Moof needs his own stocking to hang.
I don't know which of us actually came up with the idea, but Carl and I were joking a few weeks ago about how Moof chews on pretty much anything, so if we got him a stocking, it'd probably be chewed up. We thought it would be funny if he had a pre-"chewed" stocking with child-like lettering.

So, Moof's stocking looks like this: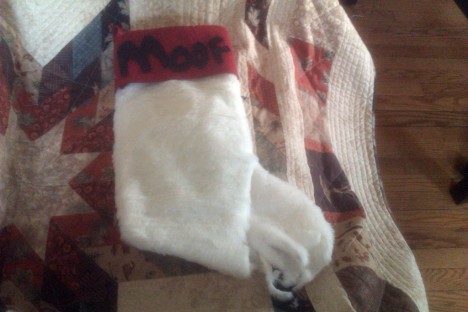 It was another of my quick, "no planning, just sewing" projects. I laid one of our stockings on the craft fur and cut around it, adding a seam allowance of who-knows-what because I didn't measure. After sewing it together (guesstimating the seam allowance based on what I thought I cut out) and turning right-side out, I used my scissors and some tearing action to rough up the toe of the stocking, so that it looks like Moof tried to chew the goodies out of it.
The secret is that it is lined (with a random light lime green solid I had in my stash), so it can actually still have goodies put in it. Originally, I cut the lining like this: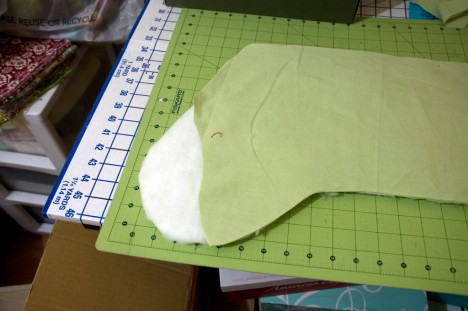 But, it still showed a bit through my rips, so I cut it down a bit more… it's pretty much just a straight tube down the leg part of the stocking now. Then, I added a felt cuff and hanger strip, and cut the letters for his name free-hand out of black felt, trying to make it look like a young kid did it, and just glued them on (I love that felt doesn't fray!).
So, that's how to make a stocking in 30 minutes or less. You might want to take measurements and actually trace things, and have a plan if you're a perfectionist, or are making multiples, but this was just a fun, fast project to take a break from the gifts I've been making.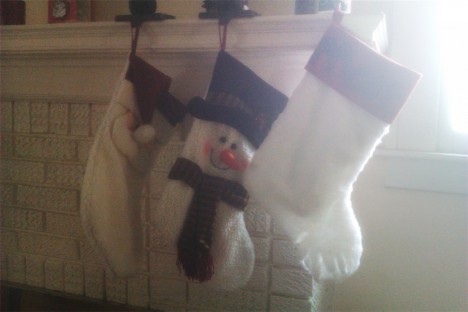 Let's hope that Moof doesn't decide to actually eat it…
Speaking of him chewing on everything, here's a sneak peek of the plethora of gifts I've been making recently. During this week's #talknt, Carl shut him in my sewing room with me, and he proceeded to nibble on the orange-trimmed bag's strap. Luckily (for his continued life) the strap is quickly replaceable.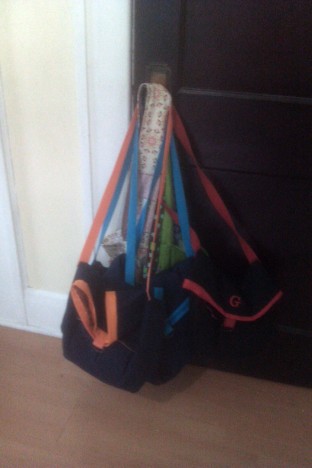 Ten down (with the exception of hand-finishing bindings on 5 of them), two gifts to go for the nieces/nephews (and one or two more for other people that I hope to squeeze in if I have time). And Christmas is only 10 nights away. Eeek!