(…yesterday, not now) … and Carl, while frazzled shopping for Grandma at the third store and finding nothing, asked "dear, how long does it take to make a quilt"? And, I, clearly drunk from shopping all day, said "it can be shipped off by Christmas, if we shop for fabric now, don't delay!"
Uhh, so that is how I got myself into making a quilt this week, on top of the other projects I'm working on.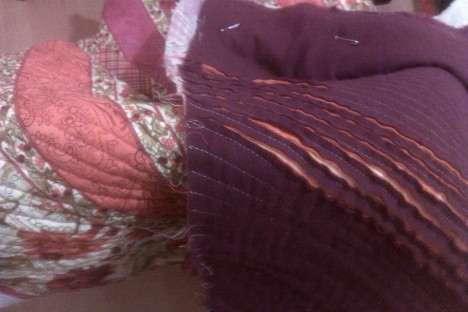 I'm making a chenille quilt, which from the front (or is that the back?) looks like a whole-cloth quilt, and the other side is all fuzzy and warm. Mama Spark has a tutorial that I vaguely remembered reading while quickly coming up with a game plan.
This is not a fast quilt. It takes forever. For. Ever. I spent about 4 solid hours at the machine last night (based on the number of tv show episodes I watched), and am only half done sewing the lines, let alone cutting them. And we're not going to talk about the cotton layer's creasing… I ripped to fix the worst of it, but basting is seriously important for this, and pin basting just doesn't cut it (see, I didn't actually go back and re-read the tutorial until just now…). This one is adult-sized, so I started with 1 2⁄3 yards rather than just a yard for a baby quilt. My hope is that it'll be about 38×56″ after being squared, bound, and washed—an okay lap-size.
In good news, all but one of the niece/nephew gifts is finished, and I only have one additional hour-or-less-to-make one on my own list, and I have all of Friday off.
---
In house news…
Friday night, we had no real plans for the weekend, which evidently as homeowners is a dangerous thing (at least if you are named Carl and your major hobby requires nice weather), because the next thing I knew, it was Saturday and we were suddenly doing a full upstairs bathroom remodel. Okay, true, the toilet absolutely had to be replaced (it uh, couldn't handle solids). And, of course the sea-shell shaped sink and its vanity had to go too, right? And then a fresh coat of paint is important. And since the linoleum was laid around the vanity, not under, we clearly need to tile, right? Well, we only got as far as the toilet being fully operational (and the tub/shower, which we aren't touching for now), but bought the vanity, paint, and picked out tile. Dangerous, I tell you, dangerous.
Here's an almost before photo (that's the new toilet):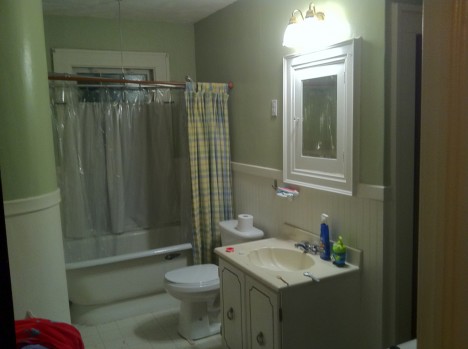 Also, we found out that what we thought was just painted plaster in the spare room is actually painted wallpaper—six layers of it!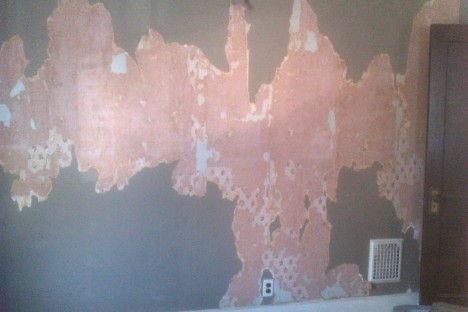 The light green is the oldest that you can see in the photo, but there appears to be one more layer under it from what we discovered in the corner. The weakest link seems to be the cream paper with large pink flowers. There are two more layers on top of it, though, plus the paint. Hope we don't have guests staying over any time soon!
So, plenty of things to keep us busy between now and next Monday, which is when we leave for Missouri for a week. Yikes!