It seems that no quilting year is complete for me without at least two Tula Pink quilts. Last year, I made Tula Does Up the Walls in Pah-ree then followed with Superfluous Tula, both using Parisville. This year, I finished quilts using two different lines; C++ used Saltwater, and this latest quilt is Acacia. I call it "Thorny Patchwork".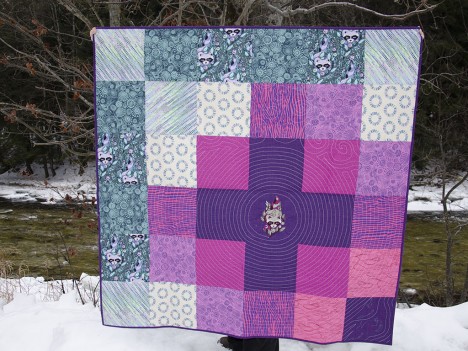 I picked up the six-pack of fat quarters a while back with no project in mind. They paired well with a bit of leftover the Birds and the Bees, a zebra print, and unknown origin purple linen texture, all from stash.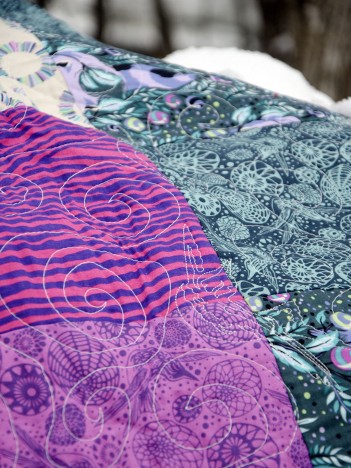 My plan was to use 9″ squares (8.5″ finishing), but the store that sold the FQs was very judicious with their cutting and after I squared up, I had a bit less than 18″ to work with. The finished squares are 8.25″, making a 50″ square quilt before washing.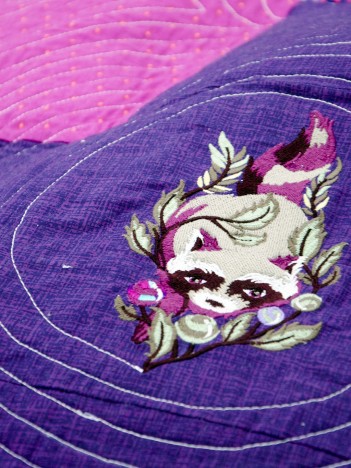 Urban Threads sells a few embroideries based on this line, so I stitched out the raccoon in the middle of the purple plus to fill the space before I sandwiched the top. The 44,000+ stitches took three bobbins and three hours to stitch, and I didn't even use the largest size embroidery! The finished design is worth it.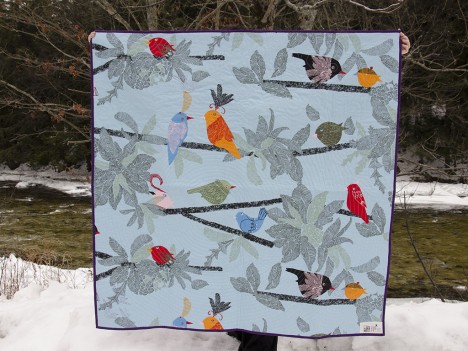 The back is a print I picked up on my last trip to Ikea. It's a canvas, which is where the thorny bit of the title comes in (aside from a play on words with Acacia). I broke eight needles of various types and sizes trying to FMQ this. A bit of planning combined with a lot of luck saved me: I started in a top corner, so I was able to switch to my walking foot after the eighth needle and it looks almost like I intended it to be quilted that way. Once I switched to the walking foot, I didn't have any more issues with the needle or tension.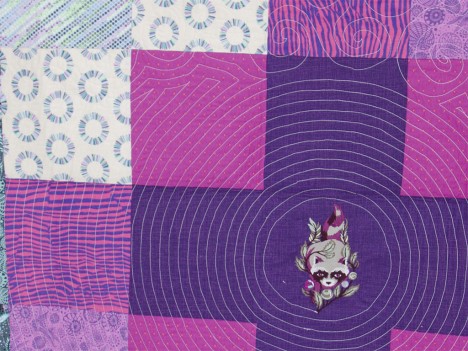 Mixed in with the quilting are a few embroidered swallows (also from Urban Threads). The corner ones are in a variegated embroidery rayon, while the other two and the rest of the quilting is Aurifil 28wt (with cotton Gutermann in the bobbin). I planned to use a variegated for the overall quilting, but was thwarted by numerous tension issues—again, likely because of the backing.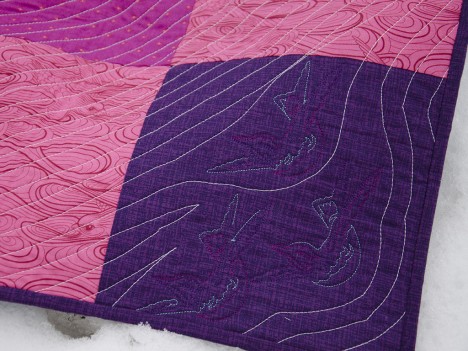 This was a fun, quick project to finish up the year. The only non-stash component was the raccoon embroidery file; all of the various threads, the Nature's Blend batting, the swallow quilting embroidery file, and the fabrics were in my stash. All that is left is boxing it up and mailing it to a niece for her birthday next week!