My mom and younger sisters are visiting, so my projects are on the back burner in favor of time spent with them. 2013 was the first year in my life that I didn't step foot in my home state of Missouri, so I'm thrilled that they came to VT despite the horrendous weather across the country this week.
Books have been a theme this trip and my oldest younger sister is a voracious reader, so I stole a bit of time this morning to round out her holiday gifts with a quick sewing project.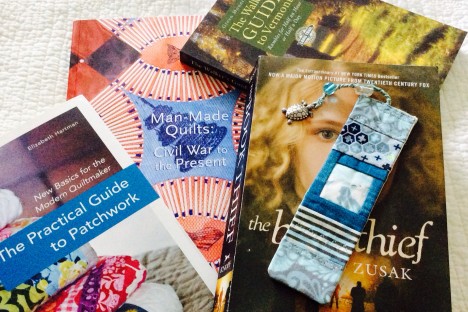 This bookmark matches the quilt I made her a few months ago. I sneakily picked up the turtle charm from the Danforth Pewter store when we were shopping yesterday, and added in a couple of beads that I've had for years. There are two layers of stabilizer inside to give it a bit of rigidity, and I whipped out rusty macrame skills on embroidery floss for the tassel.
Not bad for 20 minutes this morning.