After finishing the vest, Synchronized Squares quilt, and the Lone Star/Star of Bethlehem quilt top, I felt the need for something very simple.
So, I pulled out the psudo–jelly-roll of Lollipop that I bought in March and made this: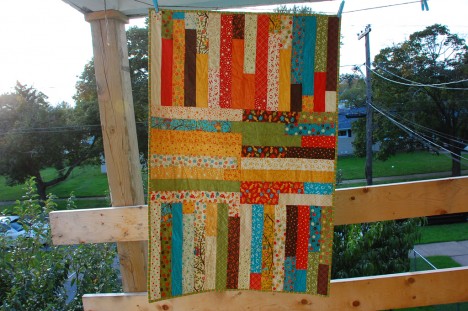 I began with an idea based on the Jelly-roll Race 1 Choice 4 Quilting sponsored a few months ago. However, my fabric wasn't exactly a jelly-roll. It was a roll of scraps from a LQS. The tag said it was 43 strips, 2.5″ × 22″. So, sort of like half a jelly-roll, except instead of half the number of strips, it was a full roll of half-length strips.

In actuality, it was a roll of strips that were closer to 3″ wide, but the widths all varied. It worked out okay, though. After sewing them together, I simply cut the whole really long strip down to 2.5″ wide.
I didn't measure or plan anything, I just started piecing the strips together. I chose to do straight seams rather than bias, because the strips were shorter than WOF and I didn't want to lose too much length.
Then I decided to make it a different, so pieced it into three blocks.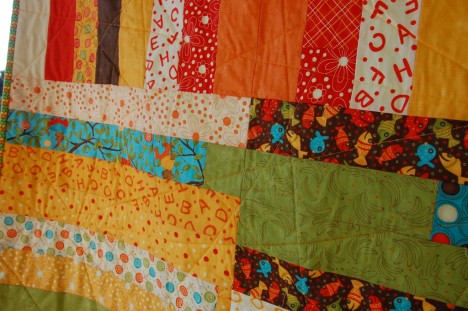 Finished size is about 36″ × 51″.
Saturday morning, I woke up planning to piece a back together from stuff in my stash (I'd used every bit of the roll on the front), but didn't like how anything but this one fabric matched, and I had plenty leftover from my mom's quilt, so for the first time I have a unpieced back.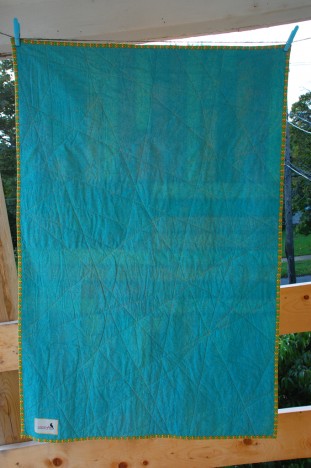 I appliqued on one of the labels I added to the medallion I ordered from Spoonflower.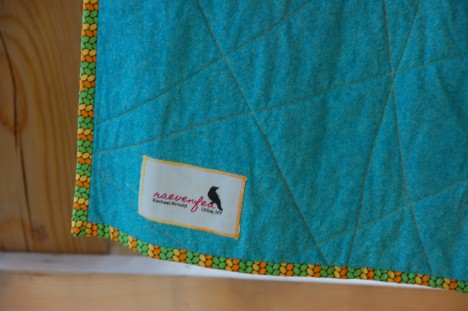 I quilted it in random straight(ish) lines using the yellow-orange Gütermann variegated thread I have a huge spool of (I used it on the Spring QAL too). Still have a ton, too, even though I pieced with it also. It matched the creams, yellows and oranges beautifully.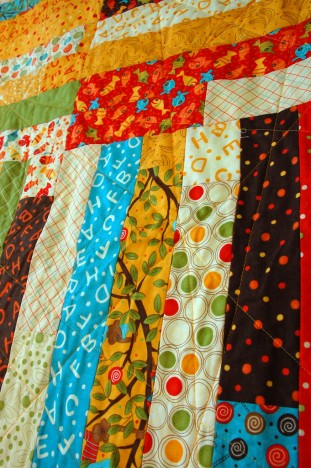 It's hard to decide when to stop, when quilting in that method. I kept looking and thinking, oh, that polygon is too large, I need to do another line. I think I'm happy with the amount of quilting.
In between is Warm & White (hooray for scoring a crib-sized package for $5.99 on clearance at Hobby Lobby a few weeks ago).
I bound it using a print from Tula Pink Nest that a friend gave me after destashing (thanks Thomas!). The green is slightly off, but the other colors matched wonderfully. I like it.
This is the first quilt I've made without an intended recipient. I haven't decided if I want to try to sell it or just keep it on hand for a gift-giving occasion. Thoughts?
What do you work on when you want something quick and simple?