This update is brought to you by random photos of projects that I have on my cell phone. At first, I wasn't planning on quilting the Synchronized Squares quilt or the Strip-pieced Lone Star/Star of Bethlehem quilt until later in the year, because they are both Christmas presents.
But then I got my hands on a spool of white Aurifil and decided to do the Synchronized Squares quilt last week. I basted it and quilted it Friday evening. It went pretty quickly. I even washed and dried it, then couldn't resist snuggling under it a bit. But it's been pouring rain and generally overcast ever since, so I haven't been able to photograph it yet.
Hopefully the weather will improve later this week, as I'd like to photograph it and send it off. I decided not to wait for Christmas, as I don't generally give this family member Christmas presents anyway.
Here's a sneak peek: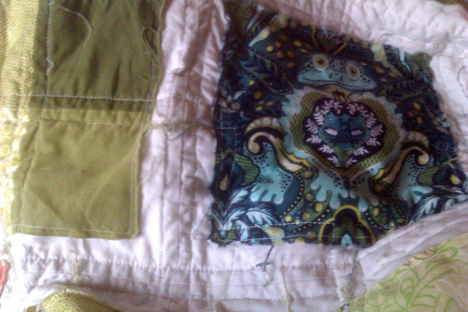 I've mentioned it obliquely once or twice in other posts, but for the last umm… seven months (yikes!), I've been working on making a vest modeled after an existing (but reaching the end of its life) vest for a friend. I kept taking breaks, because things would annoy me, but I am happy to say it's complete.
I'll probably never have decent photos of it, because I need to hand it over, but here are a couple that I shot of it hanging here at my desk this morning.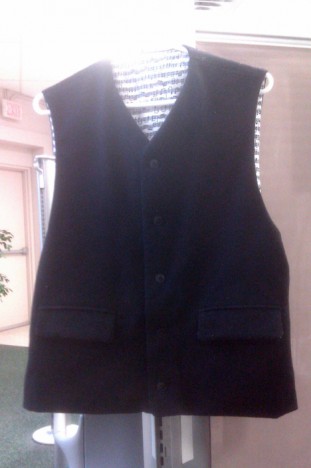 And here's a photo that has been on my phone for months and months showing my homemade pattern and the marks I used to try to match up the staves for the seams of the lining.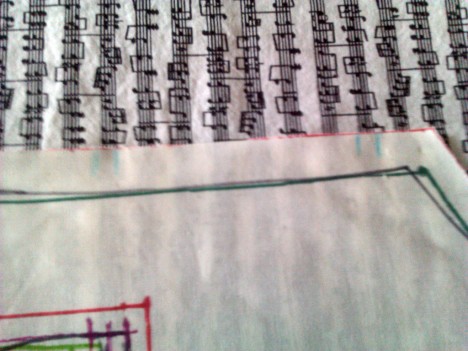 And lastly, after I finished those up, I decided to tackle some other WIPs, so I did a bit on my applique project from last spring, but got annoyed and put it away, then pulled out a psuedo–jelly-roll of Lollipop by Sandy Gervais I had stashed away and decided to make a quick top based somewhat loosely on the Jelly-roll Race Quilt concept.
It wasn't exactly a jelly-roll… it was labeled as 2.5″ × 20″ strips (half the length of a true jelly-roll), but most of the strips were closer to 3″, which I didn't realize until I'd had a lot of them pieced together and came across a true 2.5″ strip. That slowed the process down, as I had to cut everything down after the fact, but I've made a reasonable start. I haven't done any length-wise measuring, but I think I'm starting with a 900″ strip, so this'll end at a crib-size, I estimate.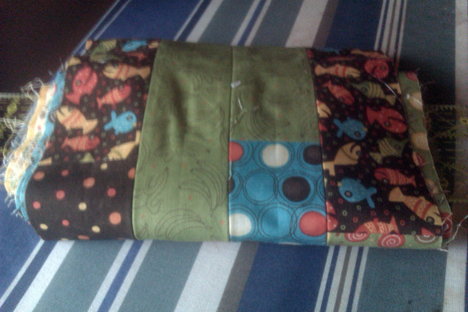 I promise to get back to more interesting content soon! Hopefully the weather agrees!