Do you call the diamond-based star a Lone Star or the Star of Bethlehem (or even the Mathematical Star if we want to go back to very early quilting)? I suppose your answer depends on your region, religion, and how long you've been quilting (or who taught you). Based on shady research (that is, I Googled "lone star quilt" [over a million results] and "star of bethlehem quilt" [83k results]) Lone Star seems to be the more prominent name at present (I guess you really don't mess with Texas).
But, since this quilt is quite traditional—in my eyes, at least—and is intended as a Christmas present for my grandparents, I think I'll call it a Star of Bethlehem—at least on the label. If nothing else, it brings to mind the Christmas carol, so that seems fitting.

So, here it is: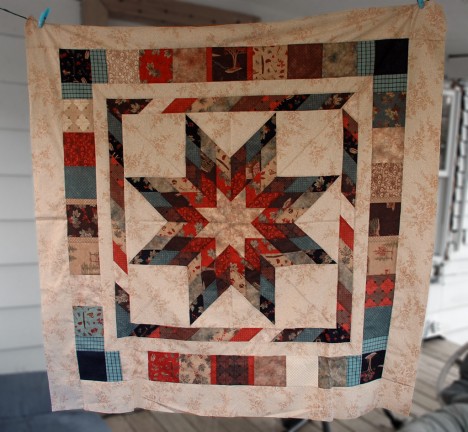 Right now, it is just a quilt top. I am hoping to finish up the Synchronized Squares quilt and them quilt them around the same time, since they're both intended as Christmas presents.
Also, I have some concerns about parts of the quilt not laying flat (although the center is better since my last post about this quilt thanks to a bit of ripping, resewing, and blocking), and am going all ostrich for a while, except instead of sand, it'll be out of sight out of mind in a box in my sewing corner (and yes, I know the whole thing is really a myth).
I went ahead and made the label, since I needed to print some other stuff as well:

Okay, time to get cracking on some other projects.