The current SYWTQ topic is sewing curved seams, so we are doing drunkard's path.
Pulling out a small pack of FQs that my not-legally mother-in-law gave me, I decided to give it a whirl tonight, even though our current homework assignment is simply to think about the layout and fabrics to use.
From my research, there are a couple of circle-cutting rulers that can be used for drunkard's path, not to mention a plethora of shape-specific templates. Fan that I am of Omnigrid (all my rulers are by them), I thought I'd give the OmniArc a try. It looks like this: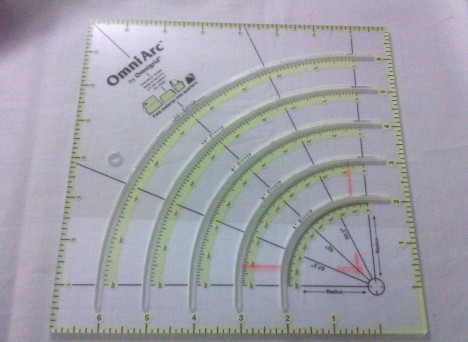 Ignore the orange marks, those aren't stock. We'll talk about those soon. To use the ruler, you fold your fabric into quarters, place the center tip in the target area, then slice through the proper furrow to cut your circle (or just place the edge of a square there for a quarter circle).
I can't find the reference, but I swear that I read that you should cut the background curve one furrow smaller than the interior contrast piece. So I did. And ended up with this: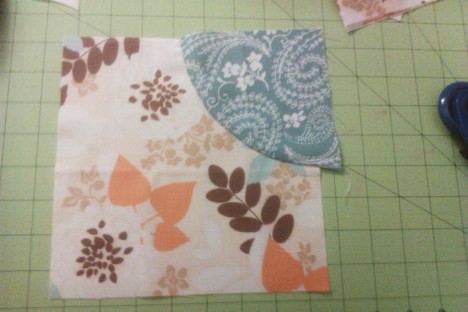 That's a half-inch of skew.
I spent some time experimenting, pulling Carl in because sometimes he has better spacial recognition than I, and eventually we concluded that I needed to cut somewhere between the two furrows to succeed. Thus the orange lines.
From my tests, I found that I need to move the interior piece 3⁄8″ up from the original edge line, still cutting in that larger furrow. That allows me to end up with just a sliver of overhang—a reasonable amount of skew for any piecing, from my experience.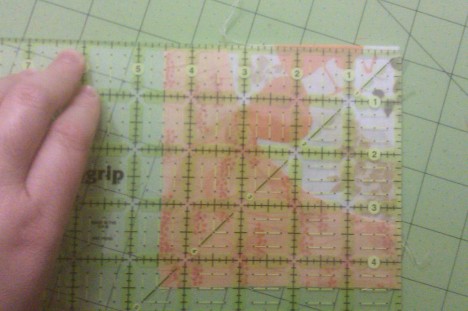 I don't even want to try to solve the equation for why it is 3⁄8″, not .5″ like I expected. It likely involves the type of pi that gives me headaches, not the yummy, fattening kind. Maybe it really should be .5″, but it came up short when I tried, so I'm sticking with what works.
Having been inspired by this quilt, titled "Birds Over Garden":
I ended the night with this block: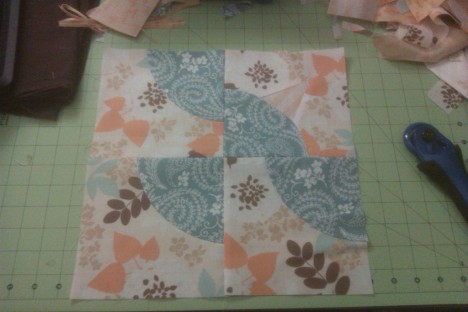 It will finish at 12″ and is miraculously square so far. No clue what I'm going to do with it right now. I don't have enough of the fabric to make multiples, but I can add some borders and do a pillow or something, I suppose.
What experiences have you had with Drunkard's Path?