Back in April, I showed you my first three Saturday Sampler blocks, then in July the second set of three. Here are the three for quarter three, which I call the quarter of on-point squares.
For those who missed the explanation the first time around, this is a monthly block meetup at my LQS. Every year, they choose a theme for the 12 monthly blocks, and this year's is "Road Trip." We meet up the last Sat. of the month, learn how to make the block, and are given precut strips to complete it with. They chose to do this one out of batiks.
In July, we went back to the Midwest and made Kansas Star…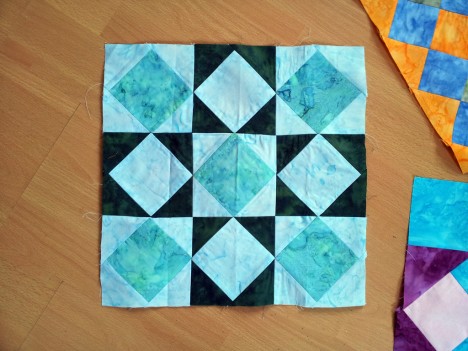 …which was the first time I'd ever heard someone suggest pressing open seams in real life.
In August, we took a trip north to the Chicago Pavements…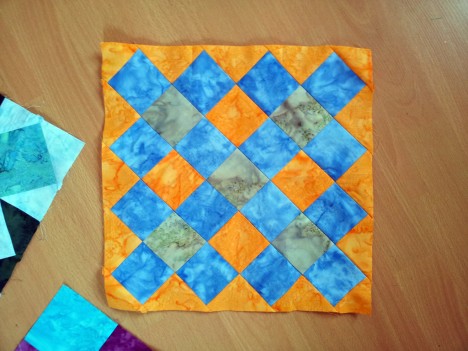 …so many little squares, but it came together surprisingly easy
And September found us in NYC, Union Square to be specific…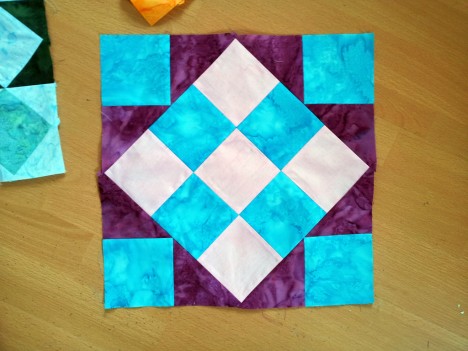 …which will need a little tweaking to get into the quilt without losing the points of the nine-patch. Oops.
I'm no closer to figuring out a layout for the blocks, and I'm concerned that I'll miss the last two sessions anyhow as one falls the weekend of Thanksgiving, and the other the weekend prior to New Year's, for which we'll be in Missouri. We'll see what happens.
Do you want to see the final three blocks before or after I finish the quilt top early next year?