I hope you are having a wonderful holiday season, whatever you celebrate! Here in my world, we're gearing up to celebrate our first Christmas in our new home tomorrow, and after trying to weasel out of spending most of the day at his parents' house, ended up volunteered to host Christmas dinner (sans oven!). We're off on our annual end-of-the-year trip to Missouri (both Kansas City and the Lake of the Ozarks) to visit my family starting Monday. Once we get to MO, I have a full five days' worth of present reveals scheduled to show you.
---
Last Sunday, Carl asked me how long it took to make a quick quilt, and I—clearly out of my mind—told him I could make his Grandma one by Christmas. So I did. She won't receive it by Christmas, seeing as we just mailed it yesterday, but it is finished.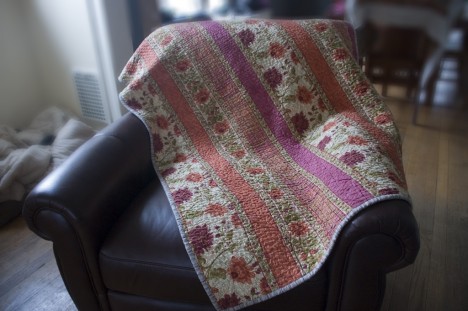 As I mentioned earlier this week, Mama Spark has a tutorial on how to make these, and there's another great tutorial on making one with pre-printed chevron fabric, too. I had a vague idea of how to make one, having read those two tutorials at one time, but went off on my own for this.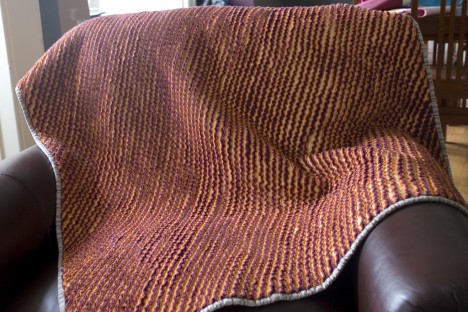 Because Carl wanted to be sure it was nice and warm, rather than making this solely out of flannel and printed cotton, there's also a layer of batting in between (I used Mountain Mist Cream Rose, because as I mentioned in my review, it's thinner than other cottons). There are three layers of flannel—it would have been better to have a fourth, as I could only cut through two of them so that the batting was sandwiched. The printed side is a nice border print.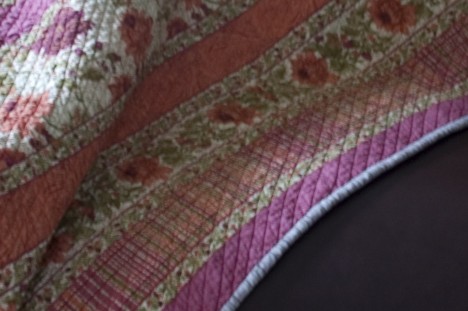 I cannot stress enough that you really need to baste this well. I pin-basted, and really wish that I had used 505 or perhaps even hand-basted it, because the layers really shifted—giving me some ugly folds in the printed fabric. Since I was on a time crunch, I only ripped out the absolute worst offenders, then ended up unpinning the last 10″ in the two outer corners to spray baste and repin, because they had shifted so much by then.
Carl picked the fabrics out with a bit of guidance from me. At first, I wasn't sure about the grey striped binding with the warm cream background of the quilt fabric, but the more I looked at it, the more it grew on me. The photos don't show it well, but it has a small pink stripe in there, and it ties in pretty well.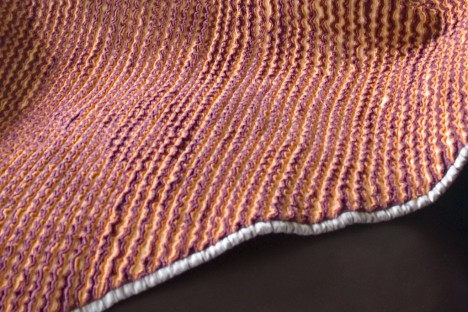 Looking back, this was also a poor choice for a quick quilt. It is easy—very easy—but time intensive to sew all those straight lines and then cut it apart. A chenille cutter is so handy for this—I think it easily halves your time compared to cutting all the channels open with scissors. I bought the Clover Slash Cutter from JoAnn Fabrics, but Olfa also makes one (my JAF didn't have it) that is even more interesting, because it has different channel widths to help you cut exactly in the middle—mine were a bit off center sometimes with the Clover one, although the wash/dry process hides that pretty well.
I'm not scared off, though. I love the idea of these—so snuggly! So, you'll probably see more of them in the future!
Have you finished up your holiday sewing?