I spent my National Sewing Day taking advantage of the lovely weather to do some much-needed leaf raking, then sat on the porch and made progress on my Tula quilt's binding. I still haven't photographed my underpinnings and gown (show is tomorrow), but here's a few of my shoes.
---
After deciding against the American Duchess shoes, and Moof chewing my half-finished pink attempt, I still found myself in need of shoes for the show. Target no longer had the pink ones, so I couldn't continue in that vein. I finally decided to go back to my original plan of gussying up a pair of black flats I purchased a few years ago and have practically worn out (I stopped wearing them a while ago, but never got around to throwing them out). Some of the wear will be hidden by the decoration anyway, so it's a good compromise.

Then, I went on a mad search to find them after we'd mostly unpacked. I thought I remembered tucking them into a box of sewing stuff when we packed up the apartment, specifically because they would work for Regency and I don't actually wear them. Turns out, they were in the bag of non-winter shoes. Go figure.
They were just plain black, pointy-toed ballet flats.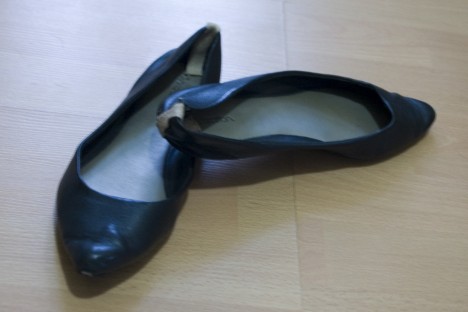 As for decoration, I thought that something like this extant pair would be easy enough:
Not having buckles didn't deter me, so, with twill tape, scraps from my wool gown fabric, and silk from the reticule/gown sash, I ended up with Regency-like shoes.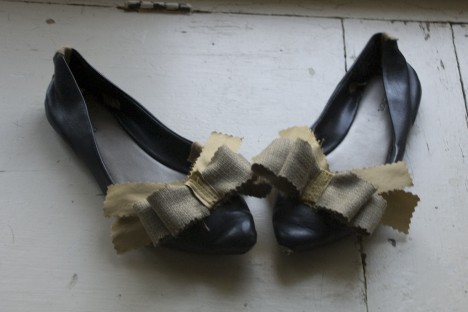 The faux–side-seams are obscured by the bow, but you can see the inside where the tape is wrapped around.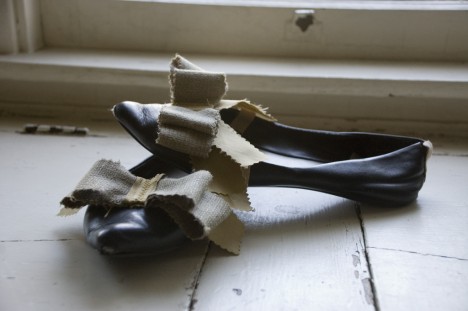 Not perfect, but from five feet above, no one will notice the issues. And please, don't judge our window box that is in sore need of paint and cushions.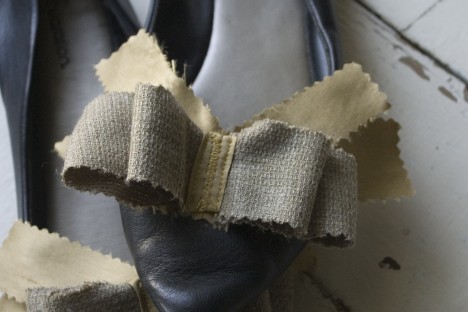 Best of all, there is no danger of blisters or other maladies caused by breaking in new shoes when we walk all around the Village of Sacket's Harbor tomorrow!