The Observer-Dispatch, Utica's paper, wrote an article about me and the 1812 Quilt I've been working on!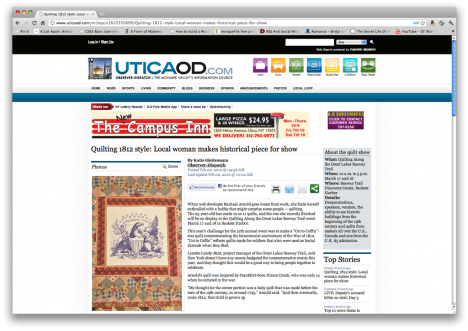 In related news, Lynette was the only one to leave a comment on the Simplicity 4055 giveaway, so she wins! I know she has a copy of the pattern already, so there may be a substitution at her discretion. Perhaps I'll try giving away the pattern again later.
It seems I'm back to the drawing board with shoes for the show. I was sewing along last night, and saw Moof sneak by and then scurry back out of the room… in the mere seconds it took to go figure out what he was up to, he managed to do this: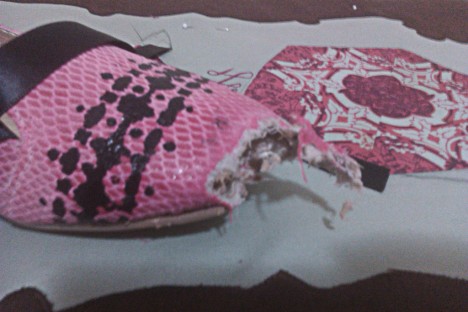 So, for now I'm going to try to unpack the boxes that are sitting in our den—I have a pair of black pointy flats in there somewhere. But, maybe I'll try Target again.
---
Here's what I was working on while my shoe met its fate at Moof's jaws: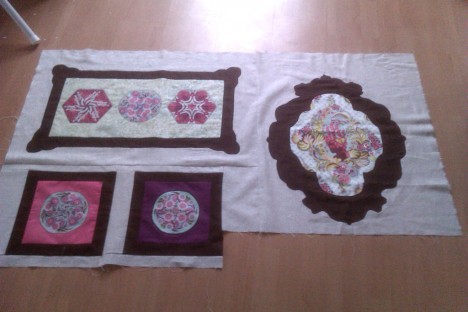 That's 4/9ths of the quilt top! I have finished eight of the nine blocks; all that is left is adding the background to one more and sewing the rest together. They're all a differently sized, but I think there will only be two set-in seams, thank goodness.
I've been almost manic about finishing this top, even though I have no deadline or intended recipient. I think I just really like it. It might be a while before I quilt it, though, as I need to work on other things (like the 1812 costume and a valentine I have to ship to my swap partner by Tues…). I'm currently trying to decide on what to do for the back… either piece together a whole backing from the leftover fabrics I used on the front (I have plenty), or use that for a second top and get something else for the back. Decisions, decisions. Lola Pink Fabrics just reopened up using the old Above All Fabrics platform, and their Tula Pink is on sale, plus they have Thomas' Pear Tree, which I've been meaning to buy (the LQS brought it in, but only the pink colorway, and despite the abundance of pinks in this Tula Pink quilt, I'm not such a fan…), so that plan might win out.
Do your animals cause setbacks in your crafts, or am I just cursed?