After making proper drawstring channels for my gown and sewing my petticoat straps on (they were pinned on TV), I decided that my outfit needs one more addition: a reticule. After all, I need a way to hide my very un-period keys and cell phone.
So, I spent a bit of time browsing, and came across this one in the V&A collection.

Although I'd love to one day do something that great with embroidery, for now I was drawn mostly to the shape (and didn't want to spend much time on it). So, after dragging out some home-dec weight silk fabric from the stash; a quick trip to the store for tassels (should have paid attention and bought more) and cord (should have bought more); and around 30 minutes in the sewing room, I ended up with a working reticule. It was so fast, I had time to pull out the real camera, photograph it, and write this before bed, even!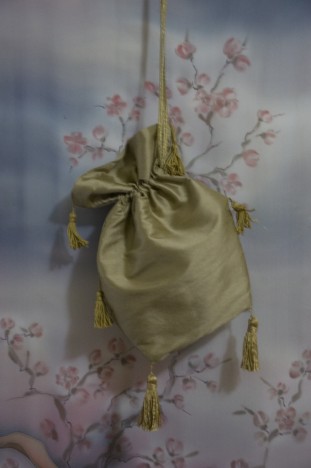 It's lined in the same fabric, and measures something close to 7.5″×10″—roomy enough for my phone, keys, wallet, and a small sewing kit for the quilt binding I plan on working on.
I cut the pieces out freehand, based on the inspiration photo. I didn't get it quite right, but it is close. I should have spent more time shaping the curve of the bottom, but I really did spend less than 30 minutes from cutting it out through trying to put in the drawstring. That part took longer…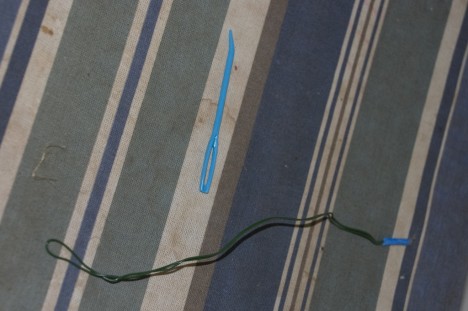 Which of these do you think makes a better bodkin? If you answered the one that actually is a bodkin (or, technically, a Clover Super Jumbo Tapestry Needle), you'd be right.
After trying to work the string through using my attempt at MacGyvering something with floral wire and tape, and failing miserably (it worked, somewhat obnoxiously, for the gown drawstrings, at least), I made a special trip the store and finally purchased something that is actually intended to be used for the task (well, technically it's for something to do with knitting, but at least we're in the same general craft field…).
Once I had the plastic needle, the drawstring went in quickly as well, although I found I didn't have enough for the nice two-sided closure. It works though. So that's that: a reticule for the show this weekend.
---
I do actually have a full outfit, promise, and have even written blog posts about the construction of my petticoat, corset, and gown. But, in order to post them, I need to put them all on and get Carl to take photos. I hope we can do that tomorrow!
Do you have a habit of spontaneously whipping up quick projects on a whim with no attention to measurements like I seem to?