This is a representative collection of my quilting journey so far. It's not a complete list of finishes. More can be found under the Finished Project tag. I've also included a link a blog post or tag page about each quilt, in case you're interested in learning more about the quilt or my process.
Click any image to view a larger version.
The Baby Quilt
My first quilt was made based on a pattern on allpeoplequilt.com. It was a gift for a friend's baby. I knew absolutely nothing about quilting or how to quilt when starting this quilt, and took about three months to finish it (another that I started concurrently is still in the unfinished pile).
Fabrics: quilting cotton, flannel, Minky, silk, seersucker, eyelet, linen-look cotton
Batting: polyester
Quilted: all-over 1″ grid w/ cotton thread
The Bargello Quilt
My second quilt was made as part of a bi-weekly class/group called Sew You Want to Quilt (SYWTQ) that I joined after finishing the Baby Quilt. The pattern is based on one in Bargello Quilts by Marge Edie, but I added in the purple curves of my own accord. It was a wedding gift for my cousin.
Fabrics: quilting cotton, poly-suede
Batting: bamboo/cotton
Quilted: invisible thread on top, echoing curves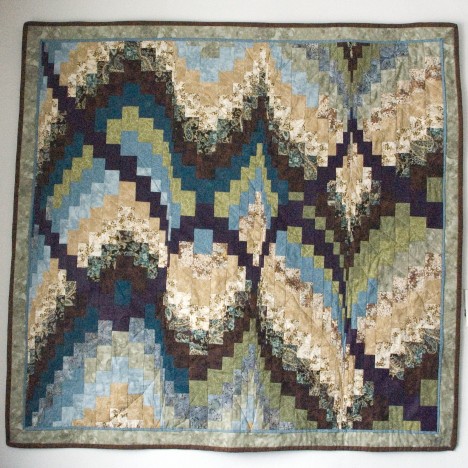 Spring Quilt Along
I joined a group online doing a quilt along with a pattern by Kate Spain. Everyone chose different fabrics, so it was a good experience in seeing how the fabric can make the quilt. I made slight alterations to how the sashing was constructed (I mitered the corners and center). I couldn't get FMQ tension to work, so I quilted butterflies, curves, and greek keys with my walking foot.
Fabrics: quilting cotton
Batting: cotton
Quilted: butterflies, greek keys, spirals, curves, all with walking foot in cotton thread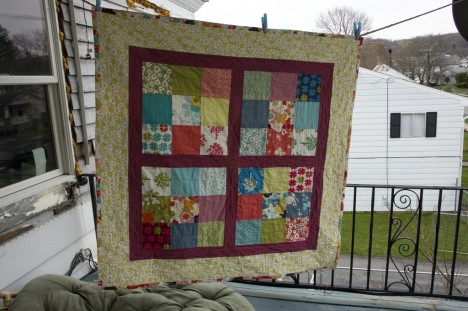 Mother's Day Quilt
I started a quilt for my Mom, but a block went missing and I was underwhelmed, so I started this new one with two weeks to go before Mother's Day. This was a large-block, simple pattern from allpeoplequilt.com, but I decided to remove a row and mix up how the borders and binding were done and used two colors for each. The binding is mitered on two corners, but not on the others, where the colors change.
Fabrics: quilting cotton
Batting: cotton
Quilted: all-over ~4″ diamond grid in cotton thread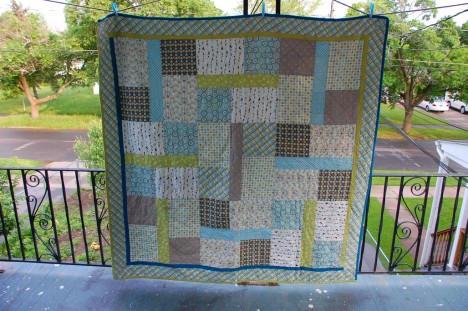 Star of Bethlehem
We started Lone Stars in Sew You Want to Quilt, and explored a few techniques. I started a strip-pieced version from Jelly Roll Quilts by Pam and Nicky Lintott, but stopped with one star, and used the remaining strips I'd cut as borders and binding, building out the rest of the quilt with a charm pack and more borders. I had to learn how to block for this, as the star was not square when I finished piecing. This was a gift.
Fabrics: quilting cotton
Batting: cotton
Quilted: stitch-in-the-ditch, intersecting lines, and straight-line echoes in cotton thread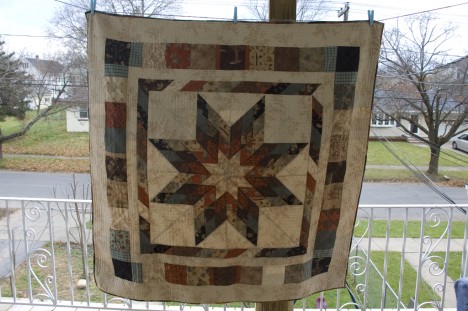 1812 Quilt Challenge ("Grown and Off To War")
This was my first show submission, and was made for the show itself. The size was dictated by the show guidelines, and I put a lot of research into period-correct styles and patterns. It was made in three separate parts that were then sewn together by hand. The center medallion is something I designed using a stock woodblock imprint and had custom printed. I hand-quilted the center medallion, but used a sewing machine for the rest.
Fabrics: quilting cotton, linen/cotton blend custom printed medallion
Batting: wool
Quilted: hand quilting in medallion, machine seam-echoing for the rest
This quilt was chosen as one of 26 (of ~150) from the show to travel to four Mancuso shows on the East Coast over the course of the next year as well as a number of other events related to the War of 1812 in NY and Ontario. I didn't photograph the quilt prior to sending it in, so I'm limited to a full-shot at the Great Lakes Seaway Trail show.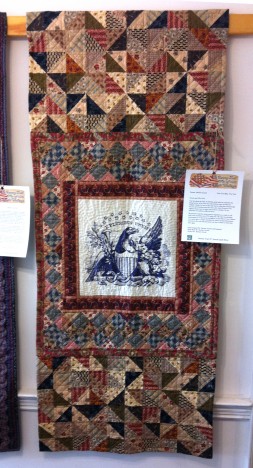 Tula Does Up The Walls In Pah-ree
We worked with four-patch posies/kaleidoscopes in SYWTQ, but rather than doing a medallion quilt, I framed my kaleidoscopes and a few prints in giant applique frame blocks. I really played with new techniques for this quilt: kaleidoscopes, fusible-thread applique, set-in-seam piecing, and metallic-thread FMQ. I had to get creative with embroidery to cover up an accidental hole I snipped while trimming down the applique.
Fabrics: quilting cotton, linen, linen/rayon blend
Batting: bamboo/cotton
Quilted: FMQ in metallic thread and cotton thread, straight lines in metallic w/ walking foot, stitch in the ditch with an FMQ foot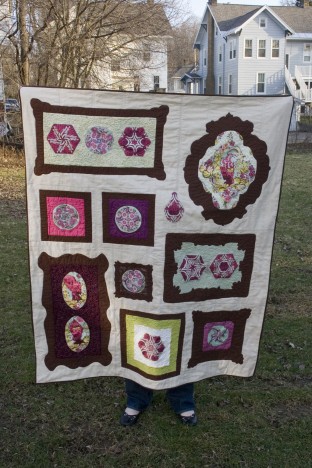 Cyclist
Inspired by a quilt titled "Gamer", I planned out this typography-based quilt. It is a combination of applique (the letters) and piecing (the stripes).
Fabrics: quilting cotton
Batting: 80/20 cotton/poly low-loft blend
Quilted: FMQ and straight lines in cotton thread