I'm evidently stuck on designing with pinwheels lately, so when I was thinking about how to make the quilt currently titled "Organic Spins", pinwheels popped to mind yet again. As the design progressed in my head, however, I realized that I didn't want a ton of seams in the background of the quilt. So, the idea of making a whole-cloth quilt with appliqued pinwheels came about. But, it still requires piecing part of the pinwheel together before being able to applique it on.
Last week, I played around with some scrap fabric to make a proof of concept. I finally cut into my fabric and started piecing at the Utica Modern Quilt Guild meeting/sew-together on Saturday.
Here's the final product: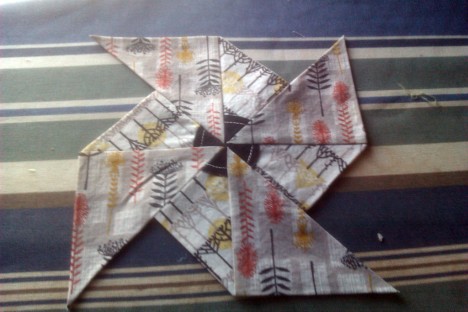 This one finishes at about 10.75″ across. It's the middle of three different sizes I'm using (well, plus one much teenier size that will be paper pieced).