I've made enough progress on my WIP list from July that I feel comfortable starting a new project, finally. And, it's one I'm keeping.
This one has been in my brain since the end of May, when we traveled to Missouri and I got the chance to stop at Sew To Speak Shoppe in Columbus, OH (I'm in love and want to move there, just for this shop). Among my purchases was a small FQ stack of Cut Out & Keep by Heather Moore for Cloud9 Fabrics.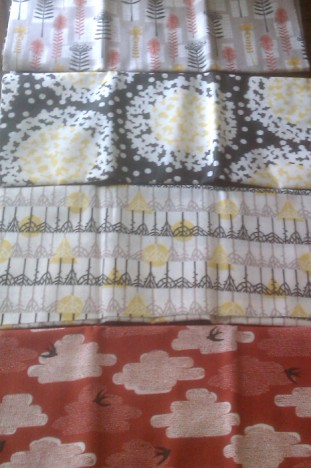 I think this is going to be a deceptively difficult quilt. It seems rather simple, at first, but we'll see. It's not a traditional pieced quilt like I've done before. It is going to involve piecing together pinwheels, then appliqueing them onto a whole-cloth background of yummy greyish-natural linen I've had in my stash for quite some time (purchased for costuming, not quilting).
Last night, I spent some time with scrap fabric making a proof-of-concept of one of my pinwheels.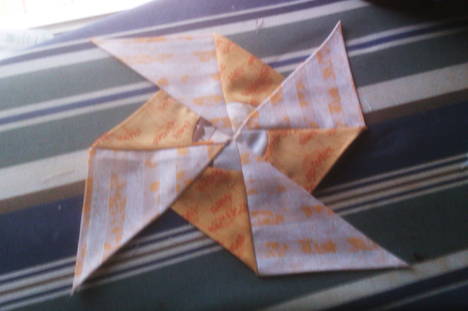 This was my first one. I learned a few ways to modify the construction to make it a bit easier. I'm not happy with the circle piecing. I made half of another (no photo) with raw-edge applique for the circle instead of piecing it in. I like the concept of the raw-edge, but I might play around with my design later and see if I would prefer no circle at all.
I also have a bit of Raven Primitive Muslin from Primitive Gatherings to use as well. It's just a smidgen darker than the charcoal in the Cut Out & Keep, but I like the look and texture of it better than a solid (plus, I couldn't find the right solid).
I want to bind it in a solid, I think, but I'm still working on the right color. Kona Spice is close to the red, but not spot-on. We'll see. I think I'll back it with the same linen, but maybe I'll change my mind if I come across the right fabric later.
I even have plans for the quilting already. I'm either going to need to play around with a heavy-weight thread (dark brown or charcoal, I think) and do a faux-sashiko or perhaps hand-quilt part of it. Decisions, decisions.
If you're in the Utica area, join the Utica Modern Quilt Guild this Saturday at Kirkland Town Library in Clinton and you'll get to see some of my progress (and if you ask really nicely, maybe even the illustration of the full quilt, otherwise I'm going to keep you guessing until it's done).
Now I just need to work myself up to playing with bleach so that I can get the 1812 Quilt medallion into a color I want to use. I really need to start piecing that quilt, too!