My very oldest (and dear) friend's three-year-old son is my most dedicated fan (of the quilts, at least). I've mentioned the love he's given the quilt I made for his birth quite a few times on here. While his newborn sister can't bear the distinction of receiving the first quilt I ever made, I wanted it to be special too—so, she's receiving the first quilt I've made with Kokka fabric. Okay, maybe that doesn't sound special to you, but I've lusted after many Kokka fabrics and this quilt finally convinced me to buy some.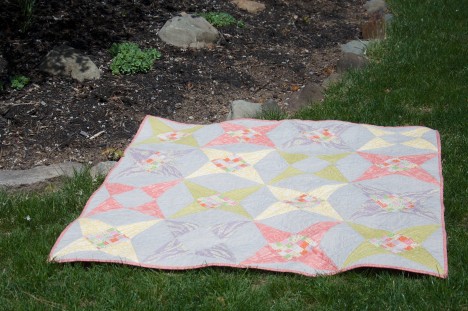 It all started with an FQ of Nursery Versery, but in the final top there's only one print from that set (the patchwork print). The back is pieced, and includes a big chunk of the mouse print from that line. The stuffed giraffe and doll quilt that I gifted at her shower were also made with those prints.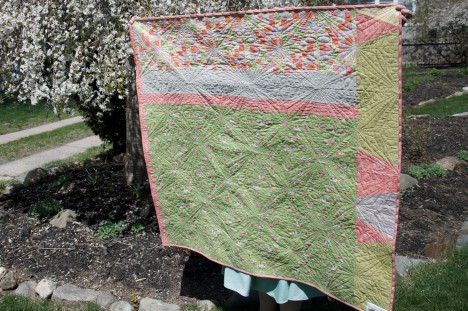 When I was shopping around (there are two shops around here that carried the line!), I fell in love with the design of a print in Comma that was conveniently placed next to Nursery Versery on the shelf.

However, I couldn't figure out how to turn that layout into a quilt top using the prints I'd purchased in the Kokka FQ. So, I pulled more prints from the shop in a complementary color scheme. Those ended up comprising the top of the quilt, paired with Essex Linen.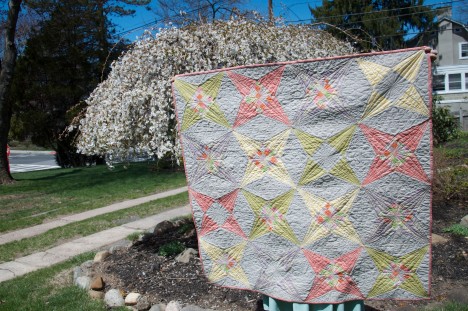 I drew up the 12″ block in Illustrator, then printed it and created templates. Another first: I've never made a whole quilt top that required templates to piece the blocks. My technique leaves much to be desired—there are more lost points than there are good ones and the whole top was a little wobbly before quilting. But, I'm happy with the final outcome even if it has flaws.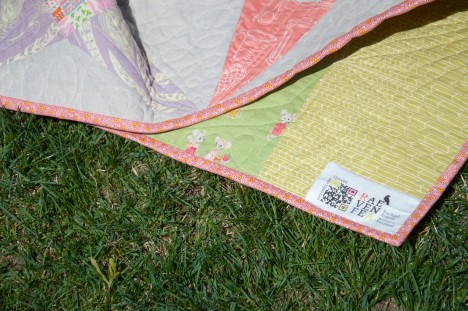 I planned to do an all-over swirl like I did on the coordinating doll quilt, but had to work around a broken FMQ foot. Limited to my walking foot and a floating embroidery foot (which worked better than expected), I let the quilt talk to me and it turned out even better than I expected. Pellon Nature's Touch batting gives it a good weight and drape.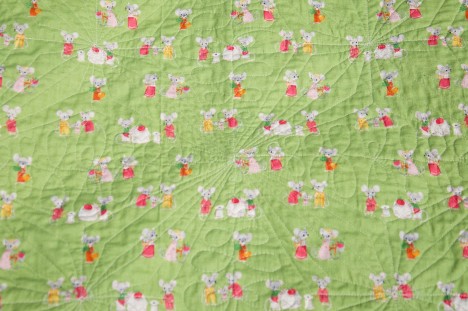 The 48″ square quilt is bound in a Denyse Schmidt print and topped off with a label. I hope she loves it as much as her brother loves his.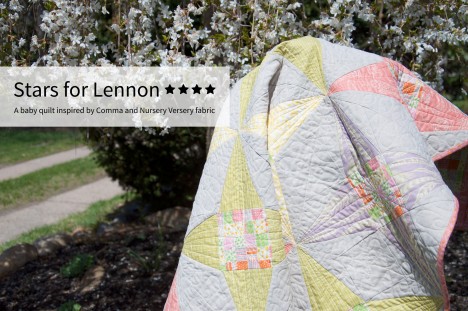 If she doesn't love it (and if her brother doesn't steal it), Moof is always willing to take it back.