Two things burrowed their way into my subconscious during six months of not quilting this year: all the plus quilts floating around blogland / Pinterest and the new kids on the fabric block, Cotton+Steel. It shouldn't surprise me that I brought home a fat quarter pack from the local quilt shop comprising prints from Cotton+Steel (and coordinating solids, a coordinating Cloud9 print), nor that my brain immediately thought "plus quilt"! Add in a yard of Olive Essex Yarn Dyed linen/cotton blend, et voilà: Mustang Summing.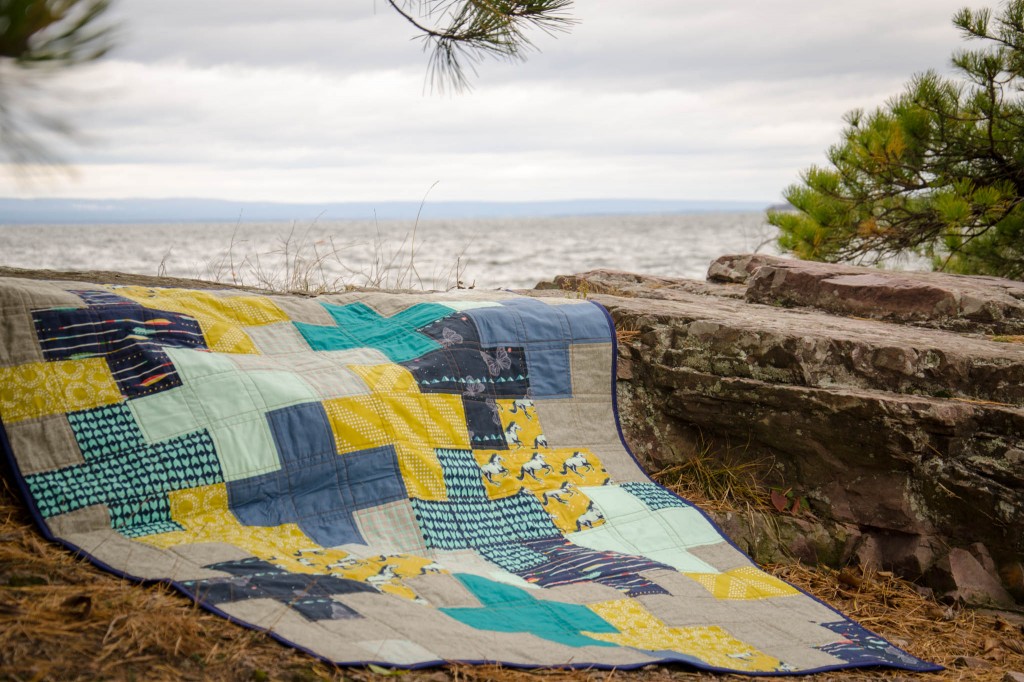 I sketched out the layout in Illustrator, aiming for something in the 50″ range on each side, moving things around until I was happy. The arrangement that looked right used 4.5″ unfinished squares, making the quilt 48″x56″. In hindsight, I could have used 5″ squares with the fabric I had, but I have a serious problem about miscalculating the number of squares from fat quarters.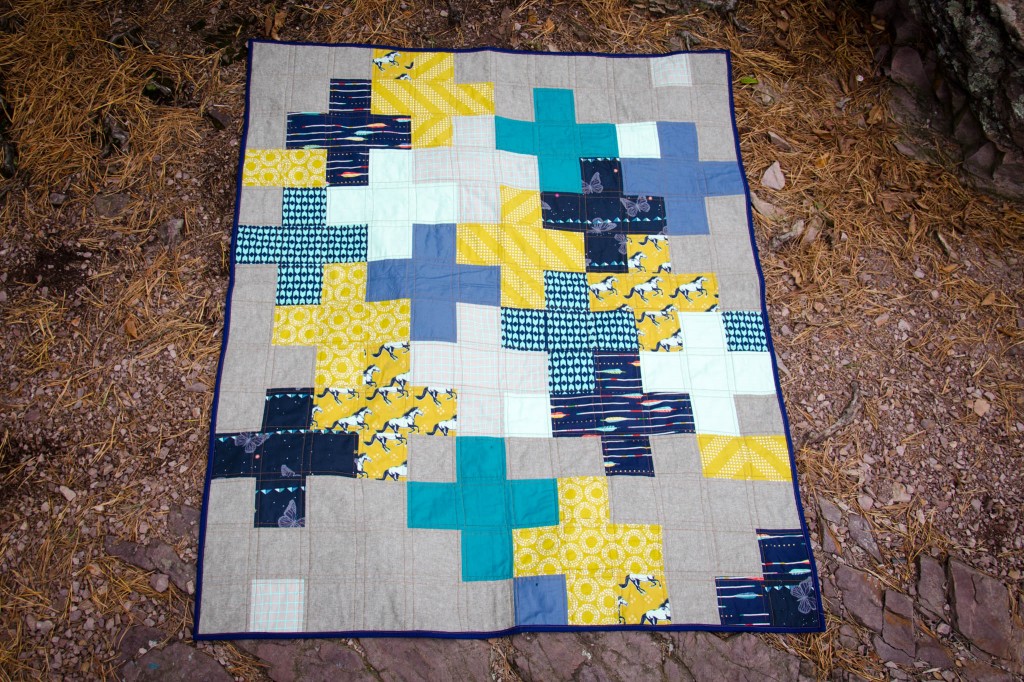 In software engineering, we say that good programmers are lazy programmers—good code doesn't have tedious, repetitive sections because we generalize things to save typing, and automate anything we can. In quilting, I often think the adage is inverse—a good quilter is masochistic and likes using as many small pieces as possible in repetitive ways. More often than not, the engineer in me wins out. I used two 4.5″ squares and a 12.5″ rectangle for each plus rather than make them entirely from squares (except for the three that I cut wrong, which are five squares). Less cutting and less seaming makes piecing more efficient. If only I could automate the cutting with technology I have at home.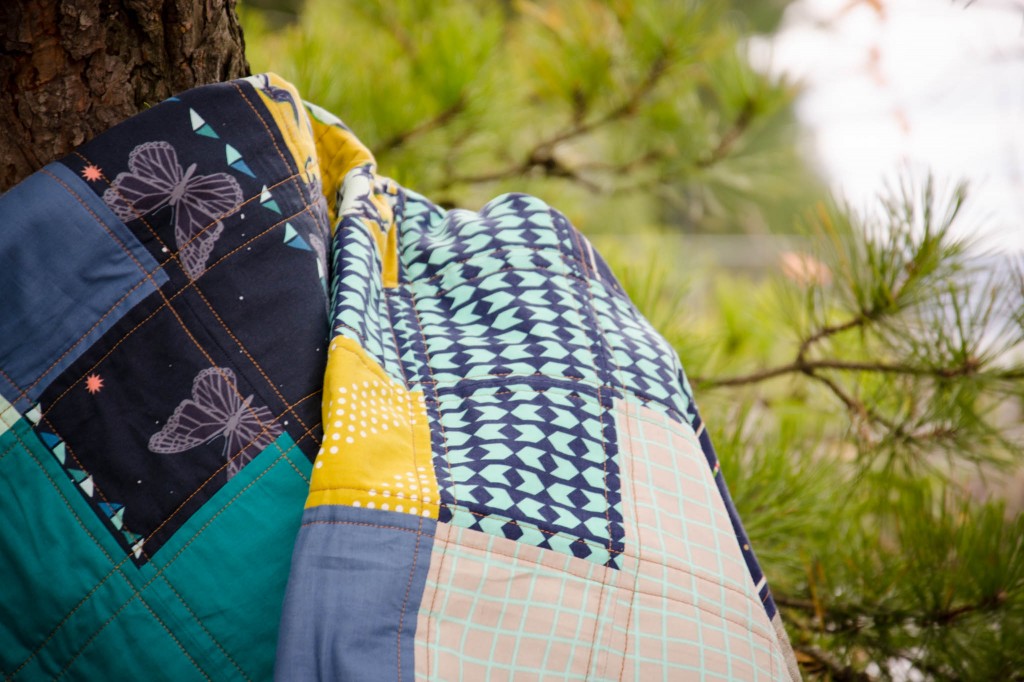 I love the warm brown/olive tone in the Essex Yarn Dyed (and how it blends into a warm gray from a distance), and let that guide my choice of quilting threads—a heavyweight russet Gutermann poly thread. I kept the quilting simple, echoing the seams, with Nature's Touch White batting in the middle.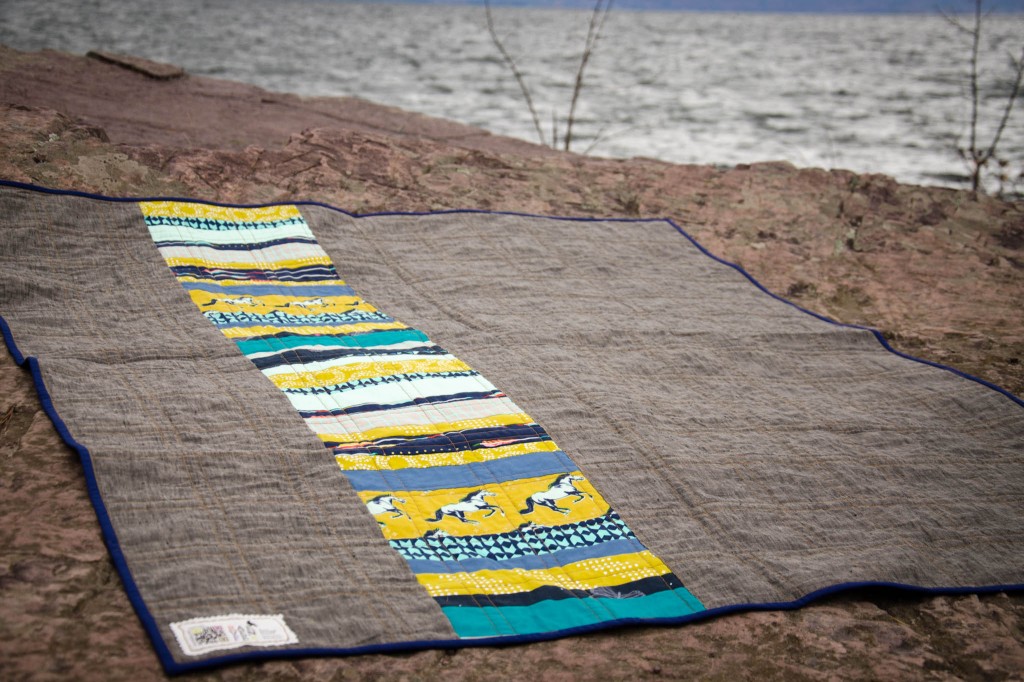 It took a while to solve the problem of backing and binding. The first backing yardage I purchased was too cool, the scraps from the top too few, and nothing in my stash inspired me. I finally settled on another yard dyed linen, mixed with a column of strips leftover from the top. I settled on a plain blue solid (Kona Nightfall) from the stash to bind it.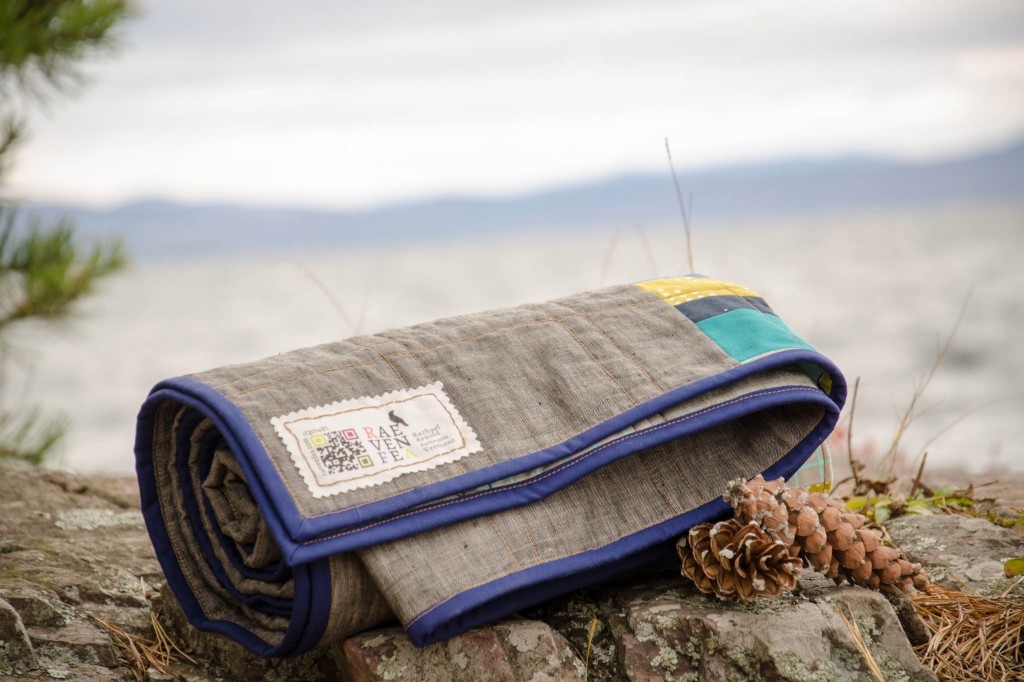 With this finish, I've completed more quilts this year than I did in 2013, despite not quilting for six months. Things go so much more quickly when I actually complete everything I start! As of now, the only unfinished project I've started this year is a corset that I spent a few hours on back in May. Not too shabby.
"Mustang Sally" was stuck in my head the entire time I worked on this quilt. Thus the name, if you can make the same mental leap I seemed to do.