When I make baby quilts, I typically whip up a doll quilt with the leftovers—a winning solution that adds another gift for the kid and eats up scraps. Mustang Summing isn't a baby quilt, per se (or maybe it will be whenever I give it away), but I needed something that could be bound with facing for a quilt guild demo I gave in November, so I played with scraps and made a doll-quilt-sized wall hanging.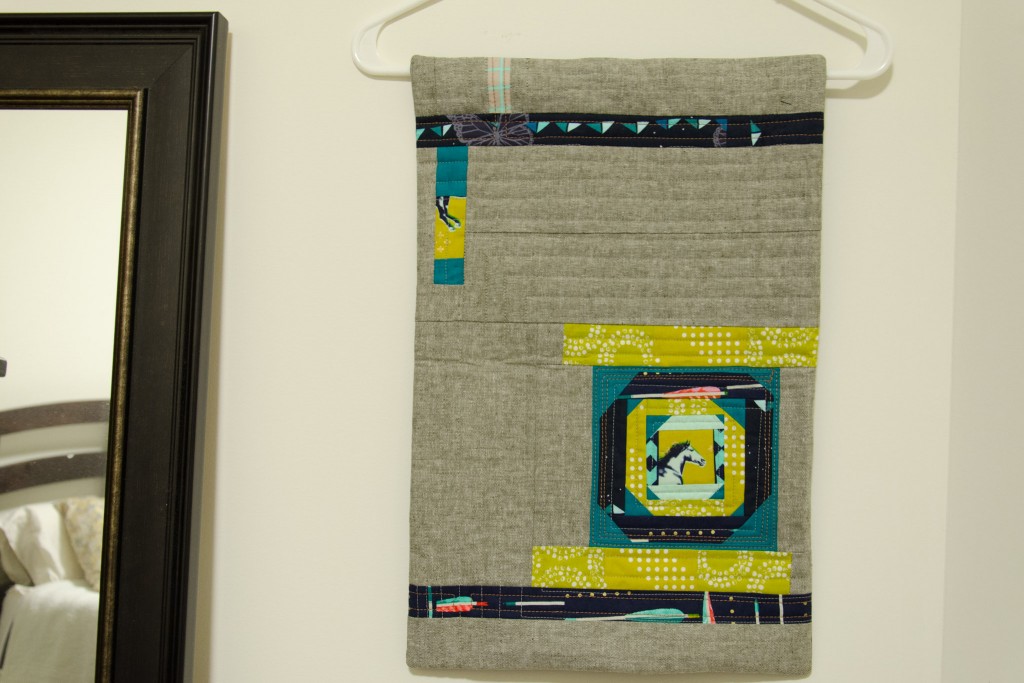 The top is just a couple hours of playing around, growing it out from the center of the log cabin block, sewing things together that seemed to work. Cut, sew, press, trim, cut, sew and on and on.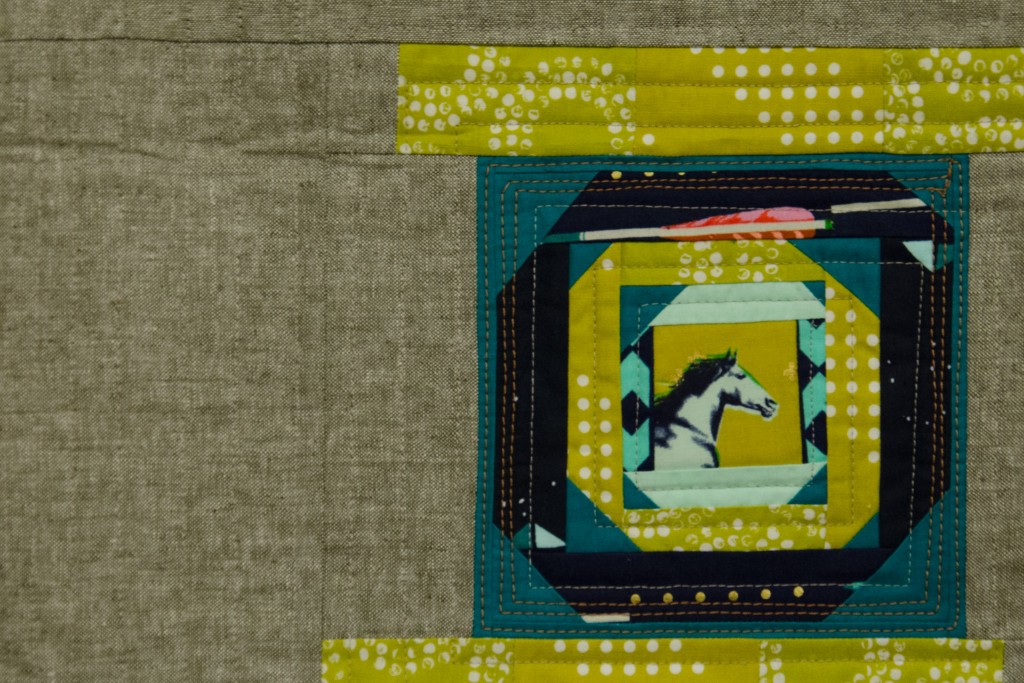 I went simple with quilting, stitching out a square spiral in a gray thread that blends well with just about anything. In a few places, I added highlights using the heavier russet thread I used on Mustang Summing.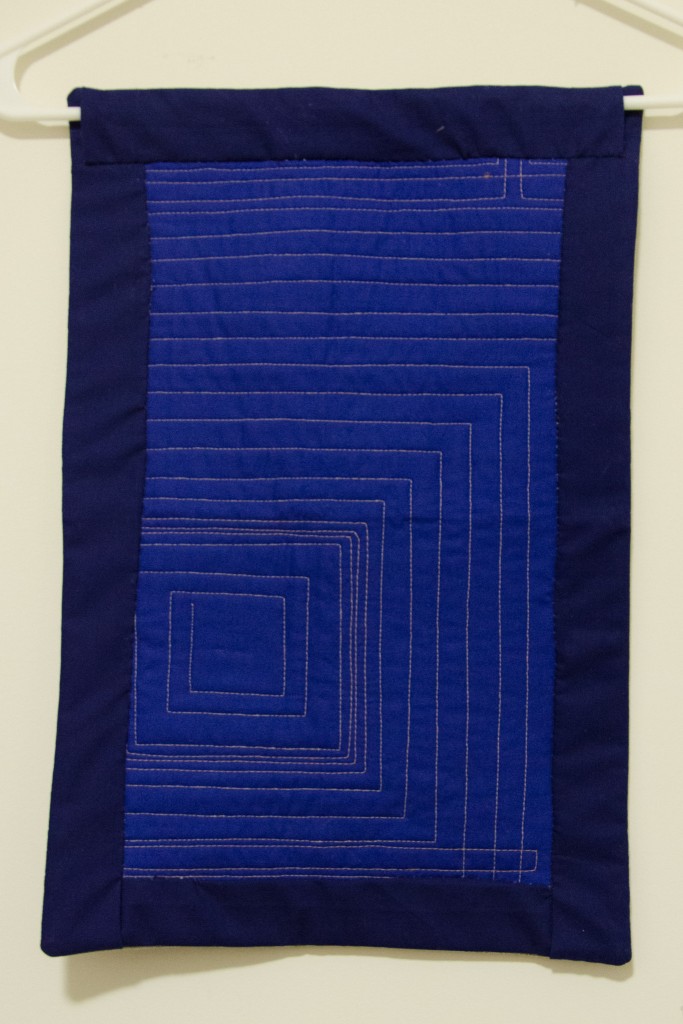 Since it's a wall hanging, I just used a solid from the stash on the back and finished it with facings using binding strips that were leftover from the other quilt.
This is the first time I've used this type of binding, but it seems to work well for this sort of application. I especially like that the top can double as a hanging sleeve. For shows, I imagine you'd have to increase the size of the facing piece to create a standard 4″ sleeve, but I wasn't too concerned about that for something at home.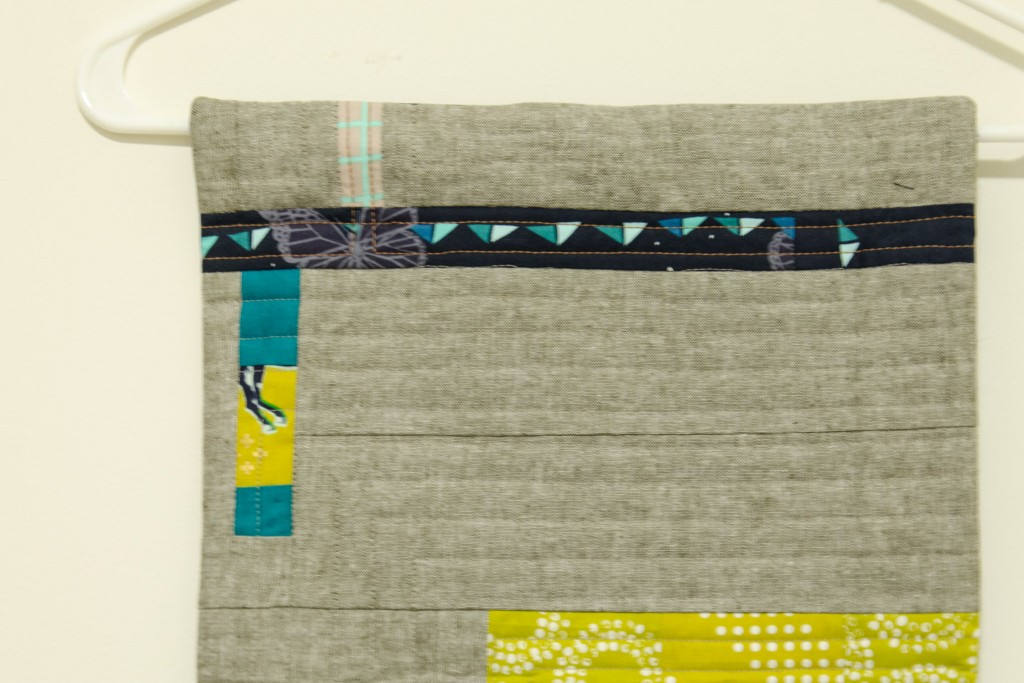 It took me three months to sit down and take 30 minutes to sew the facings down by hand (and another two weeks to photograph it), and I still haven't figured out where to hang it (not to mention that I need a better hanger)!
If you're looking to learn this technique, I cobbled together my method from memories of various things I've read, so I can't direct you to a specific tutorial for exactly how I made this (should have taken photos and made my own, huh?). Here's one that seems similar: Super-Duper Easy Way to Face a Quilt (but doesn't include the hanging sleeve). I know I read about turning the top into a hanging sleeve somewhere, but can't find the article or blog post. Sorry!
What's your favorite wall hanging finish?