When I purchased a charm pack of Metropolitan Fair by Barbara Brackman this summer, I knew it needed to be paired with linen, but the proper pattern eluded me for months. Then, though I am not a trendy sort, I couldn't help but being inspired by the recent flock of flying geese quilts showing up on Flickr, Pinterest, and in my RSS reader. Reproduction Sky was born.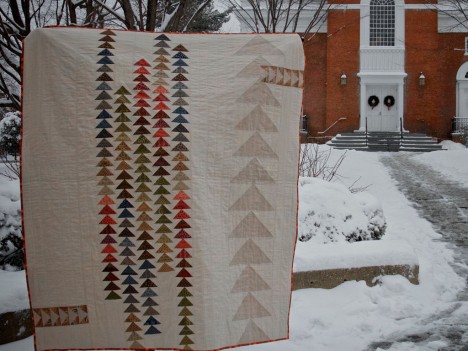 I turned 39 of the 42 charms into 168 flying geese (the remaining charms and a few unused geese are on the back), paired it with one light linen/rayon blend, a darker 100% linen, and just a bit of a FQ from Old Sturbridge Village that has been in my stash for a while.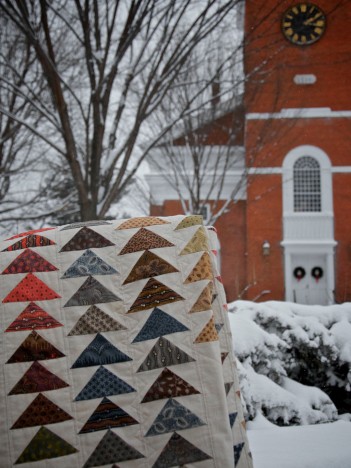 I think it took longer to cut and trim those flying geese than it did to sew the entire quilt top together.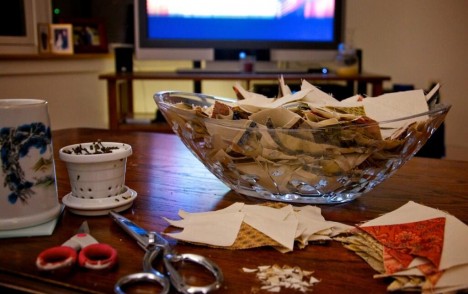 Among other imperfections, I didn't baste the back on perfectly straight, so the piecing of it is a little skewed when compared to the vertical quilting from the front, but it's not too bad. I had just shy of three yards of this Etchings print in stash, as well as the green vines, which made for quick piecing of the back.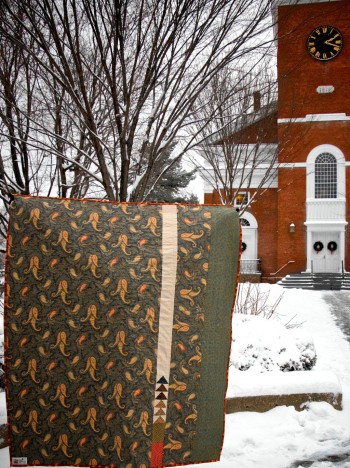 Nature's Touch batting gives it a nice drape. The quilting is a mix of 40wt Gütermann thread and a 28wt hand-dyed white to beige variegated thread I picked up at a local quilt show. The latter was used to echo the seam lines of the geese columns and continue that grid to the edges, while the lighter-weight thread was perfect for a few more lines in between the others and stitching in some ditches.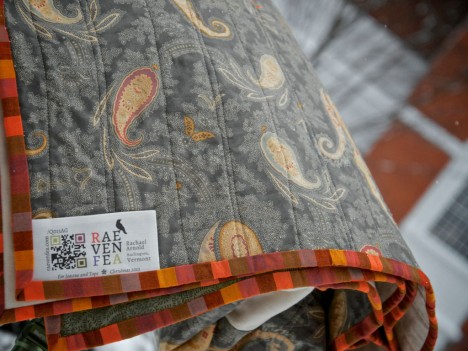 This one isn't staying around the house for long, as it's intended as a Christmas present for some friends of ours. I do look forward to cuddling under it while I finish up the binding. I cheated in the photos by using Steam-a-Seam to fuse the binding to the back. Not only does it clean up the binding for photos, but it holds it in place perfectly when I hand sew it down. With 6″ of snow on the ground and more forecasted, sewing binding while sitting under a warm quilt sounds lovely!