During the Spring QAL, Melanie or Chris suggested to use Elizabeth Hartman's quilt sandwich tutorial, and I was hooked on her tutorials. When I finally had money to spend on books (and had a great coupon, of course), I picked up her relatively recent release, The Practical Guide to Patchwork: New Basics for the Modern Quiltmaker (Stash Books/C & T Publishing), figuring if I loved one of her methods that much, I wanted to see what other knowledge she had to impart. I even want to share—don't miss the giveaway at the bottom!

She didn't disappoint. This is a great resource for any beginning or self-taught pseudo-beginner quilter (I figure I'm one of the latter, for the most part). It's probably even a decent refresher for the more experienced among you.
I think the strongest point of this book is her presentation of different fabric/color options for the quilt projects. She provides ideas for ways to change the look of the quilt completely by using scraps, swapping in (or out) solids, fussy-cutting, etc. Two alternate-style details are shown for each project. This is in addition to the very informative description on alternatives for fabric cutting (yardage, different pre-cuts, etc).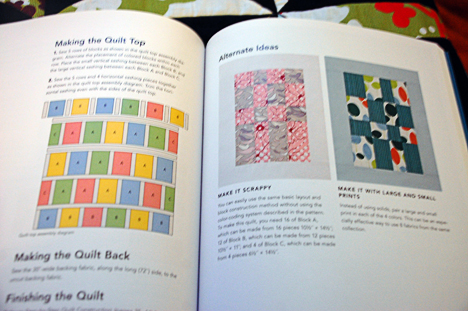 One question I see beginners ask quite often is how to set up the back of the quilt. Elizabeth provides detailed cutting and piecing instructions for all backs in the book so that there's no mysterious "add backing, quilt and bind" instructions like you see in many books and patterns.
She provides the most descriptive, clear overview of color theory I've ever seen outside of graphic design books (and a better one than in some of those!), which is invaluable for beginners who are scared of selecting their own fabrics or playing with color. Her discussion of fabrics and prints is on par with others I've seen, but one interesting bit is her pictorial comparison of the "crinkling" of a natural-fiber batting quilt after it has been washed compared to the unwashed quilt.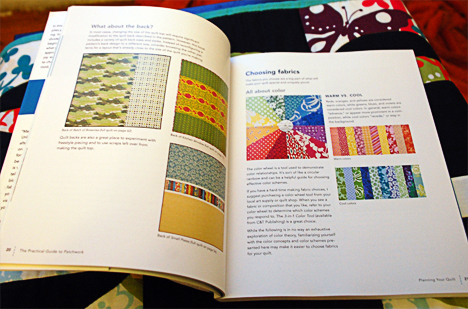 Because no good book lets you walk away without inspiration, I'll share my two "oh wow, that will make my life easier, it seems so straight-forward, how come I never thought about that before" tips:
If your ruler isn't wide enough, use a second one and butt them against each other.
Check the back of your quilt regularly while quilting to make sure tension is okay there, too. (I have definitely been quilting along thinking all is well because the front looks fine, only to see a mass of huge loops on the back from horrible tension.)
Her patterns are pretty typical fare for modern quilting, but her instructions are clear and those alternate color/fabric options really do inspire you to view them as strong building blocks for your own ideas. I know that a Batch of Brownies-based quilt is definitely in my sewing future.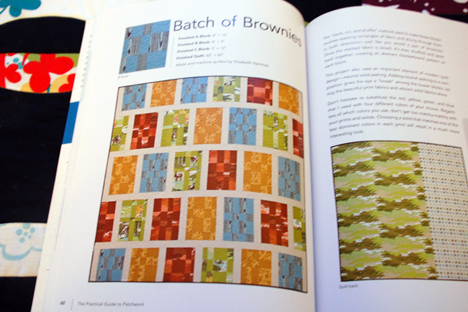 In addition to cutting, piecing, and quilting instructions, she gives basic instructions for paper or foundation piecing, machine applique, and making rosettes (or yo-yos, depending on your region). Her instructions for those won't take the place of dedicated books/articles on the subject, but they are a solid introduction to the methods.
The only thing I can say I don't like about the book is her instructions for quarter-square triangles. She has you cut all the pieces, then sew them together individually. I prefer making half-square units, then cutting them in half twice/sewing those pieces together to form the QSTs. In the scheme of things, this is definitely a minor dislike.
Your chance to win
Because this book is a great resource, I'm giving away a copy to one of you.
To have a chance to win, leave a comment on this post. Make sure to provide a valid email address in the appropriate field so that I can get in touch if you win.
Want more chances to win? Who am I kidding, of course you do! Here are three extra ways you can win:
Follow my blog—either by RSS, Email (use the form in the footer) or Google Friend Connect (also in the footer).
Tweet or blog about it. If you Tweet, make sure to include my Twitter name ("Win a copy of The Practical Guide to Patchwork from @raevenfea!") and if you blog, link back to this post, of course.
Leave a comment about what you would like to see more of on my blog, or a product or book you are interested in hearing a review about.
Do any of the above things and leave a comment about it. That is, leave one comment per extra entry in addition to your initial comment (up to a total of four comments).
Comments will close at 11pm EST on Friday, Aug. 19. I'll draw for winners on August 20 (which also happens to be my two year blogiversary!).
This book was acquired with my own resources. No money or goods were exchanged for this review—it is my opinion, not that of the author, publisher or any other entity. The associated giveaway is also in no way related to the author or publisher of the book.