… and possibly divorcing the Farmer, but more on that after I explain the EPP.
I'm really trying to get more involved in the local quilting community, and meet more local people. When the LQS announced that they are going to have a monthly sit-and-sew focusing on English Paper Piecing, I decided that it is a great way to do that, as well as try EPP, as I've been wanting to do lately, all in the cold winter months.
So I am, starting today.
It's not something we have to pay for, but we are required to get one of two books and must work on an EPP project while we are there. The two books they specified are English Paper Piecing: Fresh New Quilts from Bloom Creek and Lucy Boston: Patchwork of the Crosses.
I bought English Paper Piecing, as it was the one in stock (and was cheaper, and struck me as a more general-purpose book, and "of the Crosses" didn't seem my style, etc.), but I'm rather disappointed. For a book titled as a specific technique, one would think more than a few pages would be dedicated to that specific technique. But, that's all there is. And, most of the projects in the book simply combine small bits of EPP with other techniques (mostly machine piecing and applique). I don't have an alternative to recommend, but frankly, if you're looking for a beginning EPP book, I don't think this is the right one unless you're particularly drawn to one of the projects.
Meanwhile, I looked up Lucy Boston. She was a rather interesting lady! Somehow, I made it through childhood having never read her books (a point I plan on remedying post haste). But, her patchworks are very interesting as well, so I think the second book may join my library eventually (although I have doubts that it is a great resource on EPP too). There's a coffee table-style book about her as well (Patchworks of Lucy Boston), which I wish my local library system had, but alas.
As to my statement about divorcing the Farmer—I haven't even opened the box in which my Farmer's Wife project lives for over a year, yet I truly love the fabrics I was using. So, I think I'm going to shift them to this EPP project and plan a way to use the Farmer's Wife blocks I did complete (perhaps minus a few I wasn't happy with, plus a couple more if I feel motivated) in the EPP quilt. They could make an interesting border or a patchwork medallion—but most of all, they will get out of the box and into a quilt top someday.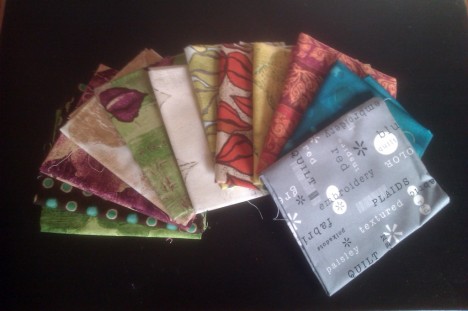 I think it's a good compromise. An amicable split, if you will. Here the blocks are again, looking bright and happy last August before I put them away.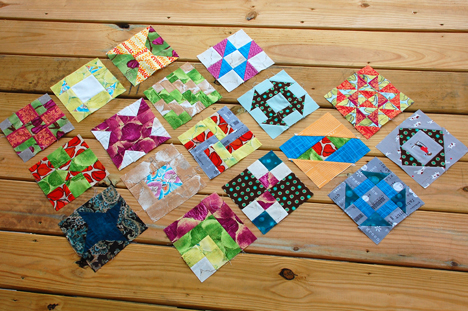 Now I just need to sort out the type of EPP project I want to make before the first event. I better get brainstorming!
Do you have a favorite EPP book?