Fair warning: I'm not actually going to show you my medallion yet—partly because I don't have it yet, and partly because I want it to be a surprise. But, I would like to talk a bit about options beyond the typical reproduction and 19th-century-look fabrics that are available. Between royalty-free images or your own artistic skills and digital printing, you can create your own custom fabric or medallions for a federal-era quilt.

Find an image
I'm not an artist. To call my drawing skills amateur is being kind. That is where stock photography and illustrations come in handy. Using iStockphoto, I've managed to find a high-quality scan of a foundry illustration that suits my needs (although I'll be modifying it a little).
The image I am using is taken from a foundry's collection that was published in 1882, according to the image uploader, which initially concerned me. After all, that is almost a full century later than I should be using. But, research shows that the illustration style I plan on using didn't change much in that century, not to mention that it is entirely possible that the 1882 book used older engraving plates in their collection as well as more modern ones (viz., illustration 751 [shown] appears in both the 1828 and 1874 books from Bruce's Foundry (est. 1813) below).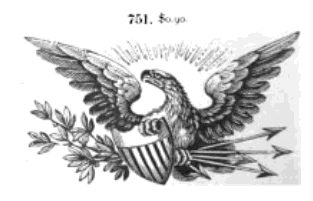 Consider these digitized collections of engravings. Many of the illustrations are quite similar:
This engraving from the 1796 book is stylistically similar to the illustration that I'm using.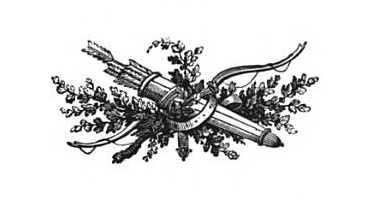 iStockphoto has high-quality scans of a fair number of illustrations similar to (or directly scanned from reprints of) those shown in the above books.
So, that solves my problem of having an image to use, although it isn't cheap, especially because a large image is needed for proper printing quality.
To calculate the size image you need: multiply the size (in inches) of the largest edge desired by 150 to get the pixels needed for a good-quality print. So, if you want your medallion to measure 14″ wide, you need an image at least 2,100 px. wide (14 × 150). That will generally be the large size at iStockphoto, which for most of the illustrations I've seen requires 15 credits to purchase. Unless you use iStockphoto for other things and buy your credits in bulk, it will cost you about $30 to buy a license for that image.
If you are interested, you can get 10 free credits if you use this link (or any of the others in this post), which reduces your cost to $10 to buy the remaining credits needed.
Print it
Once you have an image, all you need to do is print it. If you have an inkjet printer and only want a small printed image, there are printable fabric sheets that can be purchased at various craft stores. These limit you to 8.5″ × 11″ sheets or possibly 8.5″ wide rolls. To go any larger, you may have to use a professional printing service.
Two of the largest names in custom printing are Spoonflower and Fabric On Demand. Although Spoonflower is more well-known, particularly because they allow you to sell your designs in addition to having them printed for your own uses, Fabric On Demand has its own strengths—including a linen-cotton blend and potentially lower prices, depending on the type of fabric.
For the 1812 cot-to-coffin size, a fat quarter (18″ × 21″) is plenty large for a medallion. You can have that size printed on plain cotton and delivered for under $15.
Please note that if you do use Spoonflower to print an image from iStockphoto, you cannot sell your medallion design on the site. The basic iStockphoto license specifically forbids use of the images in commercial products sold through print-on-demand services. You are able to use Spoonflower to print it for your own personal use, however.
And, so that I don't leave you with yet another post about the 1812 quilt without any information about mine, here are a few fat quarters that I've picked to possibly use in my quilt.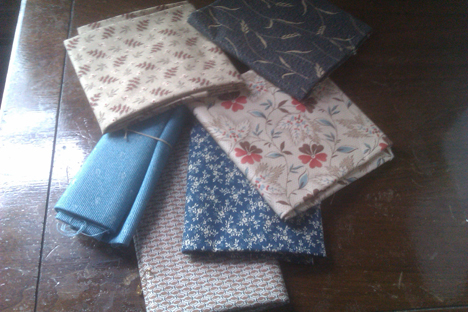 Do you have suggestions for unique fabric sources? Where's yours coming from?