At the beginning of the year, I swore not to start any samplers or bees or whatever, until I finished all the stuff for the 1812 show. Then, not two weeks later, I found myself signing up for my LQS's (Tiger Lily Quilt Co.) monthly sampler group. I justified it by saying it gets me out of the house and meeting other local quilters, right? (Or would, if I weren't a wallflower.)

Every year, they choose a theme for the 12 monthly blocks, and this year's is "Road Trip." We meet up the last Sat. of the month, learn how to make the block, and are given precut strips to complete it with. They chose to do this one out of batiks.
We started off on the Road to California…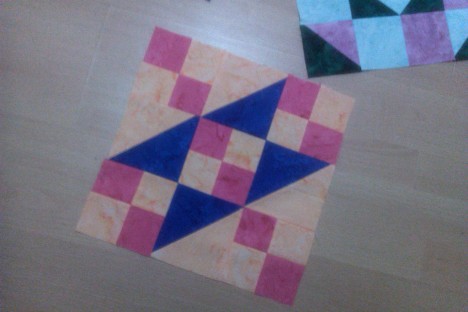 Which is more of a Jacob's Ladder than a Road to California variant. I managed to trim one of the HSTs down incorrectly… one downside to them providing just enough fabric is not having any spare fabric for mistakes. It doesn't stand out too badly though.
Next up was Cheyenne (another slight variant)…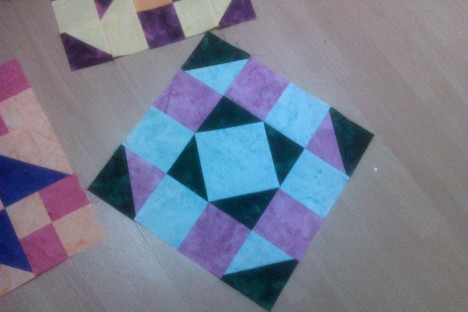 Which I somehow managed to finish up absolutely perfectly.
And most recently, we dropped down to Baton Rouge (another variant, plus I was lazy and used a strip in the middle instead of piecing together three same-colored squares [which in the original block is a medium-light-medium combo, but not in the one we're doing])…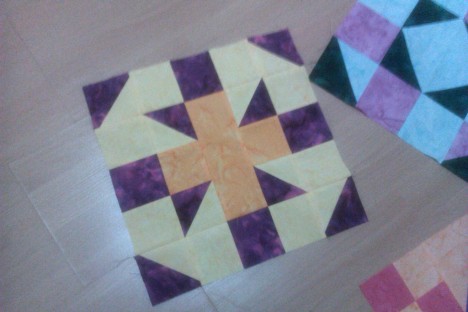 Which is about 1⁄8″ too small… not bad, but I wonder if it was me, or the tricky math involved in five-patches.
I'm interested in seeing how they all come together in December, since I'm a bit unenthused about the color combination thus far. But, it has kick-started my creative juices, trying to figure out good layouts for 12 12″ blocks. I came up with a good one last week, but I'm sure my mind will change in the next 9 months.
Do you do any sampler things with your LQS? Stay tuned for the next installment in June!
… when I call these blocks variants, I'm mostly referring to them vs. entries of that name in 5,500 Quilt Block Designs by Maggie Malone, which I have. If you're into books of blocks, I really love The Quilter's Album of Patchwork Patterns: 4050 Pieced Blocks for Quilters because of the source lists author Jinny Beyer included for the blocks, but I don't have a copy of it on hand. Even though I don't do a lot with traditional blocks, I love learning about the different variants and their origins.