I've been working on sewing down the binding on the Strip-pieced Lone Star/Star of Bethlehem quilt over lunch this week while watching episodes of Eureka on Hulu, and thought I'd take a break from that today to review the batting I used on the quilt: Pellon Nature's Touch Cotton Batting.
Here's a grainy cellphone photo of the Lone Star draped over a chair in my living room, showing areas that are relatively densely quilted and not: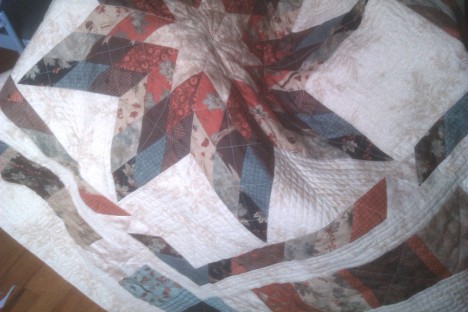 This is the second quilt I've used this batting with, and there will be many more. It's 100% cotton, so it gives that nice crinkly effect when washed. 3-5% shrinkage is to be expected, like most other mostly-cotton battings, but it can be preshrunk if desired. It's needle-punched with a scrim binder, which allows you to space stitching up to 8-10″ apart. There wasn't any bearding while I was quilting—not even when finishing the binding, which I've experienced with other cotton battings.
It claims to have a ¼″ loft, but it seems a bit closer in weight/loft to the 1⁄8″ loft battings I've used in the past. That said, it is a wonderful weight for a nice all-season quilt—pretty much the perfect loft for just about everything I like to make. The weight/loft was nice and consistent with no transparent sections like I've seen in similar-loft battings like Cream Rose.
I quilted all the beige areas in straight lines about .5″ apart, while the more colorful areas are less densely quilted. It still drapes wonderfully, without any stiffness. The Synchronized Squares quilt was quilted with large 4″ open squares, and much of the quilt top was actually double-thickness fabric, so it was far heavier, but still had the wonderfully fluid draping action going on.
I bought mine from JoAnn Fabric by-the-yard—it comes in 90″-wide bolts, so you're not going to be able to do anything larger than a standard Queen without piecing. From what I can tell, if you're looking for prepackaged cuts, it only comes in Queen-sized, which is the standard 90″×108″. It's relatively new, from my understanding. In fact, Pellon hasn't yet put any information about it on their website, which sounds like someone dropped the ball in their Marcom department.
As for pricing, it comes in a bit cheaper Warm & Natural/White, which is what led me to try it in the first place. My local JoAnn sells it for $10.99/yd (and of course you can always find 40% or 50% coupons, not to mention that they have 40% sales on batting regularly anyhow). The queen packaging is actually slightly cheaper than buying the three yards by-the-yard—it retails for $29.99 and again, coupons/sales generally apply.
So, short answer at the end of the post: it's wonderful, has become my go-to batting for just about anything (unless I want to splurge on Bamboo/Cotton, which is still my favorite so far), and I recommend trying it at least once in your own projects.
Have you tried it? What is your go-to batting? I'm always looking to try others out.